Divergent and Insurgent by Veronica Roth.
Genre: Dystopian
Level: YA
Source: Bought
Rating: 3 stars for Divergent, 4 stars for Insurgent
The Divergent Trilogy is probably the most popular and most anticipated young adult dystopian trilogies since The Hunger Games. I don't need to write a review of these two books, seeing as there are so many out there and most people have read them at this point, but I wanted to get my feelings about them down anyway. I'm reviewing them together because it's hard for me to separate them at this point and I think if you are going to read Divergent, you need to read Insurgent.
Divergent follows main character Tris through her life as a teenager in a future Chicago, where the society is divided into five different factions based on one dominating characteristic. The five characteristics and factions are: Honesty (Candor), Bravery (Dauntless), Selflessness (Abnegation), Peaceful (Amity), and Brainy (Erudite). At age 16, each member of the society must choose their faction and, if need be, leave their family to join their new faction. Tris leaves her family's faction (Abnegation) to join the Dauntless. Divergent follows her struggles through the initiation process and living in her new faction. She finds some new friend, makes some enemies, and meets Four, one of her initiation leaders and the boy she has a crush on. The end of the book brings lots of action and we see the beginning of the fall of their society. Insurgent picks up right after the end of Divergent and follows Tris and Four and the rest of the factions as they come to terms with the direction their society is heading and the chance of a war among the factions.
In all honesty, I was not as taken with Divergent as most people were. I was a little put off by Tris and the fact that most of the book seemed to be the Dauntless beating up on each other. It seemed to me that Tris was a bit too oblivious, both with Four and his feelings and with how the Dauntless (and all of the factions within the society) really lived and coexisted. But she was otherwise a strong female lead, willing to stick up for herself and her friends and loyal to both her new friends and her old faction. The end was exciting when all of the action started happening and we learned more about the society. I wished there had been a better way to end the book rather than having all of those characters die, but I was also glad that it seemed like an actual probable event. Sometimes authors go to crazy lengths making sure no characters die, I'm kind of glad Roth didn't go there. Overall, I was pretty happy that I read Divergent. It's no Hunger Games, to me at least, but it is the beginning of what will hopefully be a great dystopian trilogy.
And if Divergent is the beginning of a great story, Insurgent does a fantastic job of leading us right up to the grand finale. There is no second book syndrome here. In fact, I was a much bigger fan of Insurgent than I was of Divergent. We get a bigger look at the society, more information on the rest of the factions, less brooding on Tris' part about her own situation, and a surprise ending that promises to make the final book incredible. The relationship between Four and Tris experiences some rocky moments and the action in the book is nonstop. I sometimes needed some downtime myself from the book just to process everything that was happening. It was intense. And like any great dystopian, we are left wondering who among our friends and allies can we actually trust? I am still blown away by the ending of this book.
It took me a while to pick up Insurgent because I wasn't a huge fan of Divergent, but I'm so glad I did. There is a big cliffhanger though, so if you have yet to read any of them, you could save all of them until the last one comes out (sometime in the Fall of 2013). Then you won't be left hanging. They are long but quick reads and perfect for the YA dystopian genre. Even if you aren't fans of dystopian books, I recommend you check these out at some point. I hope Veronica Roth will continue to surprise me in the last Divergent book and in whatever else she may write. I gave Divergent 3 stars and Insurgent 4 stars.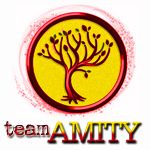 Ok everyone, it's finally here. The day we've been waiting for. Insurgent is released tomorrow!
In less than 24 Insurgent will be in every book store and the competition between factions will be over. Being on Team Amity means that I want a win for Amity! To help us out, all you need to do is click on the two links below.
Every click helps and will bring us closer to a win.
Along the way today, be sure to follow Divergent Lexicon on Twitter and search for #TeamAmity for fun surprises throughout the day. There will be giveaways. But you'll need to help us out to be entered!
So click the Team Amity links, follow along on Twitter, help us out, and have fun!
As Veronica Roth said, "It's not just about banjos and apple-picking. It's about cultivating strong relationships and trying to understand each other."
Our links:
* https://bitly.com/amityfaction
* http://bit.ly/choose_amity
I am still pretty new to the book blogging community and am still learning a lot about the way things work around here. One of the interesting things I've learned so far is that books get released for review months in advance of their actual release date. As a reader, I was always aware of new books that were coming out from my favorite authors or my favorite series. I've even attended a few midnight release parties. But otherwise, I found most of the books I read just browsing the shelves, reading reviews, or as recommendations from friends. Now as a reader of book blogs, I hear about books months in advance of their release. And it's awesome! My TBR list is stocked with books I can't wait to get my hands on. And with so much time, it also allows for lots of hype to be built around those books.
But recently I've started to wonder: Is so much hype a good thing for new books? Does all the hype within the book blogging community actually reach those who might not already know about the book? Or are we all just going around in circles? Are we all hearing and saying the same things about the same books?
For Insurgent, which isn't released for another two weeks, there are contests, pre-order campaigns, reviews, and giveaways all going on now. I'm probably the only one, but is anyone else starting to feel a little burned out? Don't get me wrong, I am definitely excited about Insurgent. I can't wait to read more about Tris and Four and find out what Veronica Roth has planned for them next. However, I would still be excited and want to buy it without all the hype surrounding it. But I'm almost more excited for the release now so we can all just move on to something else. Am I alone in this?
I don't want to offend anyone, it's just a question. I've loved reading about Insurgent and think all the bloggers involved in Divergent Nation have done a fantastic job. I myself joined Team Amity! I'm simply posing a question and hoping for some answers or discussion in the comments. It doesn't even necessarily have to do with books. I remember all the hype before The Hunger Games movie was released and I eventually gave up reading anything about it because it just became too much for me. So does the hype surrounding a new release ever get to be too much? Or is any hype good hype? Has everything that's been going on with Insurgent increased the likelihood that you will buy the book? Or are you buying it because you loved Divergent and want to read the sequel? I'd love to know what you think!
Waiting on Wednesday is a weekly meme hosted by Breaking the Spine that lets us highlight a book we are eagerly awaiting the release of.
Insurgent (Divergent #2)
By: Veronica Roth
Release Date: May 1, 2012
One choice can transform you—or it can destroy you. But every choice has consequences, and as unrest surges in the factions all around her, Tris Prior must continue trying to save those she loves—and herself—while grappling with haunting questions of grief and forgiveness, identity and loyalty, politics and love.
Tris's initiation day should have been marked by celebration and victory with her chosen faction; instead, the day ended with unspeakable horrors. War now looms as conflict between the factions and their ideologies grows. And in times of war, sides must be chosen, secrets will emerge, and choices will become even more irrevocable—and even more powerful. Transformed by her own decisions but also by haunting grief and guilt, radical new discoveries, and shifting relationships, Tris must fully embrace her Divergence, even if she does not know what she may lose by doing so.
I know pretty much everyone has highlighted this already, but I haven't. And since it comes out in less than a month now, I'm choosing Insurgent for my Waiting on Wednesday post. If you haven't read Divergent, do so now. Then get Insurgent on May 1. I haven't been one of the lucky ones who has been able to read it already, but I'm sure it'll be great. Tris is a strong female lead and I can't wait to see where Insurgent will take her. And Four. Of course. I liked Four.
What about you? What are you waiting on today?
Were you a lucky one who got to read Insurgent early? Is it worth waiting for? Let me know! And if you want to support Team Amity, just click the button on the far right side of my blog!