Feature and Follow is weekly meme hosted by Parajunkee's View and Alison Can Read. Each week we find new blogs and gain new readers. A win-win!
This week's features are: Charissa Books and Underworld Love Addiction.
This week's question activity is: Dream Cast your current read.
I'm cheating a little on this one here because I'm only about 50 pages into my currents read and I haven't quite figured out where the characters are going yet. So I'll be casting the last book I read. And that was.... Anna and the French Kiss. I know lots of people love this book, me included, so I'm feeling a lot of pressure. Another problem, I seem to be blanking on younger actors. But I tried and here are a few of the characters I've cast. And if you know the actors or if you have other actors in mind, shout them out in the comments!
Anna Oliphant: Shailene Woodley - She might be best known for her role in The Descendants with George Clooney but she has also been on The Secret Life of the American Teenager for years. I think she could play the role of Anna well, a senior in high school who's angry at her father for sending her to Paris and ends up falling in love with a boy and the city.
Etienne St. Clair:
Tom Sturridge - To be fair on this one, I don't actually know this guy. But he's in the upcoming movie On The Road and it's getting a lot of talk, so I'm taking a chance. He looks like a guy lots of high schoolers would fall for, though he might be a little tall for the role and his eyes are blue. How much do people care that an actor resembles the description in a book versus how they portray the character?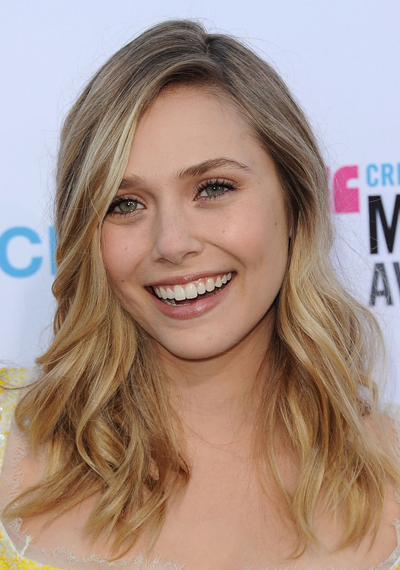 Meredith: Elizabeth Olsen - Meredith is Anna's first friend in Paris. She's artsy, plays soccer, and has a crush on St. Clair. We've heard a lot about Elizabeth Olsen recently and later this year she'll be in Josh Radnor's movie Liberal Arts. I think she's a great actress and would do really well with the Meredith character.
Toph: Max Theiriot - This kid has been around forever but now he's in a movie coming out with Jennifer Lawrence called House at the End of the Street. We all remember that one from The Hunger Games previews, right? He's totally adorable, but completely creepy in it. I think he'd make a good slacker-movie-theater-worker-musician-wannabe that Anna has a crush on from home who turns out to be a jerk. What do you think?
Bridgette: Kaya Scodelario - Bridgette is Anna's best friend from home. She plays the drums in band, she babysits for Anna's little brother while Anna's away, and is a word nerd. She keeps in touch with Anna during their senior year, but she changes quite a bit.
Okay, that's all I've got. There are still tons of characters to cast, but this stuff is hard! So what do you think? Was I way off? Who would you pick for Anna and the French Kiss? And don't forget to leave me a link with your book and casting choices!
Anna and the French Kiss by Stephanie Perkins
Genre: Contemporary/ Romance
Level: YA
Source: Library
Publisher: Dutton
Published: Dec 2010
Rating: 5/5 Stars
Summary (from Goodreads): Anna is looking forward to her senior year in Atlanta, where she has a great job, a loyal best friend, and a crush on the verge of becoming more. Which is why she is less than thrilled about being shipped off to boarding school in Paris - until she meets Etienne St. Clair: perfect, Parisian (and English and American, which makes for a swoon-worthy accent), and utterly irresistible. The only problem is that he's taken, and Anna might be, too, if anything comes of her almost-relationship back home. As winter melts into spring, will a year of romantic near - misses end with the French kiss Anna - and readers - have long awaited?
Anna and the French Kiss is a completely addictive love story that made me laugh, tear up, and get frustrated right alongside Anna. I could not put this book down and wish I had read it sooner. It did not disappoint!
Anna and the French Kiss starts with Anna being sent to boarding school in Paris for her senior year of high school. While I understood why she was upset, I also wanted to shake her for being so mad about it. A year in Paris paid for by your parents?! You always say yes. But after her initial meltdown when her mom leaves, she starts warming up to the idea of Paris. She finds some friends, all of whom I liked, and they pull her out of her shell and introduce her to the city. One of her new friends, Etienne St. Clair, is the boy everyone likes. Including Anna. But St. Clair has a girlfriend and so they remain just friends. As the school year comes to an end, though, they've all been put through a lot, and not just the ups and downs of high school friendships. What will they have learned during their senior year and how will their relationships change? Will Anna leave Paris feeling the same way she did when she got there? The journey they all take is definitely worth reading.
As a main character and narrator, I am a fan of Anna. Even when she was dealing with being displaced, she never came off as overly whiny or annoying. And while it's sometimes hard to stomach problems like being sent to Paris, I never disliked her for being upset. She was honest about her feelings and reasons for them and I liked her for that. As the boy in the book, I liked Etienne St. Clair. He was great for Anna, except that he had a girlfriend. And I did not like that he strung Anna along for as long as he did. He obviously had feeling for her, so dump the girlfriend already and stop being so cryptic with Anna! But he had a lot going on in his life and he was a good friend to Anna otherwise, so I forgave him. As Anna does. Another bonus: both Anna and Etienne have more depth to them than I think is normally seen in contemporary romance novels.  The secondary characters are also nicely developed. The friends Anna leaves behind in Atlanta and the new friends she meets in Paris all play important roles in her development throughout the book. It was refreshing to see so many real characters in one book.
Overall, I thoroughly enjoyed Anna and the French Kiss. I'm not usually a big fan of YA contemporary romance because they can get really fluffy and unrealistic. But this book changed my mind. The characters were relatable and honest, the book had more depth than just the usual boy-meets-girl-instalove stuff, and it was full of all kinds of emotions! I'll be looking into the companion books next: Lola and the Boy Next Door (pub 2011) and Isla and the Happily Ever After (pub 2013). I give Anna and the French Kiss 5 stars.
It was a busy week last week around here! I've put together a recap incase you missed anything and a look at what will be coming up this week as well. Thanks to everyone who entered my giveaway. I'll post the winner soon. And Hello! to all my new followers! I hope you all had a great Mother's Day Weekend and are ready for Monday! Here we go.
Last Week
Posts
The week started off with a giveaway! The Children's Book Week Giveaway Hop was last week and it was my first giveaway. I think I'll have to do more because people aren't lying when they say giving away books is a fun!
Top Ten Tuesday this week was Favorite Quotes from Books. It was a pretty great topic, if you ask me. I had a hard time limiting my choices to ten.
I posted reviews of The Unbecoming of Mara Dyer by Michelle Hodkin and Wonder by R.J. Palacio. I loved these books and definitely recommend that you read them if you haven't already.
Feature and Follow on Friday was a great lead in for Mother's Day weekend. The question was about books with good mother/child relationships. I had a hard time coming up with one and wish there could be more moms present in current YA novels.
Books
I finished The Unbecoming of Mara Dyer by Michelle Hodkin and Timepiece by Myra McEntire. If you haven't read the Hourglass yet, do it. It's the first in the series, Timepiece is second and comes out June 12th, and it's the best time travel series I've read in a really long time.
This Week
Posts
I'll be announcing the winner of the Children's Book Week Giveaway Hop later today! It's my first giveaway, so I'm excited to finally be able to give out a book!
Top Ten Tuesday is all about which authors I'd like to see on a reality show, and which show. It'll be a tough topic for me because I haven't watched reality TV since college. But it'll be interesting, at least, so be sure to check both here and The Broke and The Bookish for everyone's Tuesday posts.ci
I'll be posting my review for Timepiece later this week and hopefully one for Scarlet by A.C. Gaughen. 
Books
Next up on the TBR list is: finishing The Iron King by Julie Kagawa, then starting Shatter Me and Kill Me Softly.
I picked up City of Lost Souls by Cassandra Clare, The Hunt by Andrew Fukuda, and Anna and the French Kiss by Stephanie Perkins all from the library this week. I'm really excited about them, but I have a few books I need to read before I can get to them.
Awakening by Karice Bolton and Entangled by Nikki Jefford were free last week on Kindle, so I went ahead and got them both as well. Otherwise, that's it for any new books for me.
I hope you all had a great week and have many fun things to look forward to this week!