So we're suppose to pick a genre but I instead chose to just pick hidden gems in Young Adult books. I think it's so easy to get caught up in the books that are hyped because those are the ones we're seeing all the time so we obviously want to read those. And sometimes in the blogging/vlogging/twitter/Goodreads/bookstagram worlds, it feels like if you don't read and review those books, then you don't matter and get left behind. People always want to see the big books. And that's fine and completely understandable. But we also have to remember that we're here to highlight books we love as well. And sometimes those are the books that don't get as many views or likes or whatever but it shouldn't matter. And that's why I love topics like these. Because they remind me to highlight some of the lesser known or older but fantastic books out there and also help me find those books that I might not otherwise see. So here are a few hidden gems that I've found while on my journey through the Young Adult Book world and I highly recommend you guys give them a try!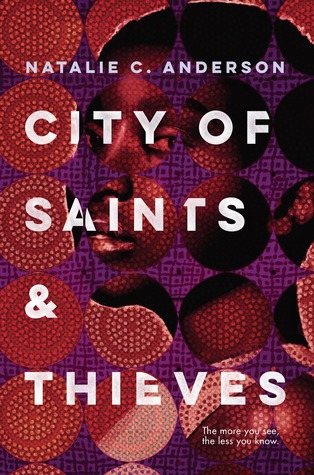 City of Saints & Thieves by Natalie C. Anderson:
The Girl with the Dragon Tattoo meets Gone Girl in this enthralling YA murder mystery set in Kenya.
In the shadows of Sangui City, there lives a girl who doesn't exist. After fleeing the Congo as refugees, Tina and her mother arrived in Kenya looking for the chance to build a new life and home. Her mother quickly found work as a maid for a prominent family, headed by Roland Greyhill, one of the city's most respected business leaders. But Tina soon learns that the Greyhill fortune was made from a life of corruption and crime. So when her mother is found shot to death in Mr. Greyhill's personal study, she knows exactly who's behind it.
With revenge always on her mind, Tina spends the next four years surviving on the streets alone, working as a master thief for the Goondas, Sangui City's local gang. It's a job for the Goondas that finally brings Tina back to the Greyhill estate, giving her the chance for vengeance she's been waiting for. But as soon as she steps inside the lavish home, she's overtaken by the pain of old wounds and the pull of past friendships, setting into motion a dangerous cascade of events that could, at any moment, cost Tina her life. But finally uncovering the incredible truth about who killed her mother—and why—keeps her holding on in this fast-paced nail-biting thriller.
How to Make a Wish by Ashley Herring Blake:
All seventeen year-old Grace Glasser wants is her own life. A normal life in which she sleeps in the same bed for longer than three months and doesn't have to scrounge for spare change to make sure the electric bill is paid. Emotionally trapped by her unreliable mother, Maggie, and the tiny cape on which she lives, she focuses on her best friend, her upcoming audition for a top music school in New York, and surviving Maggie's latest boyfriend—who happens to be Grace's own ex-boyfriend's father.
Her attempts to lay low until she graduates are disrupted when she meets Eva, a girl with her own share of ghosts she's trying to outrun. Grief-stricken and lonely, Eva pulls Grace into midnight adventures and feelings Grace never planned on. When Eva tells Grace she likes girls, both of their worlds open up. But, united by loss, Eva also shares a connection with Maggie. As Grace's mother spirals downward, both girls must figure out how to love and how to move on.
Traveler by L.E. DeLano:
A teen writer discovers that every mirror is a portal into an alternate version of her life in this romantic YA fantasy by author L.E. DeLano.
Jessa has spent her life dreaming of other worlds and writing down stories more interesting than her own, until the day her favorite character, Finn, suddenly shows up and invites her out for coffee. After the requisite nervous breakdown, Jessa learns that she and Finn are Travelers, born with the ability to slide through reflections and dreams into alternate realities. But it's not all teacakes, pirates and fantasy lifestyles…Jessa is dying over and over again, in every reality, and Finn is determined that this time, he's going to stop it… this Jessa is going to live.
Throwing My Life Away by Liz Czukas:
7 photographs, 2 weeks, an entire life to get back. No problem, right?
After her stepfather accidentally throws away her high school mementos, sentimental Mariska is pretty sure the world is over. That is, until she comes up with a plan. She's going to recreate her past, with a little help from her friends.
It's not easy to rally everyone into helping, especially Caine, who couldn't be less sentimental about anything if he were a park bench. But from a guerilla kite festival to convincing her ex-boyfriend to recreate her lost prom picture, Mariska is willing to do what it takes.
With a little nudging from Caine, Mariska starts to realize she can't actually get her past back. And maybe that's okay. Because while she's so focused on the past, she's missing out on the present, where her friends are busy having the summer of their lives. And where funny, quiet Caine might just be the future she never knew she wanted.
738 Days by Stacey Kade:
At fifteen, Amanda Grace was abducted on her way home from school. 738 days later, she escaped. Her 20/20 interview is what everyone remembers—Amanda describing the room where she was kept, the torn poster of TV heartthrob Chase Henry on the wall. It reminded her of home and gave her the strength to keep fighting.
Now, years later, Amanda is struggling to live normally. Her friends have gone on to college, while she battles PTSD. She's not getting any better, and she fears that if something doesn't change soon she never will.
Six years ago, Chase Henry defied astronomical odds, won a coveted role on a new TV show, and was elevated to super-stardom. With it, came drugs, alcohol, arrests, and crazy spending sprees. Now he's sober and a Hollywood pariah, washed up at twenty-four.
To revamp his image, Chase's publicist comes up with a plan: surprise Amanda Grace with the chance to meet her hero, followed by a visit to the set of Chase's new movie. The meeting is a disaster, but out of mutual desperation, Amanda and Chase strike a deal. What starts as a simple arrangement, though, rapidly becomes more complicated when they realize they need each other in more ways than one. But when the past resurfaces in a new threat, will they stand together or fall apart?
Suffer Love by Ashley Herring Blake:
"Just let it go."
That's what everyone keeps telling Hadley St. Clair after she learns that her father cheated on her mother. But Hadley doesn't want to let it go. She wants to be angry and she wants everyone in her life—her dad most of all—to leave her alone.
Sam Bennett and his family have had their share of drama too. Still reeling from a move to a new town and his parents' recent divorce, Sam is hoping that he can coast through senior year and then move on to hassle-free, parent-free life in college. He isn't looking for a relationship…that is, until he sees Hadley for the first time.
Hadley and Sam's connection is undeniable, but Sam has a secret that could ruin everything. Should he follow his heart or tell the truth?
Just Visiting by Dahlia Adler:
Reagan Forrester wants out—out of her trailer park, out of reach of her freeloading mother, and out of the shadow of the relationship that made her the pariah of Charytan, Kansas.
Victoria Reyes wants in—in to a fashion design program, in to the arms of a cute guy who doesn't go to Charytan High, and in to a city where she won't stand out for being Mexican.
One thing the polar-opposite best friends do agree on is that wherever they go, they're staying together. But when they set off on a series of college visits at the start of their senior year, they quickly see that the future doesn't look quite like they expected. After two years of near-solitude following the betrayal of the ex-boyfriend who broke her heart, Reagan falls hard and fast for a Battlestar Galactica-loving, brilliant smile-sporting pre-med prospective…only to learn she's set herself up for heartbreak all over again. Meanwhile, Victoria runs full-speed toward all the things she thinks she wants…only to realize everything she's looking for might be in the very place they've sworn to leave.
As both Reagan and Victoria struggle to learn who they are and what they want in the present, they discover just how much they don't know about each other's pasts. And when each learns what the other's been hiding, they'll have to decide whether their friendship has a future.
Every Breath by Ellie Marney:
Rachel Watts has just moved to Melbourne from the country, but the city is the last place she wants to be.
James Mycroft is her neighbour, an intriguingly troubled seventeen-year-old who's also a genius with a passion for forensics.
Despite her misgivings, Rachel finds herself unable to resist Mycroft when he wants her help investigating a murder. He's even harder to resist when he's up close and personal – and on the hunt for a cold-blooded killer.
When Rachel and Mycroft follows the murderer's trail, they find themselves in the lion's den – literally. A trip to the zoo will never have quite the same meaning again…
Rebel Mechanics by Shanna Swendson:
A sixteen-year-old governess becomes a spy in this alternative U.S. history where the British control with magic and the colonists rebel by inventing.
It's 1888, and sixteen-year-old Verity Newton lands a job in New York as a governess to a wealthy leading family—but she quickly learns that the family has big secrets. Magisters have always ruled the colonies, but now an underground society of mechanics and engineers are developing non-magical sources of power via steam engines that they hope will help them gain freedom from British rule. The family Verity works for is magister—but it seems like the children's young guardian uncle is sympathetic to the rebel cause. As Verity falls for a charming rebel inventor and agrees to become a spy, she also becomes more and more enmeshed in the magister family's life. She soon realizes she's uniquely positioned to advance the cause—but to do so, she'll have to reveal her own dangerous secret.
Paper or Plastic by Vivi Barnes:
Welcome to SmartMart, where crime pays minimum wage…
Busted. Alexis Dubois just got caught shoplifting a cheap tube of lipstick at the local SmartMart. She doesn't know what's worse—disappointing her overbearing beauty-pageant-obsessed mother for the zillionth time…or her punishment. Because Lex is forced to spend her summer working at the store, where the only things stranger than the staff are the customers.
Now Lex is stuck in the bizarro world of big-box retail. Coupon cutters, jerk customers, and learning exactly what a "Code B" really is (ew). And for added awkwardness, her new supervisor is the totally cute—and adorably geeky—Noah Grayson. Trying to balance her out-of-control mother, her pitching position on the softball team, and her secret crush on the school geek makes for one crazy summer. But ultimately, could the worst job in the world be the best thing that ever happened to her?
What are some of your top underrated books?
Related Posts