Top Ten Tuesday is hosted each week by The Broke and The Bookish and allows us to combine our love of books with our love of lists. This week's topic is: Back to School! I decided to focus on middle grade books because I love books written for that age. I also have two middle-grade readers, so we tend to have a lot of those books around. I love that they're at an age where they can tell me all about the books they're reading, the ones that they love, and the ones they even want me to read sometimes. But above everything, I'm just glad they love to read. Some of the books on this list are ones they've loved and some are ones I'm hoping they'll read soon. Either way, I've loved these books and I hope you guys will check them out if you love MG books as well!
The Hero's Guide to Saving Your Kingdom by Christopher Healy:
Enter a world where everything, even our classic fairy tales, is not at all what it seems.
Prince Liam. Prince Frederic. Prince Duncan. Prince Gustav. You've never head of them, have you? These are the princes who saved Sleeping Beauty, Cinderella, Snow White, and Rapunzel, respectively, and yet, thanks to those lousy bards who wrote the tales, you likely know them only as "Prince Charming." But all of this is about to change…
Rejected by their princesses and cast out of their castles, Liam, Frederic, Duncan, and Guztav stumble upon an evil plot that could endanger each of their kingdoms. Now it's up to them to triumph over their various shortcomings, take on trolls, bandits, dragons, witches, and other associated terrors to becom the heroes no one ever thought they could be.
Prisoner of Ice and Snow by Ruth Lauren:
In a thrilling fantasy that's equal parts Prison Break and Frozen, Valor attempts the impossible—breaking her sister out of prison.
When Valor is arrested, she couldn't be happier. Demidova's prison for criminal children is exactly where she wants to be. Valor's sister Sasha is already serving a life sentence for stealing from the royal family and Valor is going to help her escape . . . from the inside.
Never mind that no one has escaped in three hundred years. Valor has a plan and resources most could only dream about. But she didn't count on having to outsmart both the guards and her fellow prisoners. If Valor's plan is to succeed, she'll need to make unlikely allies. And if the plan fails, she and Sasha could end up with fates worse than prison.
This fresh and exciting middle-grade debut effortlessly melds an unforgettable protagonist, a breathless plot, and stunning world-building—and is impossible to put down.
The Great Shelby Holmes by Elizabeth Eulberg:
Meet spunky sleuth Shelby and her sports-loving sidekick Watson as they take on a dog-napper in this fresh twist on Sherlock Holmes.
Shelby Holmes is not your average sixth grader. She's nine years old, barely four feet tall, and the best detective her Harlem neighborhood has ever seen—always using logic and a bit of pluck (which yes, some might call "bossiness") to solve the toughest crimes.
When eleven-year-old John Watson moves downstairs, Shelby finds something that's eluded her up till now: a friend. Easy-going John isn't sure of what to make of Shelby, but he soon finds himself her most-trusted (read: only) partner in a dog-napping case that'll take both their talents to crack.
Sherlock Holmes gets a fun, sweet twist with two irresistible young heroes and black & white illustrations throughout in this middle grade debut from internationally bestselling YA author Elizabeth Eulberg.
The Firefly Code by Megan Frazer Blakemore:
Mori and her friends live a normal life on Firefly Lane in their utopian community, Old Harmonie. In a world this safe and perfect, they've never had to question anything . . . never had to wonder about how their lives came to be. Until a new girl named Ilana moves in. She's so perfect that Mori and her friends are curious . . . Where exactly did Ilana come from, and why does she act so strange sometimes? When Ilana's secret is revealed, the kids on Firefly Lane must decide: is it finally time to start questioning the only world they've ever known?
In a stunningly imaginative story, critically acclaimed author Megan Frazer Blakemore takes readers on a journey with five friends–new and old–that will have everyone talking about not just what makes people human, but what makes them true friends.
Frazzled by Booki Vivat:
Meet Abbie Wu! She's about to start middle school and she's totally in crisis.
Abbie Wu is in crisis—and not just because she's stuck in a family that doesn't quite get her or because the lunch ladies at school are totally corrupt or because everyone seems to have a "Thing" except her. Abbie Wu is in crisis always.
Heavily illustrated and embarrassingly honest, Frazzled dives right into the mind of this hilariously neurotic middle school girl as she tries to figure out who she is, where she belongs, and how to survive the everyday disasters of growing up. With Abbie's flair for the dramatic and natural tendency to freak out, middle school has never seemed so nerve-racking!
Packed with hilarious black-and-white illustrations and doodles throughout, Frazzled takes readers through Abbie Wu's hysterical middle school adventures.
Simon and the Wolf's Den by Aimee Carter:
A thrilling debut in the tradition of Rick Riordan and Brandon Mull about a boy who discovers a secret race of animal shape shifters.
Twelve-year-old Simon Thorn's life has never been easy or normal, but things like being bullied at school and living in a cramped Manhattan apartment with his Uncle Darrell are nothing compared to his biggest secret: He can talk to animals.
But when his mom is suddenly kidnapped by a herd of rats, Simon finds out that he, his mom, and his uncle are all Animalgams—people born with the ability to change into an animal at will.
In search of his mom, Simon discovers the Animalgam Academy based at the Central Park Zoo. There he learns about the fractured five kingdoms that make up this secret world . . . and realizes he may be the only one who can save it.
This action-packed page-turner is perfect for fans of the Spirit Animals and The School of Good and Evil series.
The Dragonet Prophecy by Tui T. Sutherland:
The seven dragon tribes have been at war for generations, locked in an endless battle over an ancient, lost treasure. A secret movement called the Talons of Peace is determined to bring an end to the fighting, with the help of a prophecy — a foretelling that calls for great sacrifice.
Five dragonets are collected to fulfill the prophecy, raised in a hidden cave and enlisted, against their will, to end the terrible war.
But not every dragonet wants a destiny. And when the select five escape their underground captors to look for their original homes, what has been unleashed on the dragon world may be far more than the revolutionary planners intended . . .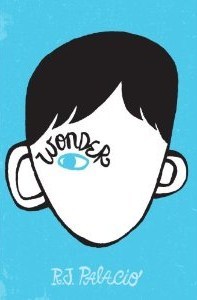 Wonder by R.J. Palacio:
I won't describe what I look like. Whatever you're thinking, it's probably worse.
August (Auggie) Pullman was born with a facial deformity that prevented him from going to a mainstream school—until now. He's about to start 5th grade at Beecher Prep, and if you've ever been the new kid then you know how hard that can be. The thing is Auggie's just an ordinary kid, with an extraordinary face. But can he convince his new classmates that he's just like them, despite appearances?
R. J. Palacio has written a spare, warm, uplifting story that will have readers laughing one minute and wiping away tears the next. With wonderfully realistic family interactions (flawed, but loving), lively school scenes, and short chapters, Wonder is accessible to readers of all levels.
The Phantom Tollbooth by Norton Jester:
Hailed as "a classic. . . . humorous, full of warmth and real invention" (The New Yorker), this beloved story -first published more than fifty years ago- introduces readers to Milo and his adventures in the Lands Beyond.
For Milo, everything's a bore. When a tollbooth mysteriously appears in his room, he drives through only because he's got nothing better to do. But on the other side, things seem different. Milo visits the Island of Conclusions (you get there by jumping), learns about time from a ticking watchdog named Tock, and even embarks on a quest to rescue Rhyme and Reason! Somewhere along the way, Milo realizes something astonishing. Life is far from dull. In fact, it's exciting beyond his wildest dreams. . . .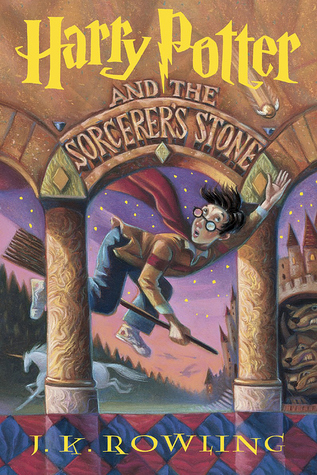 Harry Potter and the Sorcerer's Stone by J.K. Rowling:
Harry Potter's life is miserable. His parents are dead and he's stuck with his heartless relatives, who force him to live in a tiny closet under the stairs. But his fortune changes when he receives a letter that tells him the truth about himself: he's a wizard. A mysterious visitor rescues him from his relatives and takes him to his new home, Hogwarts School of Witchcraft and Wizardry.
After a lifetime of bottling up his magical powers, Harry finally feels like a normal kid. But even within the Wizarding community, he is special. He is the boy who lived: the only person to have ever survived a killing curse inflicted by the evil Lord Voldemort, who launched a brutal takeover of the Wizarding world, only to vanish after failing to kill Harry.
Though Harry's first year at Hogwarts is the best of his life, not everything is perfect. There is a dangerous secret object hidden within the castle walls, and Harry believes it's his responsibility to prevent it from falling into evil hands. But doing so will bring him into contact with forces more terrifying than he ever could have imagined.
Full of sympathetic characters, wildly imaginative situations, and countless exciting details, the first installment in the series assembles an unforgettable magical world and sets the stage for many high-stakes adventures to come.
I couldn't very well make a list like this and not include Harry Potter, could I?!?! No. I will recommend those books to everyone and anyone but I especially think there's something magical about handing those books to kids for the first time and watching them discover the land of magic and Harry Potter. Of course by now almost everybody knows about Harry Potter and I think a lot of kids are watching the movies first but I still think they're such a great series for kids with great characters, great friendships, and a very good story of good vs evil. But maybe that's just me.
What are some books you think kids should read?
Related Posts