Top Ten Tuesday is hosted each week by The Broke and The Bookish and allows us to combine our love of books with our love of lists. This week's topic is: Top Ten Books That Are Full of Swoon.
I love romances in books. It doesn't matter what genre, I love fantasy romance, sci-fi romance, contemporary romance, historical romance, everything! And it doesn't matter what age the books were written for, I love adult, new adult, and young adult. As long as the book as romance in it, I'm likely to read it. But I especially love books that I can get totally caught up in the romance. If the romance in the book is blah, there's no way I'm going to end up loving the book. So for this week's TTT, I thought I'd share some of my favorite romances. And I really hope you'll share some of yours in this comments because I'm always on the lookout for romances to get swept away in!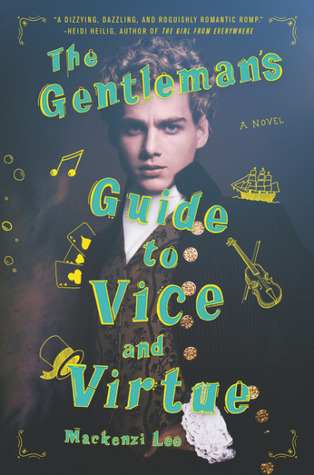 The Gentleman's Guide to Vice and Virtue by Mackenzi Lee:
Henry "Monty" Montague was born and bred to be a gentleman, but he was never one to be tamed. The finest boarding schools in England and the constant disapproval of his father haven't been able to curb any of his roguish passions—not for gambling halls, late nights spent with a bottle of spirits, or waking up in the arms of women or men.
But as Monty embarks on his Grand Tour of Europe, his quest for a life filled with pleasure and vice is in danger of coming to an end. Not only does his father expect him to take over the family's estate upon his return, but Monty is also nursing an impossible crush on his best friend and traveling companion, Percy.
Still it isn't in Monty's nature to give up. Even with his younger sister, Felicity, in tow, he vows to make this yearlong escapade one last hedonistic hurrah and flirt with Percy from Paris to Rome. But when one of Monty's reckless decisions turns their trip abroad into a harrowing manhunt that spans across Europe, it calls into question everything he knows, including his relationship with the boy he adores.
Alex, Approximately by Jenn Bennett:
The one guy Bailey Rydell can't stand is actually the boy of her dreams—she just doesn't know it yet.
Classic movie fan Bailey "Mink" Rydell has spent months crushing on a witty film geek she only knows online as Alex. Two coasts separate the teens until Bailey moves in with her dad, who lives in the same California surfing town as her online crush.
Faced with doubts (what if he's a creep in real life—or worse?), Bailey doesn't tell Alex she's moved to his hometown. Or that she's landed a job at the local tourist-trap museum. Or that she's being heckled daily by the irritatingly hot museum security guard, Porter Roth—a.k.a. her new archnemesis. But life is whole lot messier than the movies, especially when Bailey discovers that tricky fine line between hate, love, and whatever it is she's starting to feel for Porter.
And as the summer months go by, Bailey must choose whether to cling to a dreamy online fantasy in Alex or take a risk on an imperfect reality with Porter. The choice is both simpler and more complicated than she realizes, because Porter Roth is hiding a secret of his own: Porter is Alex…Approximately.
Riot by Jamie Shaw:
When Dee Dawson meets sexy mohawked guitarist Joel Gibbon, she knows it won't be long before she has him wrapped around her finger. No guy has ever been able to resist her… but Dee's met her match in a player like Joel.
Dee's not the relationship type—not after seeing the pain "love" has caused her friends and family—yet she's desperate to make Joel want her more than anyone else. He quickly becomes an obsession, and when a reckless attempt to make him jealous ends in disaster, Dee turns into the damsel in distress she never wanted to be. With her carefree world crashing down around her, the last thing she needs is Joel's pity.
But Joel is suddenly determined to prove he cares, and no matter how hard Dee tries to push him away, he refuses to let her shut him out. Now the girl who swore she'd never say those three little words must choose between guarding her heart and losing Joel forever… or falling head-over-heels for the tattooed rock star of her dreams.
Geekerella by Ashley Poston:
Anything can happen once upon a con…
When geek girl Elle Wittimer sees a cosplay contest sponsored by the producers of Starfield, she has to enter. First prize is an invitation to the ExcelsiCon Cosplay Ball and a meet-and-greet with the actor slated to play Federation Prince Carmindor in the reboot. Elle's been scraping together tips from her gig at the Magic Pumpkin food truck behind her stepmother's back, and winning this contest could be her ticket out once and for all—not to mention a fangirl's dream come true.
Teen actor Darien Freeman is less than thrilled about this year's ExcelsiCon. He used to live for conventions, but now they're nothing but jaw-aching photo sessions and awkward meet-and-greets. Playing Federation Prince Carmindor is all he's ever wanted, but the diehard Starfield fandom has already dismissed him as just another heartthrob. As ExcelsiCon draws near, closet nerd Darien feels more and more like a fake—until he meets a girl who shows him otherwise.
Breathe, Annie, Breathe by Miranda Kenneally:
From the bestselling author of Catching Jordan comes a contemporary YA you won't forget.
The finish line is only the beginning.…
Annie hates running. No matter how far she jogs, she can't escape the guilt that if she hadn't broken up with Kyle, he might still be alive. So to honor his memory, she starts preparing for the marathon he intended to race.
But the training is even more grueling than Annie could have imagined. Despite her coaching, she's at war with her body, her mind-and her heart. With every mile that athletic Jeremiah cheers her on, she grows more conflicted. She wants to run into his arms…and sprint in the opposite direction. For Annie, opening up to love again may be even more of a challenge than crossing the finish line.
Tessa Ever After by Brighton Walsh:
In this grippingly emotional New Adult novel from the author of Caged in Winter, what you want isn't always what you need…
Jason's been living (and loving) the rich playboy lifestyle for five years, but now his parents are pressuring him to get involved in the family business. The last thing he wants is another obligation, but when his best friend moves out of state and asks Jason to look after his sister, he can't just say no.
Tessa had to grow up way too soon. After dealing with the aftermath of her parents' deaths, then becoming a teenage mom, she knows the meaning of responsibility. Which is why, at twenty-two, she's looking for so much more than a party boy. She's looking for someone who can stand by her and her daughter…forever.
A relationship between them is doomed from the start, but who says they can't have a little fun? But as Jason gets closer to Tessa—and her daughter—fun starts to turn into something else… Something Jason's not sure he's ready for.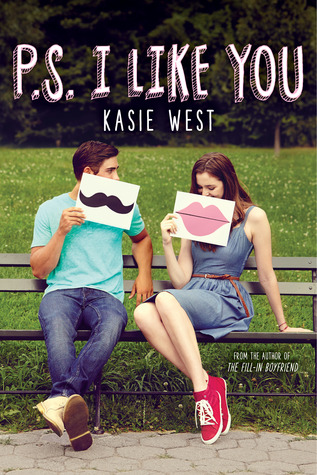 P.S. I Like You by Kasie West:
Signed, sealed, delivered…
While spacing out in chemistry class, Lily scribbles some of her favorite song lyrics onto her desk. The next day, she finds that someone has continued the lyrics on the desk and added a message to her. Intrigue!
Soon, Lily and her anonymous pen pal are exchanging full-on letters—sharing secrets, recommending bands, and opening up to each other. Lily realizes she's kind of falling for this letter writer. Only, who is he? As Lily attempts to unravel the mystery and juggle school, friends, crushes, and her crazy family, she discovers that matters of the heart can't always be spelled out…
Under the Never Sky by Veronica Rossi:
Since she'd been on the outside, she'd survived an Aether storm, she'd had a knife held to her throat, and she'd seen men murdered.
This was worse.
Exiled from her home, the enclosed city of Reverie, Aria knows her chances of surviving in the outer wasteland — known as The Death Shop — are slim. If the cannibals don't get her, the violent energy storms will. Then Aria meets an Outsider named Perry. He's wild — a savage — and her only hope of staying alive.
A hunter for his tribe in a merciless landscape, Perry views Aria as sheltered and fragile—everything he would expect from a Dweller. But he needs Aria's help too; she alone holds the key to his redemption. Opposites in nearly every way, Aria and Perry must come together to survive. Their unlikely alliance forges a bond that will determine the fate of all who live under the never sky.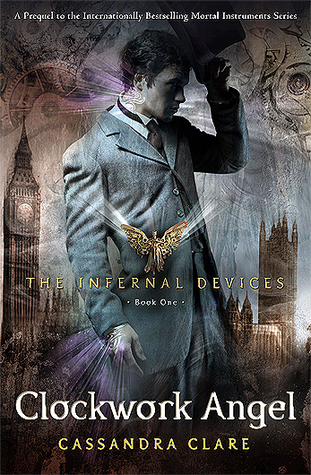 The Clockwork Angel by Cassandra Clare:
In a time when Shadowhunters are barely winning the fight against the forces of darkness, one battle will change the course of history forever. Welcome to the Infernal Devices trilogy, a stunning and dangerous prequel to the New York Times bestselling Mortal Instruments series.
The year is 1878. Tessa Gray descends into London's dark supernatural underworld in search of her missing brother. She soon discovers that her only allies are the demon-slaying Shadowhunters—including Will and Jem, the mysterious boys she is attracted to. Soon they find themselves up against the Pandemonium Club, a secret organization of vampires, demons, warlocks, and humans. Equipped with a magical army of unstoppable clockwork creatures, the Club is out to rule the British Empire, and only Tessa and her allies can stop them…
Scarlet by A.C. Gaughen:
Posing as one of Robin Hood's thieves to avoid the wrath of the evil Thief Taker Lord Gisbourne, Scarlet has kept her female identity secret from all of Nottinghamshire. Only Robin and his band know the truth. As Gisbourne closes in, helping the people of Nottingham could cost Scarlet her life, but her fierce loyalty to Robin-whose quick smiles have the rare power to unsettle her-keeps Scarlet going and makes this fight worth dying for.
Honorable Mentions
What are some of your favorite swoony books?
Related Posts