Okay, so last time I posted about TV, I mentioned how obsessed I was with Bones. And I still am. I'm currently on season 9 and am still in love with it. There have been a few things I haven't loved and I'm still mad/sad about that whole Zack situation but I'm doing okay. Also, WHEN WILL THEY CATCH PELANT?!?! Also, I have things to say about their relationship, but this post is suppose to be about Buffy so I'm going to hold it all in. For now. I'm mostly glad I was able to get through the first four seasons before they left Netflix. Once I got through those seasons, I slowed down a bit. But really only enough to sneak in Buffy episodes.
And then the news about the 20th anniversary of Buffy came out and talk of a reunion and I was reminded that I really need to watch that show. I saw a few of episodes a couple of years ago when I remembered that as someone who was a teen in the 90's and a huge fan of everything fantasy, it was a pretty big deal that I'd never actually watched one of the most important shows in history. Especially when talking about strong female characters in the industry. So I sat and made my husband watch the first few episodes with me and I'm going to be completely honest, they were a little hard to get through. And like a huge quitter, I stopped watching.
via GIPHY
 But now that I'm obsessed with Bones (*cough* Booth *cough*) and apparently the anniversary of Buffy is coming up, I thought I'd give it another try. And I did! I watched the whole first season in just a couple of days. And so, obviously, now I have some thoughts I'd like to share with all of you.
First of all, I have to talk about David Boreanaz. The difference between him in Buffy and in Bones is quite hilarious. I'm sure watching Buffy first and then Bones, it would be a very natural transition. But starting with Bones and seeing him as a strong but emotional and faithful character to Buffy where he just broods All. The. Time. is very strange. He isn't a sparkly vampire but he very much reminds me of those looks R Patz gave in Twilight. Vampires with consciences are apparently very serious. But I am interested to see how his character develops. Especially knowing he gets his own spin-off show soon. But for now, I'm not really seeing much as far as his character goes. Or acting abilities.
Samesies
Secondly, I spent a whole bunch of this season wondering why the vampires look like they do. I was actually so curious about this that I Googled it and there was a real answer. Apparently Joss Whedon was worried about how it would look if Buffy was killing regular looking people. So I guess they came up with this ridiculous looking makeup. Even if that is a real reason, I still think the makeup looks horrible. I try not to get distracted by it because people swear there are important life lessons in the show and that it was actually quite groundbreaking (the show, NOT the makeup) but it's just really distracting for a first-time viewer who currently lives in the year 2017 and who was previously introduced to vampires as incredibly attracted, irresistible beings (but not sparkly, that was distracting, too). But whatever. I'm sure I'll get past it soon.
That is definitely not what I imagine when I think of hot vampires. Also, does he have a cold? Why is his nose so red?
Next, I have to say that I really (REALLY, REALLY, REALLY) cannot stand Xander. At all. I really hope his characters improves soon and stops being so creepy with Buffy and mean to Willow and just plain horrible. Seriously. And when he asked her to prom? Ugh. Stop being so annoying and whiny and deal with it and move on. She's already told you that she's in love with someone else. But he totally disregards that fact and the fact that she's never even pretended to like him in any other way. But he must continue to make it awkward for everyone just because he likes her. Nope. He's BY FAR my least favorite character. I'm interested to see if that changes at all in the later seasons.
via GIPHY
I really also need to talk about how weird the whole Buffy/Giles relationship is. I mean, I get that he's the whatever he is and she's the slayer or whatever but it's just a little bit weird. They are much closer than any grown man and sixteen year old girl should be. Especially when considering everything he's asking of her and trying to control her dating life. I don't know. To regular watchers, the relationship might seem fine. And if I'd watched it when it was on once a week and I was younger, maybe it wouldn't feel weird. It's definitely set up like a lot of fantasy series where there's an educated older male in charge of the younger female fighter. I don't know why but I suspect it comes from male writers wanting younger women. But maybe that's reading too much into it. I don't know. But it's weird to watch sometimes. But also, I haven't written him off. I'm holding out hope that it becomes less weird and I can see it more like a loving father/daughter relationship rather than teacher/student. Do I have a right to be hopeful? Am I just being weird about this?
via GIPHY
Note: when I Googled "Buffy and Giles" the first thing it filled in was fanfiction. I didn't read any of it because I was afraid if I went there, I'd never be able to go back. So I guess I'm not the only one who thinks their relationship is weird? Or I guess weird probably isn't how those fanfics see the relationship. But I'm stopping here.
Lastly, I just have to mention that this show is really dated. I know there's absolutely no way to avoid that but going back and watching for the first time now is almost comical. Not just with the special effects (and the exceptionally low budget) but also with the available technology. It's just funny to remember how cutting edge those things were twenty years ago and most of them we don't even use anymore. (I laughed straight through the episode where the demon was stuck in the internet and communicated through an instant messenger.) It's slightly distracting but mostly just funny. And impossible not to mention.
via GIPHY
In the end, I'm actually looking forward to watching the next season. It took me a few episodes to actually become interested in the story instead of just wanting to watch it because it was so popular and feeling like I should watch it. Unfortunately, because of my perfect timing, the show left Netflix as soon as I finished season one. But luckily, my library had season two in stock. I hope it's awesome!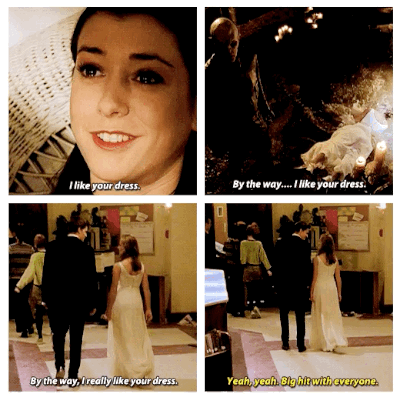 Are you a Buffy fan? What is your favorite season?
Related Posts