Top Ten Tuesday is hosted each week by The Broke and The Bookish and allows us to combine our love of books with our love of lists. This week's topic is: Top Ten Of The Most Unique Books I've Read.
Just like all of us, I love unique books! I love it when I'm surprised by something that happens in a book or I'm introduced to a new kind of character. Sometimes I worry that I've read so much that nothing will seem new or exciting or something that I'll love. But luckily, every once in a while, I still come across something that's completely unique and I just can't help but fall in love with it! Here are the top unique books that I love!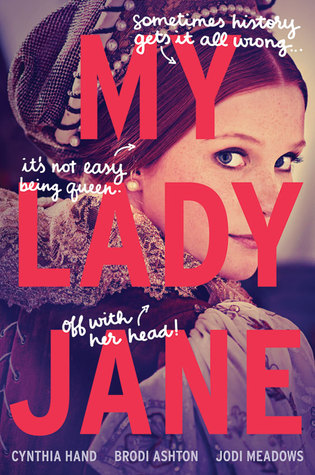 My Lady Jane by Cynthia Hand, Jodi Meadows, and Brodi Ashton:
The comical, fantastical, romantical, (not) entirely true story of Lady Jane Grey. In My Lady Jane, coauthors Cynthia Hand, Brodi Ashton, and Jodi Meadows have created a one-of-a-kind fantasy in the tradition of The Princess Bride, featuring a reluctant king, an even more reluctant queen, a noble steed, and only a passing resemblance to actual history—because sometimes history needs a little help.
At sixteen, Lady Jane Grey is about to be married off to a stranger and caught up in a conspiracy to rob her cousin, King Edward, of his throne. But those trifling problems aren't for Jane to worry about. Jane is about to become the Queen of England.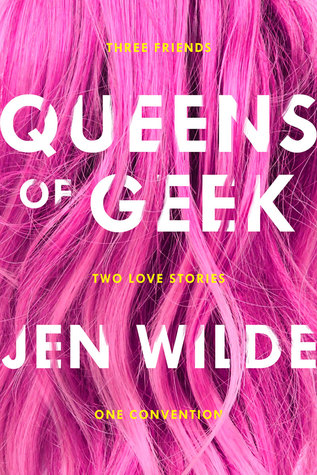 Queens of Geek by Jen Wilde:
When BFFs Charlie, Taylor and Jamie go to SupaCon, they know it's going to be a blast. What they don't expect is for it to change their lives forever.
Charlie likes to stand out. SupaCon is her chance to show fans she's over her public breakup with co-star, Jason Ryan. When Alyssa Huntington arrives as a surprise guest, it seems Charlie's long-time crush on her isn't as one-sided as she thought.
While Charlie dodges questions about her personal life, Taylor starts asking questions about her own.
Taylor likes to blend in. Her brain is wired differently, making her fear change. And there's one thing in her life she knows will never change: her friendship with Jamie—no matter how much she may secretly want it to. But when she hears about the Queen Firestone SupaFan Contest, she starts to rethink her rules on playing it safe.
Symptoms of Being Human by Jeff Garvin:
The first thing you're going to want to know about me is: Am I a boy, or am I a girl?
Riley Cavanaugh is many things: Punk rock. Snarky. Rebellious. And gender fluid. Some days Riley identifies as a boy, and others as a girl. The thing is…Riley isn't exactly out yet. And between starting a new school and having a congressman father running for reelection in uber-conservative Orange County, the pressure—media and otherwise—is building up in Riley's so-called "normal" life.
On the advice of a therapist, Riley starts an anonymous blog to vent those pent-up feelings and tell the truth of what it's REALLY like to be a gender fluid teenager. But just as Riley's starting to settle in at school—even developing feelings for a mysterious outcast—the blog goes viral, and an unnamed commenter discovers Riley's real identity, threatening exposure. Riley must make a choice: walk away from what the blog has created—a lifeline, new friends, a cause to believe in—or stand up, come out, and risk everything.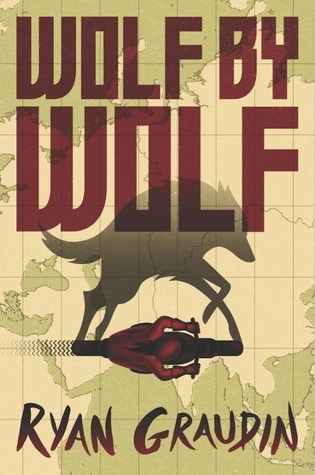 Wolf by Wolf by Ryan Graudin:
Her story begins on a train.
The year is 1956, and the Axis powers of the Third Reich and Imperial Japan rule. To commemorate their Great Victory, Hitler and Emperor Hirohito host the Axis Tour: an annual motorcycle race across their conjoined continents. The victor is awarded an audience with the highly reclusive Adolf Hitler at the Victor's Ball in Tokyo.
Yael, a former death camp prisoner, has witnessed too much suffering, and the five wolves tattooed on her arm are a constant reminder of the loved ones she lost. The resistance has given Yael one goal: Win the race and kill Hitler. A survivor of painful human experimentation, Yael has the power to skinshift and must complete her mission by impersonating last year's only female racer, Adele Wolfe. This deception becomes more difficult when Felix, Adele twin's brother, and Luka, her former love interest, enter the race and watch Yael's every move.
But as Yael grows closer to the other competitors, can she bring herself to be as ruthless as she needs to be to avoid discovery and complete her mission?
From the author of The Walled City comes a fast-paced and innovative novel that will leave you breathless.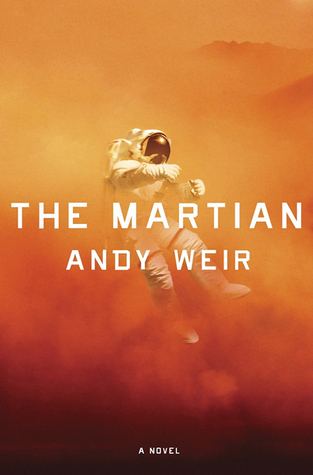 The Martian by Andy Weir:
A mission to Mars.
A freak accident.
One man's struggle to survive.
Six days ago, astronaut Mark Watney became one of the first people to walk on Mars.
Now, he's sure he'll be the first person to die there.
After a dust storm nearly kills him and forces his crew to evacuate the planet while thinking him dead, Mark finds himself stranded on Mars' surface, completely alone, with no way to signal Earth that he's alive. And even if he could get word out, his supplies would be gone years before a rescue could arrive.
Chances are, though, Mark won't have time to starve to death. The damaged machinery, unforgiving environment or plain-old "human error" are much more likely to kill him first.
But Mark's not ready to quit. Armed with nothing but his ingenuity and his engineering skills—and a gallows sense of humor that proves to be his greatest source of strength–he embarks on a dogged quest to stay alive, using his botany expertise to grow food and even hatching a mad plan to contact NASA back on Earth.
As he overcomes one seemingly insurmountable obstacle after the next, Mark begins to let himself believe he might make it off the planet alive.
But Mars has plenty of surprises in store for him yet.
Illuminae by Amie Kaufman and Jay Kristoff:
This morning, Kady thought breaking up with Ezra was the hardest thing she'd have to do. This afternoon, her planet was invaded.
The year is 2575, and two rival megacorporations are at war over a planet that's little more than an ice-covered speck at the edge of the universe. Too bad nobody thought to warn the people living on it. With enemy fire raining down on them, Kady and Ezra—who are barely even talking to each other—are forced to fight their way onto an evacuating fleet, with an enemy warship in hot pursuit.
But their problems are just getting started. A deadly plague has broken out and is mutating, with terrifying results; the fleet's AI, which should be protecting them, may actually be their enemy; and nobody in charge will say what's really going on. As Kady hacks into a tangled web of data to find the truth, it's clear only one person can help her bring it all to light: the ex-boyfriend she swore she'd never speak to again.
BRIEFING NOTE: Told through a fascinating dossier of hacked documents—including emails, schematics, military files, IMs, medical reports, interviews, and more—Illuminae is the first book in a heart-stopping, high-octane trilogy about lives interrupted, the price of truth, and the courage of everyday heroes.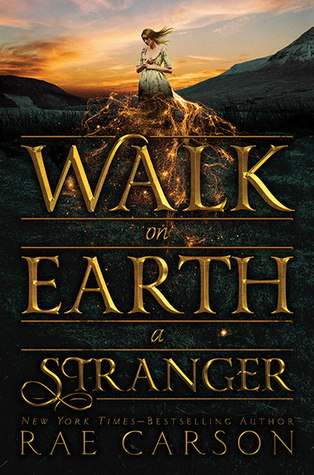 Walk on Earth a Stranger by Rae Carson:
Gold is in my blood, in my breath, even in the flecks in my eyes.
Lee Westfall has a strong, loving family. She has a home she loves and a loyal steed. She has a best friend—who might want to be something more.
She also has a secret.
Lee can sense gold in the world around her. Veins deep in the earth. Small nuggets in a stream. Even gold dust caught underneath a fingernail. She has kept her family safe and able to buy provisions, even through the harshest winters. But what would someone do to control a girl with that kind of power? A person might murder for it.
When everything Lee holds dear is ripped away, she flees west to California—where gold has just been discovered. Perhaps this will be the one place a magical girl can be herself. If she survives the journey.
The acclaimed Rae Carson begins a sweeping new trilogy set in Gold Rush-era America, about a young woman with a powerful and dangerous gift.
The Female of the Species by Mindy McGinnis:
Alex Craft knows how to kill someone. And she doesn't feel bad about it. When her older sister, Anna, was murdered three years ago and the killer walked free, Alex uncaged the language she knows best. The language of violence.
While her crime goes unpunished, Alex knows she can't be trusted among other people, even in her small hometown. She relegates herself to the shadows, a girl who goes unseen in plain sight, unremarkable in the high school hallways.
But Jack Fisher sees her. He's the guy all other guys want to be: the star athlete gunning for valedictorian with the prom queen on his arm. Guilt over the role he played the night Anna's body was discovered hasn't let him forget Alex over the years, and now her green eyes amid a constellation of freckles have his attention. He doesn't want to only see Alex Craft; he wants to know her.
So does Peekay, the preacher's kid, a girl whose identity is entangled with her dad's job, though that does not stop her from knowing the taste of beer or missing the touch of her ex-boyfriend. When Peekay and Alex start working together at the animal shelter, a friendship forms and Alex's protective nature extends to more than just the dogs and cats they care for.
Circumstances bring Alex, Jack, and Peekay together as their senior year unfolds. While partying one night, Alex's darker nature breaks out, setting the teens on a collision course that will change their lives forever.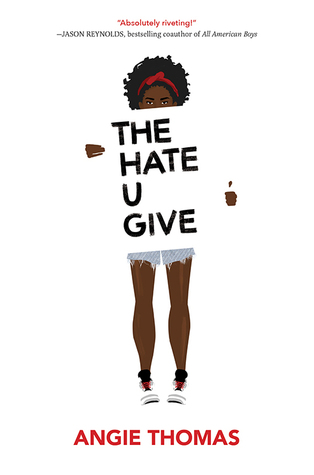 The Hate U Give by Angie Thomas:
Sixteen-year-old Starr Carter moves between two worlds: the poor neighborhood where she lives and the fancy suburban prep school she attends. The uneasy balance between these worlds is shattered when Starr witnesses the fatal shooting of her childhood best friend Khalil at the hands of a police officer. Khalil was unarmed.
Soon afterward, his death is a national headline. Some are calling him a thug, maybe even a drug dealer and a gangbanger. Protesters are taking to the streets in Khalil's name. Some cops and the local drug lord try to intimidate Starr and her family. What everyone wants to know is: what really went down that night? And the only person alive who can answer that is Starr.
But what Starr does or does not say could upend her community. It could also endanger her life.
What are your favorite unique books?
Related Posts