Top Ten Tuesday is hosted each week by The Broke and The Bookish and allows us to combine our love of books with our love of lists.
This week's topic is all about fandoms. Since I just finished reading Geekerella by Ashley Poston, I couldn't think of a better topic than books that included fandoms. So I started compiling my list of favorites and only came up with a few I'd even read. And I was shocked at how few there were! And I really don't know why. Every time I pick one up, I love it. It's so easy to relate to the main characters in these books. I completely understand how these characters feel about the things they love and what it feels like to be a fangirl or attend a con or have a harder time dealing with people in real life than those in books. But I haven't read even close to ten that I could find. So I decided to include my favorites as well as some I want to read.
And hopefully in the comments, you guys can help me figure out which ones I should read ASAP and let me know if there are any great ones I've left off my list!
Here are some of my favorites: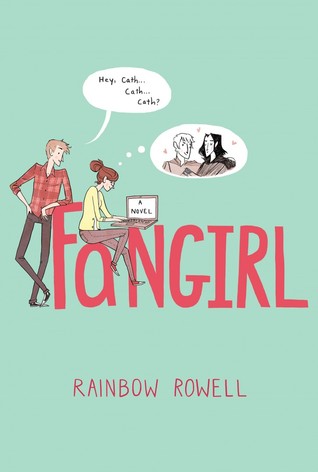 Fangirl by Rainbow Rowell:
Cath is a Simon Snow fan.
Okay, the whole world is a Simon Snow fan…
But for Cath, being a fan is her life—and she's really good at it. She and her twin sister, Wren, ensconced themselves in the Simon Snow series when they were just kids; it's what got them through their mother leaving. Reading. Rereading. Hanging out in Simon Snow forums, writing Simon Snow fan fiction, dressing up like the characters for every movie premiere.
Cath's sister has mostly grown away from fandom, but Cath can't let go. She doesn't want to.
Now that they're going to college, Wren has told Cath she doesn't want to be roommates. Cath is on her own, completely outside of her comfort zone. She's got a surly roommate with a charming, always-around boyfriend, a fiction-writing professor who thinks fan fiction is the end of the civilized world, a handsome classmate who only wants to talk about words… And she can't stop worrying about her dad, who's loving and fragile and has never really been alone.
For Cath, the question is: Can she do this? Can she make it without Wren holding her hand? Is she ready to start living her own life? Writing her own stories?
And does she even want to move on if it means leaving Simon Snow behind?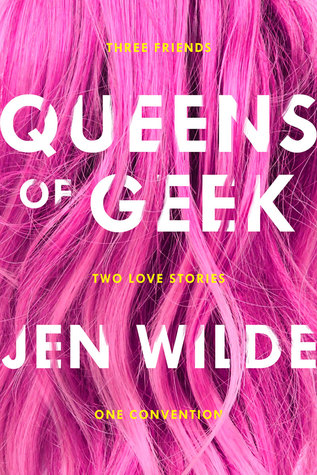 Queens of Geek by Jen Wilde:
When BFFs Charlie, Taylor and Jamie go to SupaCon, they know it's going to be a blast. What they don't expect is for it to change their lives forever.
Charlie likes to stand out. SupaCon is her chance to show fans she's over her public breakup with co-star, Reese Ryan. When Alyssa Huntington arrives as a surprise guest, it seems Charlie's long-time crush on her isn't as one-sided as she thought.
While Charlie dodges questions about her personal life, Taylor starts asking questions about her own.
Taylor likes to blend in. Her brain is wired differently, making her fear change. And there's one thing in her life she knows will never change: her friendship with Jamie—no matter how much she may secretly want it to. But when she hears about the Queen Firestone SupaFan Contest, she starts to rethink her rules on playing it safe.
Geekerella by Ashley Poston:
Geek girl Elle Wittimer lives and breathes Starfield, the classic sci-fi series she grew up watching with her late father. So when she sees a cosplay contest for a new Starfield movie, she has to enter. The prize? An invitation to the ExcelsiCon Cosplay Ball, and a meet-and-greet with the actor slated to play Federation Prince Carmindor in the reboot. With savings from her gig at the Magic Pumpkin food truck (and her dad's old costume), Elle's determined to win…unless her stepsisters get there first.
Teen actor Darien Freeman used to live for cons—before he was famous. Now they're nothing but autographs and awkward meet-and-greets. Playing Carmindor is all he's ever wanted, but Starfield fandom has written him off as just another dumb heartthrob. As ExcelsiCon draws near, Darien feels more and more like a fake—until he meets a girl who shows him otherwise. But when she disappears at midnight, will he ever be able to find her again?
Part romance, part love letter to nerd culture, and all totally adorbs, Geekerella is a fairy tale for anyone who believes in the magic of fandom.
The Summer I Became a Nerdy by Leah Rae Miller:
On the outside, seventeen-year-old Madelyne Summers looks like your typical blond cheerleader—perky, popular, and dating the star quarterback. But inside, Maddie spends more time agonizing over what will happen in the next issue of her favorite comic book than planning pep rallies with her squad. That she's a nerd hiding in a popular girl's body isn't just unknown, it's anti-known. And she needs to keep it that way.
Summer is the only time Maddie lets her real self out to play, but when she slips up and the adorkable guy behind the local comic shop's counter uncovers her secret, she's busted. Before she can shake a pom-pom, Maddie's whisked into Logan's world of comic conventions, live-action role-playing, and first-person-shooter video games. And she loves it. But the more she denies who she really is, the deeper her lies become…and the more she risks losing Logan forever.
And here are a few I still want to read: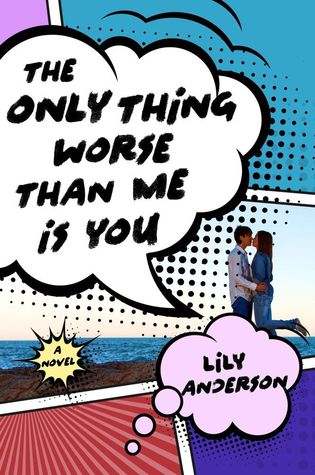 The Only Thing Worse Than Me Is You by Lily Anderson:
Trixie Watson has two very important goals for senior year: to finally save enough to buy the set of Doctor Who figurines at the local comic books store, and to place third in her class and knock Ben West–and his horrendous new mustache that he spent all summer growing–down to number four.
Trixie will do anything to get her name ranked over Ben's, including give up sleep and comic books–well, maybe not comic books–but definitely sleep. After all, the war of Watson v. West is as vicious as the Doctor v. Daleks and Browncoats v. Alliance combined, and it goes all the way back to the infamous monkey bars incident in the first grade. Over a decade later, it's time to declare a champion once and for all.
The war is Trixie's for the winning, until her best friend starts dating Ben's best friend and the two are unceremoniously dumped together and told to play nice. Finding common ground is odious and tooth-pullingly-painful, but Trixie and Ben's cautious truce slowly transforms into a fandom-based tentative friendship. When Trixie's best friend gets expelled for cheating and Trixie cries foul play, however, they have to choose who to believe and which side they're on–and they might not pick the same side.
All the Feels by Danika Stone:
College freshman Liv is more than just a fangirl: The Starveil movies are her life… So, when her favorite character, Captain Matt Spartan, is killed off at the end of the last movie, Liv Just. Can't. Deal.
Tired of sitting in her room sobbing, Liv decides to launch an online campaign to bring her beloved hero back to life. With the help of her best friend, Xander, actor and steampunk cosplayer extraordinaire, she creates #SpartanSurvived, a campaign to ignite the fandom. But as her online life succeeds beyond her wildest dreams, Liv is forced to balance that with the pressures of school, her mother's disapproval, and her (mostly nonexistent and entirely traumatic) romantic life. A trip to DragonCon with Xander might be exactly what she needs to figure out what she really wants.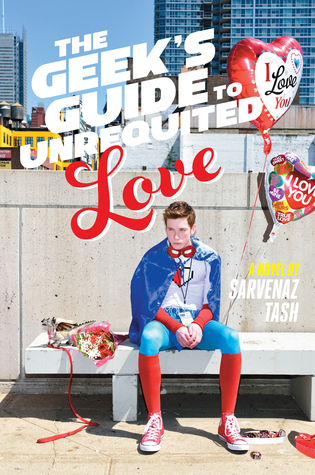 The Geek's Guide to Unrequited Love by Sarvenaz Tash:
Peter Parker and Gwen Stacy. Archie and Veronica. Althena and Noth.…Graham and Roxy?
Graham met his best friend, Roxy, when he moved into her neighborhood eight years ago and she asked him which Hogwarts house he'd be sorted into. Graham has been in love with her ever since.
But now they're sixteen, still neighbors, still best friends. And Graham and Roxy share more than ever—moving on from their Harry Potter obsession to a serious love of comic books.
When Graham learns that the creator of their favorite comic, The Chronicles of Althena, is making a rare appearance at this year's New York Comic Con, he knows he must score tickets. And the event inspires Graham to come up with the perfect plan to tell Roxy how he really feels about her. He's got three days to woo his best friend at the coolest, kookiest con full of superheroes and supervillains. But no one at a comic book convention is who they appear to be…even Roxy. And Graham is starting to realize fictional love stories are way less complicated than real-life ones.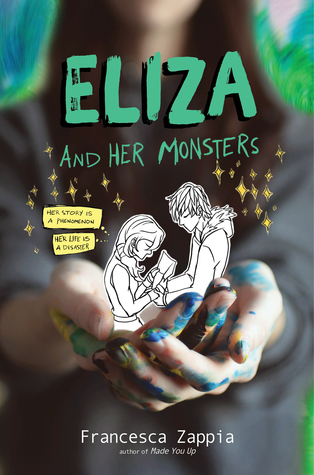 Eliza and her Monsters by Francesca Zappia:
In the real world, Eliza Mirk is shy, weird, and friendless. Online, Eliza is LadyConstellation, anonymous creator of the wildly popular webcomic Monstrous Sea. Eliza can't imagine enjoying the real world as much as she loves her digital community, and has no desire to try.
Then Wallace Warland, Monstrous Sea's biggest fanfiction writer, transfers to her school. Wallace thinks Eliza is just another fan, and Eliza begins to wonder if a life offline might be worthwhile. But when Eliza's secret is accidentally shared with the world, everything she's built—her story, her relationship with Wallace, and even her sanity—begins to fall apart.
With illustrations from Eliza's webcomic, as well as screenshots from Eliza's online forums and snippets of Wallace's fanfiction, this uniquely formatted book will appeal to fans of Noelle Stevenson's Nimona and Rainbow Rowell's Fangirl.
The Fangirl's Guide to the Galaxy by: A Handbook for Geek Girls by Sam Maggs:
Fanfic, cosplay, cons, books, memes, podcasts, vlogs, OTPs and RPGs and MMOs and more—it's never been a better time to be a girl geek. The Fangirl's Guide to the Galaxy is the ultimate handbook for ladies living the nerdy life, a fun and feminist take on the often male-dominated world of geekdom. With delightful illustrations and an unabashed love for all the in(ternet)s and outs of geek culture, this book is packed with tips, playthroughs, and cheat codes for everything from starting an online fan community to planning a convention visit to supporting fellow female geeks in the wild.
And even though I totally loved Fangirl, I still haven't read this one (though it doesn't quite fit in this category, I'm including it anyway because I want to):
Eliza and her Monsters by Francesca Zappia:
Simon Snow is the worst chosen one who's ever been chosen
That's what his roommate, Baz, says. And Baz might be evil and a vampire and a complete git, but he's probably right.
Half the time Simon can't even make his wand work, and the other half, he sets something on fire. His mentor's avoiding him, his girlfriend broke up with him, and there's a magic-eating monster running around wearing Simon's face. Baz would be having a field day with all this, if he were here – it's their last year at Watford School of Magicks, and Simon's infuriating nemesis didn't even bother to show up.
Carry On is a love letter to love stories and the power of words – to every 'chosen one' who ever had more on their mind than saving the world…
Have you read any books about fangirls or fanboys or fandoms? What have been your favorites?
Related Posts