Like most booknerds, I go through several emotions rather quickly when I hear a book I've enjoyed is being turned into a movie. First, there's excitement. A book I loved was chosen to be made into a movie?!?!!? Then, there's weariness. Another book I loved is going to be ruined by being turned into a movie? Then there's acceptance. A book I loved is going to be made into a movie. At least more people will get to know these characters I loved and their stories. (As long as they don't screw it up.) Then there's a little tiny bit of hope. I'm going to get to see a movie of a book I loved on screen and so far the cast looks pretty good. Maybe they aren't messing it up! Then, finally, it's back to excitement. Just another month until I get to see the movie of the book I love!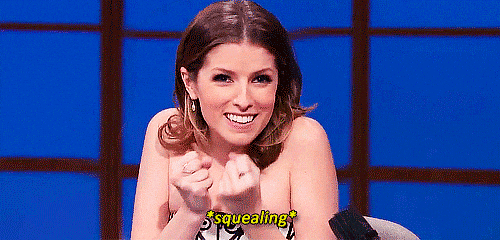 Or maybe that cycle of emotions is something only I go through. Who knows. Either way, there's always a little bit of hesitation when the news breaks of an adaptation because we've all had our hearts broken by a horrible movie (or TV show). Hope for the best but prepare for the worst. Right?
And that's exactly how I'm getting myself ready for these adaptations that are coming out. I'm being cautiously optimistic. Putting the dates on my calendar but only in pencil. I'll be there opening day for some and waiting until they're streaming on Amazon so I can watch from my own couch on others. Either way, I'm excited to see how these books will be interpreted and presented to a new audience. And ready to yell and scream about how wrong they were.
March 3: Before I Fall
I know this is already out but I'm slow. Also, this is one I actually haven't read the book for yet. I own it. Of course. But I haven't read it. Now I just have to decide if I want to read it before seeing the movie. (Of course I will.) But this will definitely be one of those that waits until it becomes available to rent because I haven't read the book and because it definitely isn't a movie my husband will care to see. He puts up with a lot, but I think this one is pushing it. And if it was just a movie and not a YA adaptation, I probably wouldn't care about it much either, honestly. It feels a little bit too much like Groundhog's Day and Carrie had a baby. But I do hear the book and the starring actress are fantastic, so who knows.
March 17: Beauty and the Beast
This is the one I'm counting down the days to. I am so excited for this movie it's ridiculous. And no, I haven't read the original story and I won't read it before seeing this but I do really want to at some point. I'm just excited about this because the cast is amazing and it looks gorgeous! Plus, probably like a lot of booknerds, Beauty and the Beast was my favorite Disney movie as a kid. I loved it and I'm ready to revisit all of those feelings with this new cast. Even if it is a bit of a straight copy of the Disney movie and offers nothing new, I don't care. And you can't make it. I will see this one.
April 7: Wonder
I can't seem to find a trailer for Wonder even though it says it comes out in April. But maybe it's not coming out until later. I'm not sure. Either way, I'm sure this movie will be emotional. And it seems like they did a great job casting it. I didn't see Room because of the topic but Jacob Tremblay got rave reviews for that and I think this one will be similar. Also, I really think Julia Roberts and Owen Wilson as his parents will be great. I don't think I've seen the sister in anything yet but I'm hoping she's good because she was one of my favorite characters from the book. Overall, as long as they get the family bonds right and the overall feeling of the book with the messages of acceptance and hope and love, this one will be good. Also, it has the same director as The Perks of Being a Wallflower and I think that was one of the best adaptations I've seen, so that's very promising. And lastly, you guys should all go read this book.  (Update: IMDB says it's not coming out until November. So the lack of a trailer makes sense.)
April 28: The Circle
Another Emma Watson movie?! I will 1000% admit that I knew nothing about this one, book or movie, until writing this post and the only thing that pulled me in was the cast. Emma Watson. Tom Hanks. John Boyega. Nate Corddry. I probably won't see it but the trailer did make it look interesting. And the topic is extremely relevant but the reviews on Goodreads are pretty split. So this is probably one where I'd just end up seeing the movie for the cast rather than reading it for the story. But don't tell anyone I said that.
May 12: King Arthur: Legend of the Sword
Guy Ritchie is making a King Arthur movie starring Charlie Hunnan. I will be there. Though to be honest, I'm not a huge Guy Ritchie fan. My husband is a big fan so I've seen several of his movies and mostly they're just okay for me. I do think I would have liked his Sherlock Holmes movies a lot more if Robert Downey, Jr's accent wasn't so atrocious. But the combination of story and visuals in this trailer, really makes me want to see it. This might be the movie that makes me a Guy Ritchie fan. Maybe I can make it one of those movies that I let my husband think he's choosing for date night. Seems like a win-win to me.
May 19: Everything, Everything

This one is obvious. Of course I'm going to see it. The actual movie looks really good and I know the acting will be well-done. My only problem with this one so far is that if you haven't read the book and therefore don't know the whole story, which was actually revealed brilliantly and very emotionally in the book, you're told everything (EVERYTHING) in the trailer. So are they just betting that since so many people have read it that they already know and don't mind seeing it all in the trailer? Or are they hoping those little reveals will make people curious enough to head to the theaters? I don't know. But if I didn't know the story already, I'd be kind of pissed about seeing so much of it in the trailer and figure that I really didn't have any reason left to see it at all.
So now you guys tell me, how do you feel about book to movie adaptations? Are you looking forward to any of these movies? 
Related Posts