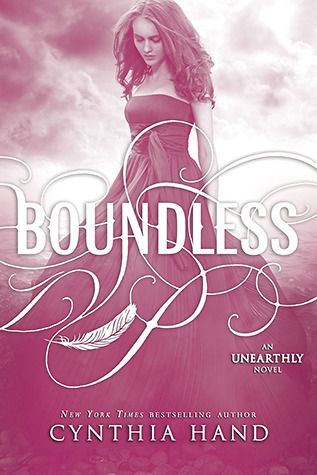 Boundless

by Cynthia Hand
Series: Unearthly #3
Published by HarperCollins Publishers on 2013-01-01
Genres: fantasy, Young Adult
Pages: 448
Format: ARC
Source: a Giveaway
Amazon • Barnes and Noble • Book Depository
Goodreads

The past few years have held more surprises than part-angel Clara Gardner could ever have anticipated. Yet from the dizzying highs of first love, to the agonizing low of losing someone close to her, the one thing she can no longer deny is that she was never meant to live a normal life.

Since discovering the special role she plays among the other angel-bloods, Clara has been determined to protect Tucker Avery from the evil that follows her . . . even if it means breaking both their hearts. Leaving town seems like the best option, so she's headed back to California - and so is Christian Prescott, the irresistible boy from the vision that started her on this journey in the first place.

As Clara makes her way in a world that is frighteningly new, she discovers that the fallen angel who attacked her is watching her every move. And he's not the only one. . . . With the battle against the Black Wings looming, Clara knows she must finally fulfill her destiny. But it won't come without sacrifices and betrayal.

In the riveting finale of the Unearthly series, Clara must decide her fate once and for all.
I need to say two things before I start my actual review for Boundless. One: I LOVED Hand's The Last Time We Say Goodbye. And two: This is a series that I think a lot of people could really love. And I know a lot of people who DO love it. And I'm happy for them. But this one just wasn't for me.
Also, this book has been out for almost three years so I'm not promising to keep this spoiler free. I will keep the chosen boy's identity safe, though, for all of you who live for the love triangles.
There was so much build up throughout the book. So much with the visions and what's going to happen and back and forths with the love triangle (STILL) and it was just so drawn out. I understand the need for build up, I get it, but this just felt extra long. Especially in the first half. Once we got to the second half, a few things were moving along faster. But enough with the visions. And the love triangle?!?! The absolute worst. The worst. I am so glad that trend is so much less popular now. I just can't handle it. Not when it's done this way. When she's with one guy, she loves him but is thinking of the other. And when she's with the other, she loves him but is feeling guilty about the other. So annoying. And watching her string along a guy we know she doesn't love in the same way as the other, it makes her look bad and makes me hate her. Just don't do that. But I feel like when this book came out, all of the "big" series were doing this. The whole who-is-she-gonna-end-up-with dance and picking "teams". And it just doesn't do the books any favors. So I'm glad that's over. I don't even really care who she ended up with.
Overall, the execution just wasn't what I had hoped for. There were emotional moments where I remembered why I loved TLTWSG so much but otherwise, I wasn't that impressed with Clara and her abilities. It was almost like Clara was superman in that whatever she wanted to do, she did. She had all the powers. Need to heal someone? Check. Need to travel through space? Check. Need to fly really really fast? Check. Haven't done it before but need to right now? No problem. It's great that she's powerful, I love strong kick-ass female characters, but it doesn't count when everything gets fixed so conveniently. I can't relate to someone who can do anything without much of a struggle. And it feels like she doesn't need me to be rooting for her either if she can just do whatever she needs to. As the reader, why am I even here then? Am I just here to listen to your drama about two boys wanting to be with you forever? I don't want to listen to that. I want to read about someone working hard and making sacrifices to save the people she loves. But that wasn't really here. It was a lot of build up with the visions and the training and then everything wraps up easily and all in the main characters favor. I don't really want to wish bad things on my characters but some struggle or heartache or difficulties are what emotionally connects us to them. And I just didn't feel that with Clara in this one.
Otherwise, I can say that I'm glad I finally finished this series. In between the time that I read the first two and then finally this one, I've discovered that books about angels just aren't really my thing. All of the divine purpose talk and messages from God just kind of make me roll my eyes. I'm sure this affects my rating of the book and I'm not entirely sure if that's fair but it's how I feel. I do think this is one of the better angel series out there and I would recommend it to people looking for a series like this. And if love triangles don't both you, you might even love these books. I did really like Clara's mom and Angela was a very interesting character. There's a lot going on in the books and it did seem to all get wrapped up by the end. Especially with that epilogue in there. (That's sarcasm. I kind of hate epilogues.) But this just wasn't a book for me. And I'm sad about that but ultimately, not surprised.
Related Posts