I received this book for free from the Publisher in exchange for an honest review. This does not affect my opinion of the book or the content of my review.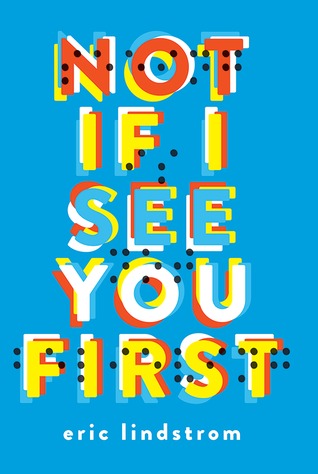 Not If I See You First

by Eric Lindstrom
Published by Little, Brown Books for Young Readers on 2015-12-01
Genres: Coming of Age, Friendship, Love & Romance
Pages: 320
Format: Hardcover
Source: the Publisher
Amazon • Barnes and Noble • Book Depository
Goodreads

The Rules:

Don't deceive me. Ever. Especially using my blindness. Especially in public.

Don't help me unless I ask. Otherwise you're just getting in my way or bothering me.

Don't be weird. Seriously, other than having my eyes closed all the time, I'm just like you only smarter.

Parker Grant doesn't need 20/20 vision to see right through you. That's why she created the Rules: Don't treat her any differently just because she's blind, and never take advantage. There will be no second chances. Just ask Scott Kilpatrick, the boy who broke her heart.

When Scott suddenly reappears in her life after being gone for years, Parker knows there's only one way to react-shun him so hard it hurts. She has enough on her mind already, like trying out for the track team (that's right, her eyes don't work but her legs still do), doling out tough-love advice to her painfully naive classmates, and giving herself gold stars for every day she hasn't cried since her dad's death three months ago. But avoiding her past quickly proves impossible, and the more Parker learns about what really happened--both with Scott, and her dad--the more she starts to question if things are always as they seem. Maybe, just maybe, some Rules are meant to be broken.
I actually really enjoyed this book! I always love reading a book from the perspective of someone different than me and still being able to connect with them. The main character in this book, Parker, is very upfront about everything. But also very guarded. I loved getting to experience and learn a little bit about what it might be like to be blind and watch as she came to terms with several other parts of her life. This is a very well written coming-of-age story that felt similar to Everything, Everything. I'd definitely recommend it if you're a fan of of contemporary YA reads with just a little bit of romance but a lot of heart and a very blunt main character.
I think my favorite part of this book was the main character. She has had many hardships in her life but most recently it's been the passing of her father, the man that protected her but also taught her how to live with her disability rather than fighting against it. He supported her in doing what she wanted to regardless of not being able to see and his loss hits her hard. But she's learning how to move on. And for her, that means getting a gold star every day she goes without crying. This, she thinks, is coping. Only later on does she realize how wrong she is. About that and so many other things. But she has many friends to help her through and has to learn that it's okay to accept help sometimes. Because everybody needs help sometimes.
I really connected with her because she has trouble trusting people, though for a very real reason. She uses humor to deal with stress and tension and wants people to understand and follow her rules. She's lived a certain way for so long that she barely even stops to think that maybe she hasn't been completely honest with herself about how she's living and coping with everything. And I think that's something that's easy for all of us to relate to. The moment when we realize maybe we were wrong about something or not handling a situation in the best way possible. Admitting we were wrong is hard but usually the only way to fix things. And watching Parker learn those things was interesting and a little heartbreaking.
The only thing I didn't love about this book was the ending. The whole book before that felt real, with real characters and real problems and real solutions, but then the end just happened so abruptly. I can understand what happened and I don't necessarily need something drawn out and characters' entire futures explicitly laid out but I do like it to fit with the rest of the book and for some reason, this just didn't seem to fit well. It was a little too dreamy, maybe, and the actions felt a little bit out of character for each but I also didn't hate it. I liked what happened it just doesn't completely feel like the rest of the book.
Overall I really enjoyed this book and like I said at the beginning, it felt a little like Everything, Everything to me. It's definitely a quieter story about a girl growing up and realizing that things maybe aren't as black and white as she thought.  Add in the fact that both MCs were dealing with hardships, I think if you liked the one, you'll like the other. Also, if you like main characters that tell the truth and hold nothing back, like Bianca from The DUFF, I think you'll also like Parker. She's definitely not one of the "nice, get's along with everyone" type of main female character. It's always refreshing for me to see characters like this because they feel easier to relate to than the kind that everyone just loves. This book may have not gotten as much talk as some of the other books this year, but it's definitely worth a read.
I just so happen to have an extra Hardcover and though I'd give one of you the chance to win it!
This giveaway is open to US addresses only and follows all normal giveaway rules.
Related Posts