I received this book for free from Around the World ARC Tours in exchange for an honest review. This does not affect my opinion of the book or the content of my review.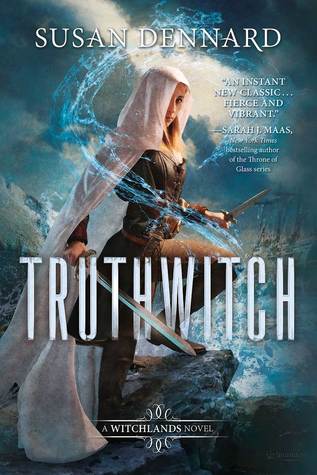 Truthwitch

by Susan Dennard
Series: Witchlands #1
Published by Tor Teen on 2016-01-05
Genres: Fantasy & Magic, Young Adult
Pages: 416
Format: ARC
Source: Around the World ARC Tours
Amazon • Barnes and Noble • Book Depository
Goodreads

On a continent ruled by three empires, some are born with a "witchery", a magical skill that sets them apart from others.

In the Witchlands, there are almost as many types of magic as there are ways to get in trouble—as two desperate young women know all too well.

Safiya is a Truthwitch, able to discern truth from lie. It's a powerful magic that many would kill to have on their side, especially amongst the nobility to which Safi was born. So Safi must keep her gift hidden, lest she be used as a pawn in the struggle between empires.

Iseult, a Threadwitch, can see the invisible ties that bind and entangle the lives around her—but she cannot see the bonds that touch her own heart. Her unlikely friendship with Safi has taken her from life as an outcast into one of reckless adventure, where she is a cool, wary balance to Safi's hotheaded impulsiveness.

Safi and Iseult just want to be free to live their own lives, but war is coming to the Witchlands. With the help of the cunning Prince Merik (a Windwitch and ship's captain) and the hindrance of a Bloodwitch bent on revenge, the friends must fight emperors, princes, and mercenaries alike, who will stop at nothing to get their hands on a Truthwitch.
This is a really hard review for me to write because I know how highly anticipated this book is for most people and I wish I could just gush and say how amazing it was but I can't. I liked this book. Yes. But I didn't love it. And now I have to tell you why but I still want to encourage you guys to be excited for this book. It is still a good beginning to what could possibly be one of the most epic fantasy series. So keep an open mind while reading this review. And feel free to call me a black sheep while doing it.
I do think that maybe all of the hype was one of the biggest reasons I was disappointed with this book. Because like I said above, I liked it. But I didn't get that feeling when you know you're reading something amazing. And I think it was because I was expecting SO MUCH from this book before even starting it that there was almost no way it could have lived up to it. And I don't know how that could be fixed but I just think that all of the hype and attention this book is getting negatively affected how I felt about it.
That wasn't the only problem I had, though. I've seen it mentioned briefly in a few reviews on Goodreads as well, so I know I'm not completely alone in this one. But I had a really hard time getting into this book. Most other people have said by 100 pages in, they're hooked. For me, it took about half of the book. I don't know why it was so much harder for me than most people but the struggle was real. I couldn't really get a good handle on the setting of the book, the "rules" of the witches, all of the different characters and the roles they played, how they all fit together, and why it all mattered. I'm sure it was just me since most people aren't having this problem, but it almost felt like we were dropped into the middle of the book and were already suppose to have a pretty good understanding of the world. It kept me from feeling settled into the book until about halfway through when a few things happened at about the same time that caused some other exciting action to happen and really brought the characters together. For me, this was the moment that I started really caring about the characters and that made all of my feelings about the book change. I started falling for a ship (I won't say who, you'll have to read it to see if you feel the same, but I really do love them together.) and was practically on the edge of my seat for the last half of the book. I just wish the writing had been as exciting and emotional throughout the whole book as it was at the end and that we could have gotten a more stable and thorough worldview.
I was happy for the complete turn-around for me after that small series of events and I could hardly believe I was reading the same book. The characters really started to show who they were and the plot really started to come into focus for me. Everything and everyone was starting to come together and I loved it. I felt like I finally had something I could connect with and care about. I really wish the entire book had been this way. If it hadn't been for this part of the book, I would be completely dumbfounded as to why everyone was loving it so much. But now I can see why. It's the reason I still think you guys should read it, even though the beginning was really hard for me. Especially remembering that this is just the beginning of a series and we'll get even more chances to see these characters, I really think you guys should give this one a try. Just also try to remember that hype isn't always a good thing. Sometimes books get built so high, the reality can never reach it. So get excited about this book, but don't build it up so much that you'll just end up disappointed.
Related Posts