Waiting on Wednesday is hosted by
Breaking the Spine
as a way for us to showcase the books we're highly anticipating.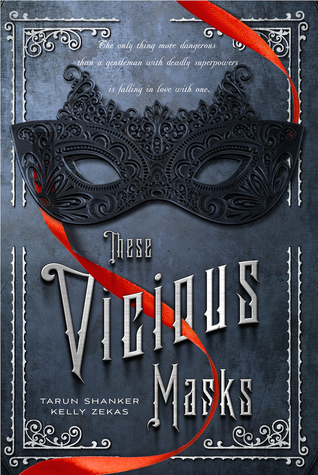 These Vicious Masks

by Kelly Zekas, Tarun Shanker
Published by Swoon Romance on 2016-02-09
Genres: fantasy, Historical, Young Adult
Pages: 352
Amazon • Barnes and Noble • Book Depository
Goodreads

Jane Austen meets X-­Men in this gripping and adventure-­filled paranormal romance set in Victorian London.

England, 1882. Evelyn is bored with society and its expectations. So when her beloved sister, Rose, mysteriously vanishes, she ignores her parents and travels to London to find her, accompanied by the dashing Mr. Kent. But they're not the only ones looking for Rose. The reclusive, young gentleman Sebastian Braddock is also searching for her, claiming that both sisters have special healing powers. Evelyn is convinced that Sebastian must be mad, until she discovers that his strange tales of extraordinary people are true—and that her sister is in graver danger than she feared.
"Jane Austen meets X-Men"?!?!?!?! Okay, I'll bite on that one. Though to be honest, I haven't actually read any Jane Austen. (I know, I'm ashamed of it myself.) But the description makes it sound pretty awesome. I love Victorian Era England and love it even more with characters who go against the "rules" of the time. I'm also intrigued by the sister aspect and hope we get to see them together for at least a little bit of the story. Also, both Mr. Kent and Sebastian sound interesting and I hope at least one of them will prove to be a good love interest. And just one of them. If there's a love triangle, I'm out. Also, honestly, Swoon releases have bit up and down for me so I am slightly cautious about this but mostly I'm excited for the chance to devour this story!
What are you waiting on this week?
Related Posts