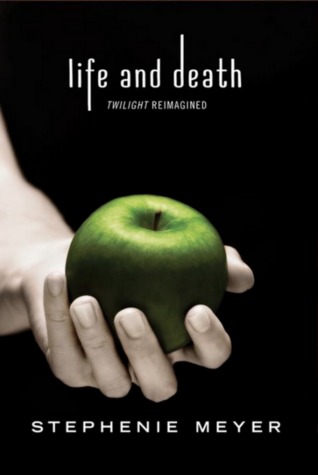 Life and Death: Twilight ReImagined

by Stephanie Meyer
Series: Twilight #5
Published by Little, Brown Books for Young Readers on 2015-10-06
Genres: fantasy, Paranormal, Romance, Young Adult
Pages: 389
Format: Hardcover
Source: Library
Goodreads

Celebrate the tenth anniversary of Twilight! This special double-feature book includes the classic novel, Twilight, and a bold and surprising reimagining, Life and Death, by Stephenie Meyer.

Packaged as an oversize, jacketed hardcover "flip book," this edition features nearly 400 pages of new content as well as exquisite new back cover art. Readers will relish experiencing the deeply romantic and extraordinarily suspenseful love story of Bella and Edward through fresh eyes.

Twilight has enraptured millions of readers since its first publication in 2005 and has become a modern classic, redefining genres within young adult literature and inspiring a phenomenon that has had readers yearning for more. The novel was a #1 New York Times bestseller, a #1USA Today bestseller, a Time magazine Best Young Adult Book of All Time, an NPR Best-Ever Teen Novel, and a New York Times Editor's Choice. The Twilight Saga, which also includes New Moon, Eclipse, Breaking Dawn, The Short Second Life of Bree Tanner: An Eclipse Novella, and The Twilight Saga: The Official Illustrated Guide, has sold nearly 155 million copies worldwide.
First, let me say, this is more of a collection of thoughts rather than a real review. I don't think for a second that this book needs any sort of review to either bring attention to it or to change people's opinions on it. This is definitely one you'll either read or definitely won't. So don't continue reading thinking this is some sort of wannabe professional review because it's definitely just a bunch of random and not very well put together thoughts I had while reading this retelling. It's really all I had the energy for after finishing the book.
Secondly, I will say that I'm not at all sorry if this spoils Twilight for you. The books have been out forever (10 years actually) but the statute of limitations on spoilers for that book has most definitely past. But I will try to warn you about specific spoilers in regards to this book because I certainly wouldn't want to take away anything from your reading experience of Life and Death.
And finally, yep, I read it. My curiosity got the better of me and I gave in. And just so we're all clear, this isn't just a gender swap. Too much was changed, about the characters and the story, for it to just be considered a gender-swapped story to fight the Bella-haters. If anything, this just proved them all right. Beau and Edythe were very different from Bella and Edward. Maybe that's totally unfair because Beau was obsessed with Edythe like Bella was with Edward and I didn't truly start hating Bella until New Moon, but there was something about the dynamic between Beau and Edythe that made it much less creepy. Maybe it was because Beau was easier to like than Bella (which again, defeats the "purpose" of this "gender swap). He wasn't so depressed all the time or so socially awkward. He was obsessed with Edythe early on but wasn't "I will literally DIE if I don't see her today" obsessed. I really never understood what Edward saw in Bella other than that she smelled really good to him. And yes, Beau smelled really good to Edythe but it was toned down a bit in this edition. Also, Beau and Edythe were somehow easier together than Edward and Bella. They were more relaxed and I could see why they liked each other beyond just the blood heroin and most beautiful person looks. So by changing so much of the characters' personalities along with their genders, you prove absolutely nothing to the Bella haters. She was a damsel in distress who wanted to give up everything she was just to be with a guy who was way too controlling. At least Edythe gave Beau choices when it mattered. But anyway…
Besides liking Edythe and Beau slightly more than Bella and Edward, I didn't really like anything else about this. It was actually pretty boring. When I read Twilight a million years ago for the first time, I flew through them. I mean, really, devoured them. I think I read the whole series in a week. I needed to know what was going to happen and when Bella was going to be turned. But because the actual story here is so close to the original, minus the ending of course, there wasn't much keeping me turning the pages. It was just a weird combination of exactly what I'd already read years ago along with new but somehow still boring stuff. I'm still slightly confused as to why it was so boring this time around. But it was. A lot of the tension and danger from the first was removed. All that stuff about the people dying from wild animals and killers in Seattle, doesn't exist here. So there's really nothing to be worried about until the baseball game. And then the ending was actually really atrocious. I was on board for a little bit there when I started seeing where it was going, but then just no. So. Much. Info. Dumping. Seriously, View Spoiler »paragraph  after paragraph while Beau was turning was just the last three books summarized and told to Beau. The history of the Volturi, each of the Cullen's stories, everything he needed to know about being a new vampire, and all the rules of being a vampire, all summed up on several pages. If it showed us anything, it's that Meyer hasn't learned how to write any better in the last few years. I mean, it was really, really bad. She had the opportunity to create something exciting but just vomited hundreds of pages worth of (slightly different than last time) information all over a passed out Beau instead. If you're going to get ten years before giving us something new, it better be amazing. « Hide Spoiler It wasn't great.
So, my final thoughts are this: if you're really curious about this book, go ahead and read it. It did me no actual harm. And I borrowed it from my library so I didn't even have to spend the money on it. If you want to read this just for the gender-swapping, don't do it. It isn't worth it. Because it doesn't count if you change who the characters are as well. And I kept getting distracted trying to keep all of the minor characters new names and genders straight and lined up with who they used to be. It was awkward. And if you're curious about the ending, visit a bookstore and skim the last 30 pages. Then buy something else.
That's all.
Related Posts