I received this book for free from ALAMW in exchange for an honest review. This does not affect my opinion of the book or the content of my review.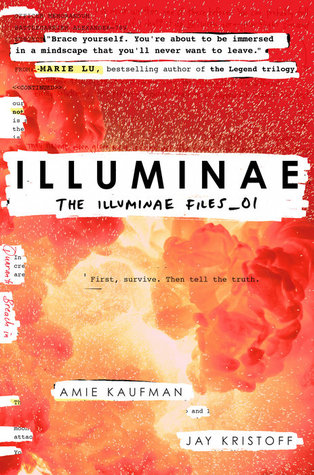 Illuminae

by amie kaufman, Jay Kristoff
Series: Illuminae Files #1
Published by Random House Children's Books on 2015-10-20
Genres: Action & Adventure, Love & Romance, Science Fiction, Young Adult
Pages: 608
Format: ARC
Source: ALAMW
Amazon • Barnes and Noble • Book Depository
Goodreads

This morning, Kady thought breaking up with Ezra was the hardest thing she'd have to do.

This afternoon, her planet was invaded.

The year is 2575, and two rival megacorporations are at war over a planet that's little more than an ice-covered speck at the edge of the universe. Too bad nobody thought to warn the people living on it. With enemy fire raining down on them, Kady and Ezra—who are barely even talking to each other—are forced to fight their way onto an evacuating fleet, with an enemy warship in hot pursuit.

But their problems are just getting started. A deadly plague has broken out and is mutating, with terrifying results; the fleet's AI, which should be protecting them, may actually be their enemy; and nobody in charge will say what's really going on. As Kady hacks into a tangled web of data to find the truth, it's clear only one person can help her bring it all to light: the ex-boyfriend she swore she'd never speak to again.

Told through a fascinating dossier of hacked documents—including emails, schematics, military files, IMs, medical reports, interviews, and more—Illuminae is the first book in a heart-stopping, high-octane trilogy about lives interrupted, the price of truth, and the courage of everyday heroes.
I don't even know what to say about this book. Seriously. I read it back in August and kept thinking I'd go ahead and write my review as soon as I knew what I wanted to say, but that time has still not come. But I can't wait any longer. So I'm just going to forge on and see what happens. Before I say anything else or my words get all messed up, I just want you to know that I really think you should read this book. That's all. Read it. Give it a try. Do it.
My two biggest concerns when I started this book were: 1. How is the format going to work? How will I be able to get emotionally involved with the characters when the book is told in a series of reports? And 2. There's too much hype. I'm doomed to hate it. But I was really pleasantly surprised when I picked it up and started reading. Neither of those things turned out to be a real problem for me. In fact, the formatting was so unique and interesting, I almost couldn't put the book down. It told the story in a completely different way than I'm used to and I absolutely loved it. It was like those interviews in These Broken Stars (which isn't much of a surprise). It had emotion and an intensity that wouldn't have been there if it was told any other way. I can hardly believe I ever was worried about it. Seriously. This book is full of emotional ups and downs. And when your in the middle of the scary part of this book, you will be absolutely terrified. For many different reasons. The technology in this book is more scary at times than the actual humans. And when you realize how much technology has already taken over our lives and how close something like this could be, then you get really scared. I promise that this book will leaving you thinking about so many different topics long after you've read it. I'm still thinking about this book and I read it three months ago.
If you want a book that's different from anything you've read before, I really think you should give this book a try. Also, if you love books set in space or science-fiction books with a strong focus on AI or if you loved These Broken Stars, you really really need to read this book. I know there is a ton of hype for this book, but there's actually a reason for it. So often books get pushed by publishers and we latch on and decide we need the book as well. And sometimes that pays off and sometimes it doesn't. But I'm telling you guys, no matter what the publicity for this book was before its publication date, the reviews and interest in this book has kept up. And that's because this book is worth it. It deserves the attention it has gotten and it deserves a chance. So go get it. Request it from your library. Borrow it from a friend. Give it a chance and read it! At least you know it'll look awesome on your bookshelves. And then when you're done, you can fangirl about it with the rest of us!
(In this gif, I'm Ben Wyatt, you're Leslie Knope and Joe Biden is Illuminae. You will fangirl over it. I promise.)
Related Posts