I never really like DNFing books but I also really hate continuing to read a book that I'm not enjoying or even outright not liking. So I've started trying to be better at DNFing books. Even ones I get for review. These are a few of the most recent books I DNF'd.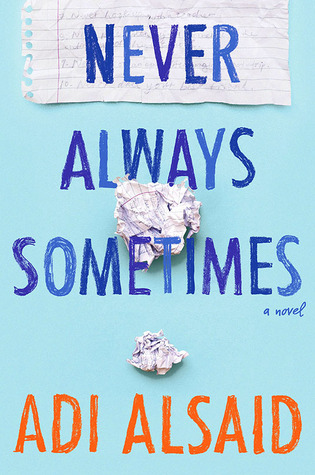 Never Always Sometimes by Adi Alsaid
YA Contemporary Romance
Published by HarlequinTeen on August 4, 2015
This one was particularly difficult because I really enjoyed his first novel, Let's Get Lost. And I kept trying to push through with this one because of that but I just couldn't deal with the characters any longer. And part of wonders if I went back and reread Let's Get Lost if I'd find similar problems with that one but was just too caught up in finding out the ending to pay much attention.
What ended up making me put this one down was Dave. The premise is cute and I usually love friendship to romance stories but this one did not work. Dave was ridiculously annoying. From the very beginning, he was completely in love with Julia. And that's fine except that he never tells her how he feels, about anything, really. He goes along with everything she says, does whatever she wants him to, never seems to share any real feelings or opinions with her, and then gets mad as soon as she shows interest in another guy. Or anything else that isn't what they've always done just them. Even though they've never really done anything. She's his dream girl and nothing is going to change that. Except he refuses to do anything about moving beyond friendship with her. And Julia isn't much better. So I had to give up on this. I just can't stand the whole hopelessly in love with the dream girl  but can't be with her story anymore. But to be fair, I have heard that other things happen in the book but I just don't care enough at this point to go back and read it for myself.


Six Impossible Things by Fiona Wood
YA Contemporary Romance
Published by Poppy on August 11, 2015
I had similar problems with this book as I did with Never Always Sometimes. The main character, while much more interesting than Dave from NAS, has found the absolute love of his life in the girl next door. But instead of being best friends with her, he has never actually met her. So he imagines things about her and one weird day he finds their attics connect and somehow ends up in her room. I don't know, it's weird. But it almost kind of fits because the main character is definitely quirky. But between his impossible crush on this girl and the fact that he read much younger to me than he was suppose to, I just didn't connect with the book at all. I didn't care about the characters, so I gave up on it. I think it's more likely other people will enjoy this book more than I did because I did think the other characters were okay and his parents situation was interesting, it just wasn't for me.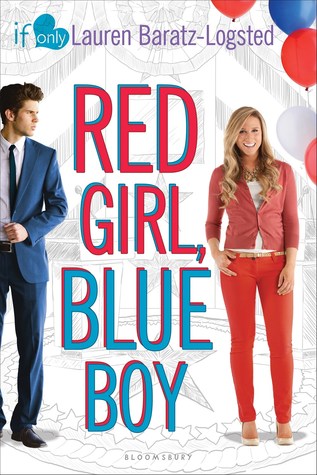 Red Girl, Blue Boy by Lauren Baratz-Logsted
YA Contemporary Romance
Published by Bloomsbury on October 20, 2015
Wow, guys. It's been a long time since I really disliked a main character quite as much as I disliked Katie. I know it might not seem like it after reading about the other two books, but I really, strongly disliked this book. I tried to get through it, I really did. But everytime I thought Katie was going to get better, she turned around and did something exceedingly annoying. Really. She was terrible. So out of touch with reality and spoiled and nothing at all like a teenager. Sometimes she'd sound like a ten year old, convinced she was the reason her dad won his campaign for office, and then she'd sound like a 45 year old, searching the internet on how best to relate to teenagers. She talked to a guy in the school hallway and thought that meant they were then dating. My last straw was when the cook answer the landline in their house and Katie literally had no idea what it was. Landline phones aren't so out of the ordinary yet. Especially for someone who "works" on campaigns and does interviews and whose dad has offices she visits. I just couldn't keep going on with this book when so many things like that stood out to me. And Drew wasn't much better. We get both POVs in the book and he doesn't act like a teenager at all. What teenage boy knows that Jackie Kennedy wore a pink suit on the day her husband was shot and constantly refers to his best friend as his best friend. Maybe kids whose parents are in politics. Maybe. Either way, the characters pretty much ruined this book for me. I haven't read any of the other If Only books but I was really hoping this series would be full of cute romances. Now I'm not so sure.
Related Posts