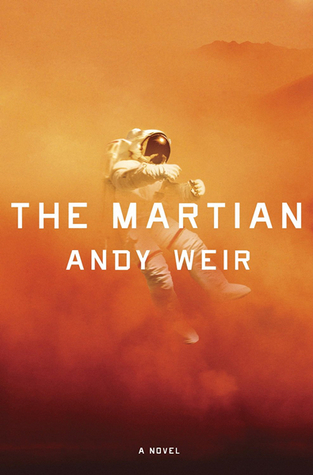 The Martian

by Andy Weir
Published by Crown/Archetype on 2014-02-11
Genres: Action & Adventure, Adult, Science Fiction
Pages: 384
Format: Paperback
Amazon • Barnes and Noble • Book Depository
Goodreads

Six days ago, astronaut Mark Watney became one of the first people to walk on Mars. Now, he's sure he'll be the first person to die there. After a dust storm nearly kills him & forces his crew to evacuate while thinking him dead, Mark finds himself stranded & completely alone with no way to even signal Earth that he's alive—& even if he could get word out, his supplies would be gone long before a rescue could arrive. Chances are, though, he won't have time to starve to death. The damaged machinery, unforgiving environment or plain-old "human error" are much more likely to kill him first. But Mark isn't ready to give up yet. Drawing on his ingenuity, his engineering skills—& a relentless, dogged refusal to quit—he steadfastly confronts one seemingly insurmountable obstacle after the next. Will his resourcefulness be enough to overcome the impossible odds against him?
I'd heard about The Martian by Andy Weir but didn't have any desire to read it before I saw the first trailer for the movie. Then it caught my attention. And since I wanted to see the movie, I knew I'd have to read the book first. So I did! And I'm so glad because while I enjoyed both the book and the adaptation, I'm not sure I would have had any idea what was going on in the movie if I hadn't read the book first.
The first thing I noticed while reading The Martian was how technical Mark Watney was. Which, of course, makes sense since he is a scientist. The first part of the book is his journal that he starts keeping after being left on Mars. Because it was pretty science and math heavy in these sections, he had a lot of problems he needed to solve if he was going to survive on Mars for four years, I had a hard time connecting with him and loving the book. But I pushed through and when NASA discovers that Mark is still alive on Mars, I started getting really invested in the book and the characters.
What I liked most about Mark was his attitude about survival, his ability to solve problems, and his sense of humor. I wish we had seen a little bit more emotion from him, especially when he was completely alone. If I were facing four years alone without any contact or enough food to last me that long, I would definitely have a least a mini-breakdown. But Mark was a scientist trained to solve problems, so I understand why he was that way. It just made him slightly hard to connect with.
The scenes outside of the hab were actually some of my favorites. Not only do we get some much needed emotions and tension but we also get to meet many more characters. We get to hear from the other astronauts who are on their way back to earth and we get to hear from NASA and how they are trying to keep Mark alive and bring him back to Earth. I loved Annie and Mitch and Teddy and Mindy and Rich and the five other astronauts. This is definitely a character driven novel and they all do a great job carrying the book.
Now for the movie. Like I said earlier, the only real reason I picked up the book was because I also wanted to see the movie and it didn't feel right seeing the movie without reading the book. And I'm glad I didn't. The book was super technical during Mark's parts and that didn't really change at all in the movie. He was still stuck on Mars and still had a ton of problems to solve. Most of them were discussed fairly quickly, though. I worried that had I not read the book, even though I skimmed a lot of the math/science parts, I wouldn't really know what he was doing or trying to accomplish. It's hard to say having read the book, but especially during the scenes where he's trying to make water, the movie solves that problem rather quickly with hydrazine and oxygen and a reaction and one explosion, but without having read the book I'm not sure I would have really known where he got the hydrazine, what it was for, what we was really doing except that then he got water. There are other parts like that as well where you just don't get the explanations behind the actions like you do in the book. It was the first time I was actually really thankful that Mark was so specific and technical in the book. It helped me understand the movie!
My favorite part of the movie was actually seeing Mark. And I don't mean Matt Damon. I just mean that seeing Mark, putting a face with the technical journal writer made him more real to me. On paper, I was disconnected. I wanted to know how he felt being left alone on Mars and facing four years without communication or any chance of rescue. I didn't get that on paper nearly as much as I got it on screen. Even just a brief break from concentration while working, the few tears when he first makes contact with NASA, the exhaustion on his face after working so hard on so little food. All of those visuals made it easier for me to connect with Mark.
One thing that I really disliked about the movie was what they did to Annie's character. In the book, she's smart and crass and in-your-face and take charge. In the movie, she's just there. Like they needed a female in the NASA meetings. Besides Mindy, who's low on the NASA food chain, Annie's the only female in those important meetings. I think the movie makers felt like they couldn't get rid of her because of that but they gave her nothing. So once again, had I not read the book, I don't think I would have even known why she was there or what her job was. And after having really enjoyed Annie in the book and loving Kristen Wiig, it was really upsetting. As far as casting went, I did really love everyone in this movie. I didn't even realize Donald Glover was in it! I did not imagine Rich Purnell like that at all but I love what he did with the role. I really loved everyone else as well. I can't even name them all because it'd just be a cast list.
Overall, I really enjoyed both the book and the movie of The Martian. The book was more technical than I had expected and made it hard for me to connect to Mark but the movie left out some of the important explanations and details. I liked Mark more in the movie than the book but loved most of the rest of the characters more in the book simply because timing gave them more of a chance for character development. The Martian is one of the better adaptations I've seen and I'm glad that I both read it and saw the movie. I definitely recommend them both to you guys as well.
Related Posts