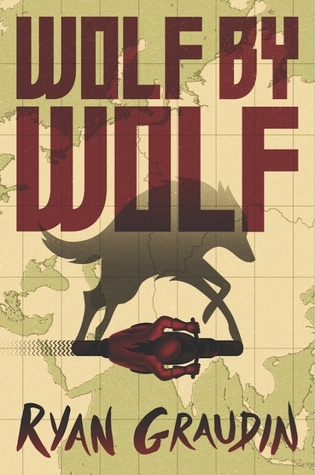 Wolf by Wolf

by Ryan Graudin
Series: Wolf by Wolf #1
Published by Little, Brown Books for Young Readers on 2015-10-20
Genres: Action & Adventure, Historical, Holocaust, Science Fiction, Young Adult
Pages: 400
Amazon • Barnes and Noble
Goodreads

Code Name Verity meets Inglourious Basterds in this fast-paced novel from the author of The Walled City.

The year is 1956, and the Axis powers of the Third Reich and Imperial Japan rule the world. To commemorate their Great Victory over Britain and Russia, Hitler and Emperor Hirohito host the Axis Tour: an annual motorcycle race across their conjoined continents. The victor is awarded an audience with the highly reclusive Adolf Hitler at the Victor's ball.

Yael, who escaped from a death camp, has one goal: Win the race and kill Hitler. A survivor of painful human experimentation, Yael has the power to skinshift and must complete her mission by impersonating last year's only female victor, Adele Wolfe. This deception becomes more difficult when Felix, Adele twin's brother, and Luka, her former love interest, enter the race and watch Yael's every move. But as Yael begins to get closer to the other competitors, can she bring herself to be as ruthless as she needs to be to avoid discovery and complete her mission?
In case you guys didn't know, I'm here to tell you that WOLF BY WOLF by Ryan Graudin releases today! I'm so excited for this book to finally be out in the wild! If you missed it, here is my review from last week. But in short, I really enjoyed this book and its characters and I think you guys should give it a try!
For the blitz today, I have an intro from Ryan and a giveaway for a signed finished copy of the book and a special Wolf by Wolf pin. So don't miss the Rafflecopter at the end!
Special intro from the author:
"Once upon a different time, there was a girl who lived in a kingdom of death. Wolves howled up her arm. A whole pack of them–made of tattoo ink and pain, memory and loss. It was the only thing about her that ever stayed the same.
Her story begins on a train."
And so begins the story of Yael, a girl who can change her appearance to mimic any other female. A girl who must win a 20,000 kilometer cross-continental motorcycle race from Germania to Tokyo so that she can have an audience with Adolf Hitler. A girl who has every intention of killing him.
Whenever I describe the premise of WOLF BY WOLF to people, the reactions I get are quite similar. It's the "are-you-insane-or-are-you-onto-something" face: dropped jaw, squiggly eyebrows. I must admit, I felt many of those same feelings when I first started penning Yael's story. Alternate history + sci-fi + epic motorcycle journey felt like a strange recipe for a novel. But I pushed through my fears and kept writing, and I couldn't be happier with the result. I, for one, don't think I'm insane, but I'll let you, dear reader, come up with your own conclusion.
Happy reading!
Ryan Graudin
About Ryan:
Ryan Graudin grew up in Charleston and graduated from the College of Charleston with a degree in Creative Writing in 2009. She is the author of All That Glows and The Walled City. She resides near Charleston with her husband and wolf-dog. You can find her online at www.ryangraudin.com.
Website | Twitter |Tumblr | Goodreads | Pinterest | Blog
Giveaway Details:
1 winner will receive a signed finished copy of the book with a special WOLF BY WOLF pin.
US Only.  Ends on October 26th at Midnight EST!
Related Posts