I received this book for free from the Publisher in exchange for an honest review. This does not affect my opinion of the book or the content of my review.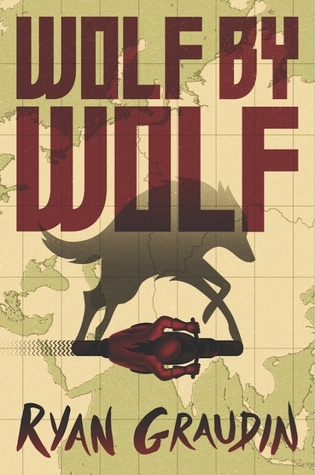 Wolf by Wolf

by Ryan Graudin
Series: Wolf by Wolf #1
Published by Little, Brown Books for Young Readers on 2015-11-05
Genres: Action & Adventure, Historical, Holocaust, Young Adult
Pages: 320
Format: ARC
Source: the Publisher
Amazon • Barnes and Noble • Book Depository
Goodreads

Code Name Verity meets Inglourious Basterds in this fast-paced novel from the author of The Walled City.

The year is 1956, and the Axis powers of the Third Reich and Imperial Japan rule the world. To commemorate their Great Victory over Britain and Russia, Hitler and Emperor Hirohito host the Axis Tour: an annual motorcycle race across their conjoined continents. The victor is awarded an audience with the highly reclusive Adolf Hitler at the Victor's ball.

Yael, who escaped from a death camp, has one goal: Win the race and kill Hitler. A survivor of painful human experimentation, Yael has the power to skinshift and must complete her mission by impersonating last year's only female victor, Adele Wolfe. This deception becomes more difficult when Felix, Adele twin's brother, and Luka, her former love interest, enter the race and watch Yael's every move. But as Yael begins to get closer to the other competitors, can she bring herself to be as ruthless as she needs to be to avoid discovery and complete her mission?
So here's the thing about this book. I actually really enjoyed it. And it was one of my most anticipated books this fall. I mean, have you see that cover? I love it! But unfortunately, I didn't love the book as much as I had hoped I would. It was just one of those instances when what I expected didn't quite line up with the reality. I don't know how it would have been had I expected exactly what was coming, the writing was really well done and I enjoyed the characters, but I just couldn't love it because it wasn't entirely what I had wanted. I don't know if that's really fair, but it's how I feel about the book, so that's what I'm going with. Here are some more of my thoughts on the book.
My biggest problem with the book was the end. And again, this is my problem and probably shouldn't affect my rating, but it does. When I went into the book, I thought it was a standalone. I didn't know there was going to be a sequel. If I had known or looked it up or something, I might not have been as caught off guard as I was. I was looking forward to a one book story, open and close, beginning and end, but what I got was a beginning and an interesting middle and a not real ending. There is definitely more to this story. Which is fine, it happens all the time, but it wasn't what I thought I was getting with this. But that's all I'm going to say about that. Let's move on.
What I liked about the story: Yael, the flashbacks, the resistance characters. I loved that Yael was a fighter and I loved that she knew what she was fighting for. Not just for herself and her five wolves but for her people and a better world. I love how focused she was and how much she was willing to give. I also really loved the flashbacks to her younger years. They showed how the war affected her, how the people around her became important to her and her fight, and how she got to be exactly where she is now. They added emotion that was lacking in the racing scenes and gave the readers a reason to root for her. And finally, I really loved the characters that were involved with Yael in the resistance. We see most of them through the flashbacks that Yael offers and are connected with the emotions and dramas from her past. And I loved them.
What I didn't like: the race, the repetition, the end. I wanted more from the world. This takes place in an alternate history where the US stayed out of WWII and Hitler continues on with conquering the world. And I wanted to know more about that world. We only see glimpses of it during breaks in the race. Also, parts of the story got repetitive and that's one of my biggest pet peeves in books. I don't want to replay the same internal dialogue over and over and over again. I don't like seeing character interactions happening the same way over and over. Add in the motorcycle race and there was a lot of repetition in this book. It wasn't nearly as bad as some books I've read, but it was enough to be noticeable. And I've already spoken about the ending so I'll just leave it at that.
Overall, I really enjoyed this book and I hope you guys will give it a chance. It did keep me wondering up until the very end what was going to happen and who exactly Yael could trust. I know they'll be more in the next one about one other racer specifically, or I hope there will be, who's past and motivations are still a little up in the air. And while I know some of this review was negative but I did really enjoy this one. And just because I thought this was going to be a standalone and am slightly annoyed by the ending, that doesn't mean I won't be reading the sequel. Because I definitely will be. I'm even looking forward to it. There's so much built up now and so many characters I want to see more from and so much that still needs to be resolved. I'm looking forward to it! I recommend this book if you guys like alternate history or WWII stories, character driven books, or adventure stories. I also recommend Graudin's The Walled City if you haven't read it yet.
Related Posts