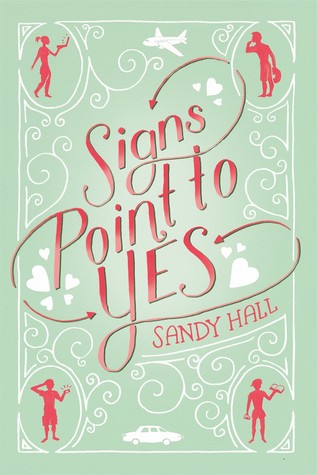 Signs Point to Yes

by Sandy Hall
Published by Swoon Romance on 2015-10-20
Genres: Love & Romance, Young Adult
Pages: 272
Amazon • Barnes and Noble • Book Depository
Goodreads

The author of A Little Something Different brings you the most adorkable romance ever.

Jane, a superstitious fangirl, takes an anonymous babysitting job to avoid an unpaid internship with her college-obsessed mom. The only problem? She's babysitting the siblings of her childhood friend and new crush, Teo.

Teo doesn't dislike Jane, but his best friend Ravi hates her, and is determined to keep them apart. So Teo's pretty sure his plans for a peaceful summer are shot. His only hope is that his intermittent search for his birth father will finally pan out and he'll find a new, less awkward home. Meanwhile, at Jane's house, her sister Margo wants to come out as bisexual, but she's terrified of how her parents will react.

In a summer filled with secrets and questions, even Jane's Magic 8 ball can't give them clear answers, but Signs Point to Yes.
I'm really excited to be on the Blog Tour today for Signs Point to Yes by Sandy Hall! You might recognize Hall's name because last year she wrote the super cute book A Little Something Different. And it was different! If you read it, you know it was written by many different perspectives, including a squirrel and a bench. And that it was really cute. And now you get the chance to preview her sophomore novel! I have an excerpt  for you guys! So check it out. Then if you want even more, you can follow along with the rest of the tour here and you can see more about Signs Point to Yes and read a different excerpt here. And don't forget to enter the giveaway at the end!
Excerpt 1
The thing about Jane Connelly wasn't so much that Teo didn't like her. He was neutral about her. She was always nice enough to him. He had spent a lot of time with her while his mom was taking night-­school classes.
But Ravi hated her. He claimed she was his arch-nemesis. Teo didn't see it, but he also wasn't interested in fighting with his best friend about a girl who didn't really matter.
It would suck to have Jane around all the time. Ravi would be so pissed off. He practically lived at Teo's house in the summer because his parents refused to put on the air­-conditioning unless it was over a hundred degrees outside, and Ravi couldn't handle that.
Maybe Teo's mom wouldn't hire Jane. There was still hope.
But hope died moments later when he heard his mom offer the job to Jane, who accepted it on the spot.
Of course.
Teo took a deep breath, preparing to tell Ravi the news. His fight­-or-­flight response kicked in, which was really more like an all­flight, all­-the-­time response. Conflict was not his forte. He would rather go back to studying chemistry than tell Ravi this news. Maybe they would never be at his house at the same time, and Ravi would never have to know the truth.
But the thought of Ravi coming upon Jane in the kitchen one morning after a sleepover, and the yelling that would ensue, was enough to force Teo to suck it up and tell him.
Jane Connelly is going to babysit my sisters this summer.
Ravi's answer was immediate.
THAT IS THE WORST NEWS I HAVE EVER HEARD. I AM GOING TO HAVE TO HAVE A LONG TALK WITH CONNIE ABOUT THIS DECISION. HOW COULD YOU LET THIS HAPPEN?
You know how my family is. There was no way I was going to be asked my opinion.
BUT SERIOUSLY. JANE CONNELLY OF ALL PEOPLE!?
You need to chill out with the caps lock.
The next five words came in separate texts.
I
WILL
NOT
CHILL
OUT
Teo let out a long breath. This wasn't going to end well.
I'm a teen librarian from New Jersey where I was born and raised. I have a BA in Communication and a Master of Library and Information Science from Rutgers University. When I'm not writing, or teen librarian-ing, I enjoy reading, slot machines, marathoning TV shows, and long scrolls through Tumblr. A LITTLE SOMETHING DIFFERENT is my first novel.
Giveaway
One (1) paperback copy of Signs Point to Yes. Open to US addresses only.
Prize provided for the tour and will be mailed out by them after November 16.
Related Posts