I received this book for free from the Publisher in exchange for an honest review. This does not affect my opinion of the book or the content of my review.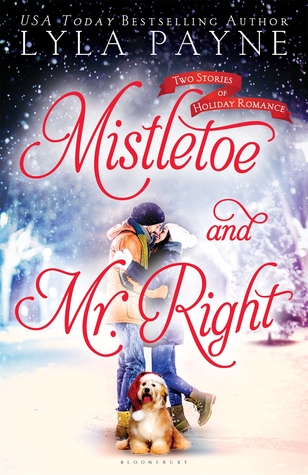 Mistletoe and Mr. Right

by Lyla Payne
Published by Bloomsbury Publishing on 2015-10-06
Genres: Contemporary, Holidays, New Adult, Romance
Pages: 368
Format: ARC
Source: the Publisher
Amazon • Barnes and Noble • Book Depository
Goodreads

In "Mistletoe and Mr. Right," Jessica (not Jessie) takes a flying leap and follows her boyfriend home for the holidays for Christmas break, sure that Ireland will provide the perfect backdrop to the beginning of their happily ever after. But it turns out his family--and his gorgeous ex-girlfriend--don't feel the same way, and the only person making the trip worthwhile is the local farmhand, who has a way of showing up when Jessica needs him most . . . and least.

The holiday hijinks continue in "Sleigh Bells and Second Chances," when Jessica's best friend makes her own way across the pond! Christina Lake does not want to be away at Christmas, but it's her duty to babysit one of London's hottest bands at their last-minute concert on Christmas Eve . . . even though she had a fling with Cary, the band's lead singer, that never officially ended. Now forced to reconnect, Christina is starting to think that maybe London is exactly where she's supposed to be to get the perfect New Year's kiss--at least until she finds out that he's been lying the whole time. Can Cary find a way to prove himself before the clock strikes twelve? Or will the New Year ring in a new romance?

Lyla Payne wraps up two perfect holiday novellas, ties them with a ribbon of romance, and tops them with a light dusting of snow. Perfect to curl up with under the tree. Just add hot cocoa!
I am a huge sucker for winter/holiday romances. I love them. I can't help it. Give me a romance with snow and a cute couple on the cover, a hot drink and a cozy blanket, and I'll be happy. So when I saw this book, I was very excited. I didn't read the first novella when it came out last year but I'd had my eye on it. So when the chance to review both novellas together in this book, I took it. And I'm glad I did. While the book wasn't the best I've read, it was definitely fun.
The first story features Jessica who travels all the way to Ireland to surprise her boyfriend during Christmas while he's home visiting his family. I had so many problems with the beginning of this story it's almost too hard to list. But my main problem was just how ridiculous she was. She knew it was a bad idea. She hadn't been invited, didn't tell anyone she was coming, and she and her boyfriend had only been dating for four months. Everybody knows you don't show up unexpectedly at a family holiday like that. But she did. And it was horrible. Have you guys seen the movie Leap Year? It was adorable. But same concept. Girl travels to Ireland to see if her boyfriend really is The One. Turns out pretty much the same way as well. But with all of that being said, I actually enjoyed it. It was fast, it is a novella after all, but when she finally makes connections with people and relaxes a bit, it really turns around. Plus, I have to say, I really enjoyed the ending. I was just waiting for something over the top but it was really just adorable. I definitely recommend this story, but only if you can get over an annoying main character who just won't listen to herself.
The second story features Christina, Jessica's best friend and college roommate. I loved the connection between the main characters. They were great friends, even if we only saw small glimpses of their friendship. It was still fun. This second story is called a novella as well but it's about 200 pages and felt long enough to be on its own. I would have preferred it to be a tiny bit shorter and faster for a novella, but it wasn't and that's okay because I enjoyed it. We follow Christina as she confronts a lot of pain from her past while getting to do her dream job. I liked this one more because even though it was a tad long and repetitive in parts, I felt like I understood Christina and her motives more than Jessica. It was easier to understand why she acted the way she did now based on her past than with Jessica. In this book she finally confronts two very painful parts of her past and tries to find a way to move on that isn't just ignoring all of it. That I could relate to and was very hopeful for her. I thought the other characters were interesting as well and while I didn't really like most of them, they definitely all served a purpose. And those I did like, I really liked.
These two novellas both take place over Christmas, one year apart. If you're looking for holiday romances, I'd definitely recommend these. Though they weren't my favorite, they were fun and fast. They also had some surprising depth, especially the second one. I would not say that these will end up as favorites of mine or that I'll ever revisit the stories, but I really appreciated them as a nice escape. They had the same feel as a chick flick. I'm sure some people will roll their eyes at me making that comparison, but I love chick flicks. And I love romances. And I enjoyed this book. So there it is. I had a few issues with it but overall the stories are cute and the romances are swoony. So if cheesy romances are your thing, I'd check this one out.
Related Posts