I received this book for free from the Publisher in exchange for an honest review. This does not affect my opinion of the book or the content of my review.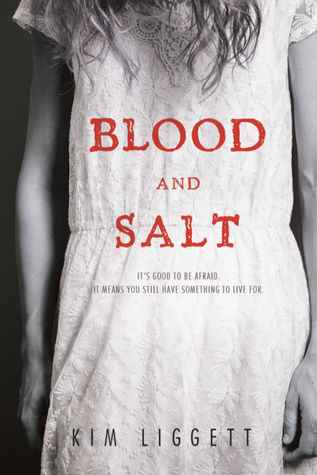 Blood and Salt

by Kim Leggett
Series: Blood and Salt #1
Published by Penguin on 2015-09-22
Genres: Fantasy & Magic, Horror & Ghost Stories, Young Adult
Pages: 352
Format: ARC
Source: the Publisher
Amazon • Barnes and Noble • Book Depository
Goodreads

Romeo and Juliet meets Children of the Corn in this one-of-a-kind romantic horror.

"When you fall in love, you will carve out your heart and throw it into the deepest ocean. You will be all in—blood and salt."

These are the last words Ash Larkin hears before her mother returns to the spiritual commune she escaped long ago. But when Ash follows her to Quivira, Kansas, something sinister and ancient waits among the rustling cornstalks of this village lost to time.

Ash is plagued by memories of her ancestor, Katia, which harken back to the town's history of unrequited love and murder, alchemy and immortality. Charming traditions soon give way to a string of gruesome deaths, and Ash feels drawn to Dane, a forbidden boy with secrets of his own.

As the community prepares for a ceremony five hundred years in the making, Ash must fight not only to save her mother, but herself—and discover the truth about Quivira before it's too late. Before she's all in—blood and salt.
Do you guys know the feeling you get when you learn about a book and it sounds really interesting but you also realize that it's a genre you don't usually get along with? And then you think, maybe this will be the book the changes that? And then you start reading the book and you realize you are just truly incompatible with that genre? That's exactly what this book was for me.
I went in pretty excited because I'd seen some good reviews for this book and I actually really love the cover and the tag line. "It's good to be afraid. It means you still have something to live for." Perfect for a creepy September read. But as it turns out, I just don't do creepy (or just weird) very well. It seems as if this book will do well for its intended audience but, unfortunately, that isn't me.
I had a few issues with the book but because I don't read horror very often, I don't know if they're part of the genre or just this book. The first was the very weird history of Ashlyn's family. There's a big long story that stretches throughout most of the book until the end when we finally find out what is/has really happened. It's suppose to be creepy and weird and I think it would translate very well into a movie but for whatever reason, it just didn't work in the book for me. I kept either rolling my eyes at the rituals and traditions and explanations for things that were happening and just being really confused by it. I just think it lost a little bit of the creepy factor through the writing, which was more direct storytelling than an experience. I think if the writing had been more emotional and engaging, it would have worked a little bit better.
Another problem I had with the book was just how bored I was for the first half of it. I really almost gave up. There's a lot of explanations of the town their parent's came from, Ash's life and history, her mother's weird traditions, and then meeting people and the town of Quivera. I really almost put the book down because I was wondering if anything was ever going to actually happen. Of course, one of the few things that did happen was insta-love. I won't say much about it or the relationship so that you can read about it yourself if you want, but it's also wrapped up in the history of the town and her family, but I could not get behind the relationship at all. Instantly, as soon as Ash sees this guy, that's it. She's gone and can only think about him. I just can't. Even with the explanations given to why they're drawn together, I just can't get behind it. It annoys me for reasons I won't go into again here but you should know the relationship is very insta-lovey.
I really hate to dislike this book so much because it really just comes down to the fact that it was different than I had anticipated and didn't pull me in like I had hoped. I think it might be good for people who like this genre. I've never seen Children of the Corn so I can't say if the comparison is fair, but there is a lot of talk about corn in this book. If you're a fan of this genre, I'd go check out others' reviews of this to get a better sense of why they like it. Since I'm not a fan of the genre, I won't automatically tell you not to read it. But if you hate insta-love or books that tend to be slow in the beginning or characters that are harder to connect with, I'm not sure that you'll love it either.
Related Posts