I received this book for free from the Publisher via Edelweiss in exchange for an honest review. This does not affect my opinion of the book or the content of my review.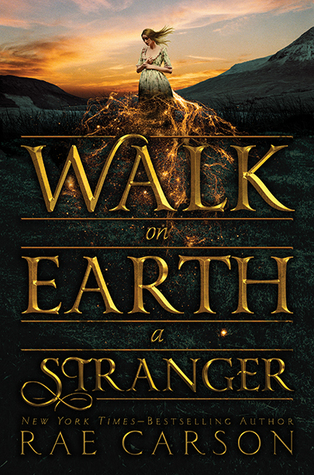 Walk on Earth a Stranger

by Rae Carson
Series: The Gold Seer Trilogy #1
Published by HarperCollins on 2015-09-22
Genres: Fantasy & Magic, Historical, Young Adult
Pages: 448
Format: eARC
Source: the Publisher via Edelweiss
Amazon • Barnes and Noble • Book Depository
Goodreads

Lee Westfall has a secret. She can sense the presence of gold in the world around her. Veins deep beneath the earth, pebbles in the river, nuggets dug up from the forest floor. The buzz of gold means warmth and life and home—until everything is ripped away by a man who wants to control her. Left with nothing, Lee disguises herself as a boy and takes to the trail across the country. Gold was discovered in California, and where else could such a magical girl find herself, find safety?

Walk on Earth a Stranger, the first book in this new trilogy, introduces—as only Rae Carson can—a strong heroine, a perilous road, a fantastical twist, and a slow-burning romance. Includes a map and author's note on historical research.
I really enjoyed this book. And that really surprised me. Though it shouldn't have at all. I also really liked Rae's The Girl of Fire and Thorns. But historical fiction is very hit or miss with me. But the characters, the journey, the adventure, and the similarities to the game The Oregon Trail from my childhood made this book a winner for me and I can't wait to find out what happens next!
This book really felt like a combination of Mindy McGinnis' In a Handful of Dust and The Oregon Trail. And I loved it! I think if you liked either of those, you'll be interested in this one. It starts off with Lee at home and the town finding out about the gold rush in California and so many people working their way across America in hopes of becoming rich. As the book progresses and Lee ends up deciding to go west as well, we see how many different kinds of people went searching for gold and how much harder the trip was than most of them anticipated. We meet characters from many different places and situations and I really appreciated how they all came together. Some were helpful and wanted everyone to make it across, some were only out for themselves. It felt like a realistic representation of what it was like then.
The historical part of the book was very interesting. I haven't liked a ton of historical fiction because I hate info dumps and I hate being told about the history rather than just "living" it. But "living" it was very much how it was presented here. We weren't told how people were crossing rivers, we were shown the different ways to do it. We weren't told about the diseases that happened to some people, we were shown. We weren't just told how hard it was to get to California, we were shown. And that is the kind of historical fiction I can appreciate.
What really made the book for me was the characters and the growth I saw in Lee. It reminded me how much I loved The Girl of Fire and Thorns and how much Elisa changed during her journey in the first book and how great and three dimensional so many of the characters in that book are. Rae brings all of that into this book as well. I didn't feel quite the same emotions in this one as I did in that one and I think a lot of that has to do with the main characters and how different they are. Elisa is very emotional and unpredictable, while Lee was very much in control of how she presented herself and was very practical. She focused on what needed to be done and tried very hard to hide what she was really feeling. And while that felt natural for the character, it also kept me at a slight distance. But still, I loved Lee and how strong she was. I can't wait to see more of her.
This book was so much more enjoyable than I thought it would be. I couldn't pass up the chance to read a Rae Carson book but I was nervous about the historical aspect. But it turned out to be one of my favorite parts of the book! If you're nervous about it too, don't be. I also loved the characters and their journey across the country. I'm going to tell you one more time, if you loved The Oregon Trail game, you need to read this book. Also, if you loved The Girl of Fire and Thorns or McGinnis' In a Handful of Dust, I would definitely give this one a try.
Related Posts