I received this book for free from ALA Midwinter in exchange for an honest review. This does not affect my opinion of the book or the content of my review.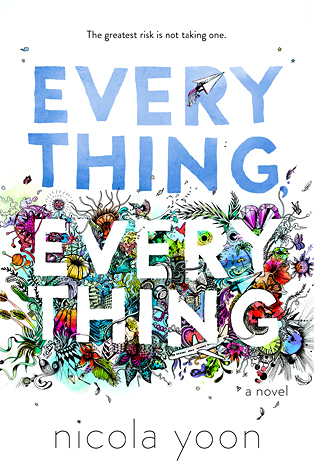 Everything, Everything

by Nicola Yoon
Published by RHCP on 2015-09-03
Genres: Family, Love & Romance, Young Adult
Pages: 320
Source: ALA Midwinter
Amazon • Barnes and Noble • Book Depository
Goodreads

My disease is as rare as it is famous. Basically, I'm allergic to the world. I don't leave my house, have not left my house in seventeen years. The only people I ever see are my mom and my nurse, Carla.

But then one day, a moving truck arrives next door. I look out my window, and I see him. He's tall, lean and wearing all black—black T-shirt, black jeans, black sneakers, and a black knit cap that covers his hair completely. He catches me looking and stares at me. I stare right back. His name is Olly.

Maybe we can't predict the future, but we can predict some things. For example, I am certainly going to fall in love with Olly. It's almost certainly going to be a disaster.
I was really excited when we picked this book up on our trip to ALAMW. Even thought I didn't really know what this book was about, I had already heard buzz for it and then I had the chance to hear the author speak on a panel, so I definitely grabbed the book when I saw it out! And I'm so glad I did!
My mom actually read this book months before I did and kept pestering me to read it because she loved it so much. I started getting nervous, the way you do when someone you care about really wants to you to love a book like they did. What if I read it and didn't like it at all? It's happened before and it's not all that fun. And she LOVED the book. So I put it off a while and waited for the right time. And when it finally came, I sat and read the book in one day. Once the story picked up, I couldn't put it down. The characters really grabbed me but mostly I was surprised that it's about so much more than just a girl who is allergic to everything. I loved the book just like my mom. And if you read this book, I hope you will too.
When I first started, it took a few chapters for me to really get into the book and understand the main character. She was allergic to everything but she was an optimistic, happy person. It was hard for me to understand her because I feel like I would be so bitter about it. But she was well adjusted and had no memory of the outside world. Everything she needed, she could get. She had a nurse, her mom, online classes, books that she loved, and some online friends. She felt lucky for the things she had and we really only get a small glimpse of something painful from her past. We aren't ever really told explicitly what happened but we know it had to do with their previous neighbors from a few years ago. So when new neighbors move with in teens, Madeline's mom starts to worry about her again. And this was when the story really picked up for me. This is where the story really begins. Also, I loved the emails and texts to and from Olly.
I have to say that once I really got into the book, I loved the writing. It's first person POV and I loved how that kept us really in touch with the main character. So much of her life is different from ours but it came in little mentions, like about riding in a car for the first time that she can remember or always looking out the window but never being out there. I loved how much we were shown rather than told. We didn't get an info dump of her life and how it worked. We were shown throughout the book in everyday moments or memories or first experiences. I loved that we were able to feel the emotions for ourselves rather than be told how we should feel. And I really loved that we had the chance to think about what was going to happen right along with the main character. This book isn't very long but it was such an emotional journey, I really took a lot away from it. I just loved that the writing allowed us to "live" the story rather than just "hear" the story.
My other absolutely favorite thing about this book is it's message. Without being a shoved-down-your-throat life lesson, it was simple but strong. Life your life. Don't let anyone tell you what should and shouldn't be important to you. Don't let anyone else tell you how to live. And most importantly, don't waste your life. Live it. Experience things. Take risks. I loved this. And I loved watching Maddy figuring out what was important for her in her life and how she wanted to live it.
I really enjoyed this book. In case you couldn't tell. It was a fast read that covered a lot of emotions and a lot of life events. We see a lot of change in the characters and a lot of growth. But mostly, we get to see a character who starts living for herself. And I think there are so many great messages in that. This is also a really interesting story about loss and grief and mother/daughter relationships as well. It's not just romance, but it's in there too! I highly recommend checking this book out!
Related Posts