Waiting on Wednesday is hosted by
Breaking the Spine
as a way for us to showcase the books we're highly anticipating.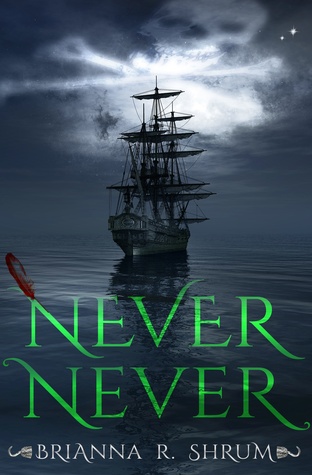 Never Never

by Brianna Shrum
Published by Spencer Hill Press on 2015-09-22
Genres: Fairy Tales & Folklore, fantasy, Retelling, Young Adult
Pages: 368
Amazon • Barnes and Noble • Book Depository
Goodreads

James Hook is a child who only wants to grow up.

When he meets Peter Pan, a boy who loves to pretend and is intent on never becoming a man, James decides he could try being a child—at least briefly. James joins Peter Pan on a holiday to Neverland, a place of adventure created by children's dreams, but Neverland is not for the faint of heart. Soon James finds himself longing for home, determined that he is destined to be a man. But Peter refuses to take him back, leaving James trapped in a world just beyond the one he loves. A world where children are to never grow up.

But grow up he does.

And thus begins the epic adventure of a Lost Boy and a Pirate.

This story isn't about Peter Pan; it's about the boy whose life he stole. It's about a man in a world that hates men. It's about the feared Captain James Hook and his passionate quest to kill the Pan, an impossible feat in a magical land where everyone loves Peter Pan.

Except one.
I'm so excited for this book! I'm also a little nervous because I am so excited for it but I haven't yet read a Peter Pan retelling that I've actually liked. But this one is all about Captain Hook and the description is amazing. Seriously. Did you read it? I'm not usually one who likes villains but I'm dying to learn about Hook. I hope this is going to be as amazing as it looks.
What are you waiting on this week?
Related Posts