Top Ten Tuesday is hosted each week by The Broke and The Bookish and allows us to combine our love of books with our love of lists. This week's topic is: Top Fairytale Retellings I've Read and Want to Read.
I'm kind of excited for this week's Top Ten because I've only read a few fairytale retellings and I'm looking forward to seeing what other ones everyone else has read and loved so I can see which ones I've missed and which ones I definitely NEED to read!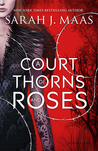 Scarlet by A.C. Gaughen: I'm not even sure if this should be in here since it's more folklore than fairytale but I'm putting it in anyway because I love these books. I love everything about them but mostly Rob and Scar and the rest of the characters. These books are intense and if you can get past the dialect, I think you'll fall in love too.
A Court of Thorns and Roses by Sarah J. Maas: Okay, of course this book is going to be on the list. It was the first Beauty and the Beast retelling and I love it and it made me want to read all of the other and also none of the others because it would be impossible for them to be anywhere near as good as this. I can't wait for more in this story but I definitely recommend this one if you want some Beauty and the Beast!
Cinder by Marissa Meyer: I didn't read this one for a long time even though so many people love it because I really wasn't sure what Cinderella plus Cyborgs would be like. But I was pleasantly surprised by it! I really enjoyed this retelling and am looking forward to continuing the series with Scarlet next month.
Throne of Glass by Sarah J. Maas: Another book I wasn't sure if I should put on the list but this one started out as a Cinderella retelling and it's one of my favorites so I'm putting it in. Of course it turns into so much more than a Cinderella story but it's definitely there. 
Stitching Snow by R.C. Lewis: I really enjoyed this Snow White retelling! The best part are her seven loyal drones. If you want more futuristic retellings, I'd definitely check out this one!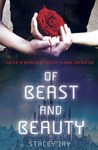 Uprooted by Naomi Novik: It's almost impossible not to hear about this book right now! It's everywhere! I'm not entirely even sure what it's a retelling of but I do know that I want to read it!
Never NEver by Brianna Shrum: I'm really excited for this Peter Pan retelling to come out! I haven't read one that I've really liked yet so I'm hoping this one will be it!
Scarlet by Marissa Meyer: I'm definitely reading this one in September as part of the #TLCReadalong and I can't wait! I hope it's as amazing as people say it is!
Of Beauty and Beast by Stacey Jay: This is the Beauty and the Beast retelling I most want to read out of all of the ones I know. People seem to like it and I'm hoping I will too!
Alice in Zombieland by Gena Showalter: I can't wait to get the chance to read this series! I've heard great things about it plus it's Alice in Wonderland and zombies. It immediately sounds awesome!
Ok, those are the retellings I've read and the ones I can't wait to read! Have you read any of them? Which fairytale retellings are your favorites?
Related Posts