I received this book for free from the Publisher in exchange for an honest review. This does not affect my opinion of the book or the content of my review.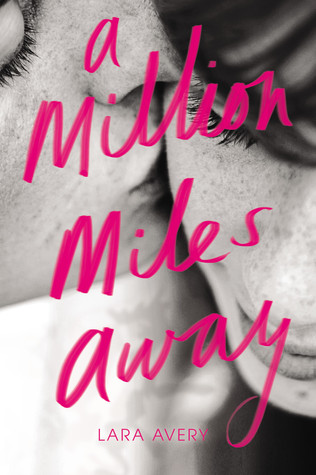 A Million Miles Away

by Lara Avery
Published by Little, Brown Books for Young Readers on 2015-07-07
Genres: Death & Dying, Love & Romance, Social Issues, Young Adult
Pages: 320
Format: ARC
Source: the Publisher
Amazon • Barnes and Noble • Book Depository
Goodreads

When high school senior Kelsey's identical twin sister, Michelle, dies in a car crash, Kelsey is left without her other half. The only person who doesn't know about the tragedy is Michelle's boyfriend, Peter, recently deployed to Afghanistan. But when Kelsey finally connects with Peter online, she can't bear to tell him the truth. Active duty has taken its toll, and Peter, thinking that Kelsey is Michelle, says that seeing her is the one thing keeping him alive. Caught up in the moment, Kelsey has no choice: She lets Peter believe that she is her sister.

As Kelsey keeps up the act, she crosses the line from pretend to real. Soon, Kelsey can't deny that she's falling, hard, for the one boy she shouldn't want.

Lara Avery delivers a breathtaking story of love and loss that is guaranteed to sweep you off your feet.
This book really surprised me. Going into it, I was a little worried knowing what it was about and thinking it would be impossible to feel any sympathy towards Kelsey. But while I was reading, I actually did. I was really surprised by the emotions I felt even while not agreeing with what she was doing. This story took me by surprise and I really think you should give this book a chance as well.
There have been several books recently that deal with the death of a sibling or very close friend and I thought this would just get lumped in with those as I was reading. But it stood out to me for several reasons. One, we know from the beginning what happens to Kelsey's sister. There are no big secrets along the way or reveals, this is not a thriller and there is no mystery surrounding her sister's death. It's just a car crash and then Kelsey dealing with the aftermath. Two, Kelsey isn't a very likable character. She's shallow and kind of mean. This changes over time while she deals with the loss of Michelle and getting to know Peter, but in the beginning, she was not someone I thought I could ever feel for. Three, the small glimpses of Kelsey and Michelle together don't paint a picture of extremely close sisters. A lot of times we see books with super close and almost unrealistic sibling relationships. Instead we see the way siblings often feel for each other. They get annoyed by each other, they don't understand each other, and they judge each other. These two didn't seem like they've been close for a while and it was an interesting look at a sister relationship. All of these things added up to a book that maybe seems similar to other books in its genre but was actually quite different. I loved getting to watch Kelsey grow as a character and change over time, learning what's important and what she really wants to do with her life. I enjoyed getting to learn more about Michelle through people Kelsey meets along the way and see more of their relationship through Kelsey's memories. It was interesting to learn about Michelle with Kelsey instead of being told about Michelle by Kelsey. If that makes sense. I also liked that we know from the beginning that this is an internal struggle that we're dealing with, not some crazy twist ending. As far as storyline goes, it's pretty predictable. But we get to focus on Kelsey and how she's learning to deal with the loss of her sister and everything that that means.
This is an emotional book but it's also told in third person. I think that that, along with the fact that Kelsey isn't all that likable in the beginning, kept me from getting too close or emotionally attached to her. I didn't hate her or anything, I just didn't really like her. But I did want to find out what was going to happen between her and Peter. I wanted to see how she would tell him and how she would get through that. I wanted to know that she could move on to a place where she wasn't hurting and hiding everything and had accepted what happened and could maybe be happy someday. I was surprised in the end that I felt so many emotions toward Kelsey and her situation when I started off being so unattached. That just shows how great the writing in this book is that it could lead me to where I ended up when I started so far away from any of it.
I also need to mention Peter briefly. He was such a difficult character because on the one hand he says he loves Michelle, but then he can't tell the difference between her and Kelsey. But I let that go because most of their interactions in the beginning are on the computer or phone. But what was really interesting about Peter was his time in Afghanistan and how he reacted to being a soldier and in combat and how he changed and leaned on Kelsey. What made the biggest impression on me with Peter was just how honest he was about war and all the ways it really changed him. It was very emotional. Also, I have to admit, I really liked his interactions with Kelsey. I really felt like they had chemistry together, whether he thought it was Michelle or she was acting a certain way, whatever it was, they had chemistry. I really liked Peter and the military aspect of this book.
This next point is pretty obvious but I have to say it anyway. If the lying and deceiving will bother you, this book isn't for you. The way it starts between Kelsey and Peter is very simple, one reply on the computer and Kelsey just couldn't bring herself to share the news about Michelle. Then it just goes from there, getting bigger and bigger. I had a hard time with it about halfway through wondering why Peter couldn't tell the difference between Michelle and Kelsey, wondering how Kelsey continued to lie to him. But I was so sucked into the story and the characters, that I just let it go and continued on. But if you can't let the little things go, you won't get through this book. And if cheating is a problem for you, you might have issues with this book.
Overall, I really liked this book. I was surprised by the amount of emotions I felt by the end. I was able to like Kelsey in the end and was happy to see her grow throughout the book. I liked that it felt different from other grief books and showed a different way of grieving. Because not everyone deals with death the same way. Kelsey continued on with many of her activities and covered up her emotions until the end when she was finally ready to deal with them. I appreciated and understood that. I liked seeing the relationships over time between Kelsey and Michelle, Kelsey and Peter, and Kelsey and her parents. If you want books on loss and grief, if you liked Vanishing Girls or The Last Time We Say Goodbye or Falling Into Place, I think this is a book you'll want to read.
Related Posts