I received this book for free from ALA Midwinter in exchange for an honest review. This does not affect my opinion of the book or the content of my review.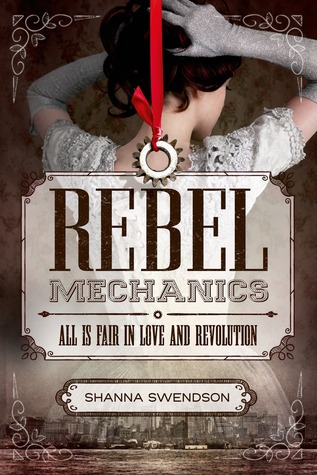 Rebel Mechanics

by Shanna Swendson
Series: Rebel Mechanics #1
Published by Macmillan on 2015-07-14
Genres: Fantasy & Magic, Steampunk, Young Adult
Pages: 320
Format: ARC
Source: ALA Midwinter
Amazon • Barnes and Noble • Book Depository
Goodreads

A sixteen-year-old governess becomes a spy in this alternative U.S. history where the British control with magic and the colonists rebel by inventing.

It's 1888, and sixteen-year-old Verity Newton lands a job in New York as a governess to a wealthy leading family—but she quickly learns that the family has big secrets. Magisters have always ruled the colonies, but now an underground society of mechanics and engineers are developing non-magical sources of power via steam engines that they hope will help them gain freedom from British rule. The family Verity works for is magister—but it seems like the children's young guardian uncle is sympathetic to the rebel cause. As Verity falls for a charming rebel inventor and agrees to become a spy, she also becomes more and more enmeshed in the magister family's life. She soon realizes she's uniquely positioned to advance the cause—but to do so, she'll have to reveal her own dangerous secret.
This book was so much fun! Really, I wasn't expecting that but I loved it! It had a sort of Etiquette & Espionage feel but I think I enjoyed it even more than those books. This one was just as much fun but also had a bit of romance and a very intriguing plot. I highly recommend it if you're a fan of steampunk or are looking for a fun book.
As far as main characters go, I really liked Verity. She was smart and spunky and brave and fun. She had been sheltered growing up but now that she is on her own, she is learning the injustices in the system set up by the British and wants to work at righting those. She somewhat reluctantly begins helping the Rebel Mechanics and discovers along the way that she truly believes in what they're fighting for. She wants to join them but isn't quite sure she agrees with their methods. Does the end justify the means? That's just one problem that Verity is dealing with. She also has an employer that she thinks might be a bandit stealing from the government. Except he's rich and has no reason to be putting himself at risk. This whole book is full of secrets and spies and I loved it all!
The alternate history portion of the book is what scared me the most heading into it. I'm not a reader who usually loves historical fiction but I do love steampunk so I'm never quite sure how I'll fell about a book like this. Then add in magic and the British beating America in the Revolutionary War and I was really worried it would turn into a history lesson trying to be Harry Potter. But it was so far from that. The magic was actually pretty subtle and the alternate history part was fun! Because magic has been used to do the things we invented machines for, the same technology doesn't exist as it did in real history. But because everyone is now dependent on the upperclass British who can use magic, the rebels are creating machines to show people that they can do everything the British can do but without magic so they won't be dependent on them anymore and everyone can have equal standing. I really like how the revolution was beginning in this alternate history and how the world was set up.
I'm really really eager to see what happens next in this series! There is some romance in the book but it wasn't the romance I was hoping for. I really want my ship to be in the next book! I don't want to give anything away but I'm dying to see more of these characters, I loved their interactions, and I want to see how Verity will continue to help the Rebels and their revolution. Plus, we didn't get nearly enough of Lord Henry in this book who is completely awesome and I still have suspicions about Flora and I want to know so much more about all of these characters!
I highly recommend this book. If you're a fan of steampunk books, governess stories, YA spy books, or just fun books with light romance, you should definitely give Rebel Mechanics a try. I think fans of Gail Carriger will especially love this book.
Related Posts