I received this book for free from the Publisher via NetGalley in exchange for an honest review. This does not affect my opinion of the book or the content of my review.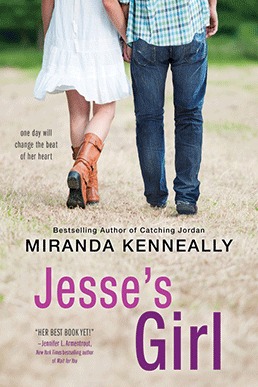 Jesse's Girl

by Miranda Kenneally
Series: Hundred Oaks #6
Published by Sourcebooks, Inc. on 2015-07-07
Genres: Contemporary, Family, Romance, Young Adult
Pages: 304
Format: eARC
Source: the Publisher via NetGalley
Amazon • Barnes and Noble • Book Depository
Goodreads

Practice Makes Perfect.

Everyone at Hundred Oaks High knows that career mentoring day is a joke. So when Maya Henry said she wanted to be a rock star, she never imagined she'd get to shadow *the* Jesse Scott, Nashville's teen idol.

But spending the day with Jesse is far from a dream come true. He's as gorgeous as his music, but seeing all that he's accomplished is just a reminder of everything Maya's lost: her trust, her boyfriend, their band, and any chance to play the music she craves. Not to mention that Jesse's pushy and opinionated. He made it on his own, and he thinks Maya's playing back up to other people's dreams. Does she have what it takes to follow her heart—and go solo?
I try not to keep it a secret that Breathe, Annie, Breathe was one of my absolute favorite books from last year. I also tried for months to get my hands on Jesse's Girl before I was chosen to participate in the blog tour and I WAS SO EXCITED. It was one of my most anticipated books this year! I'm so happy to have had the chance to read it and am happy to say that it was fun and full of music and all romancey and that you should read definitely it!
Jesse's Girl was lots of fun. As far as YA romances go,  I really enjoyed it. It was just on the edge of being cute and fun but had just enough maturity to it to make it interesting for older readers. While Jesse wasn't my favorite guy from Hundred Oaks, he did pretty well and definitely grew on me. He starts out very closed off but works on his attitude and outlook on life, with help from Maya, and was much easier to root for at the end of the book. Maya was fun and interesting and I like seeing her grow in confidence throughout the book. I liked that she wanted to work for her dreams and didn't give into any of Jesse's ego or fame. They helped each other work through some of their biggest issues and came out together on the other side and it was a lot of fun watching them grow together and support each other and figure out how to be together.
While I enjoyed this book, it didn't quite have the same impact for me that Breathe, Annie, Breathe did. There were a lot of difficult issues that Annie dealt with in that book and it made for a more serious and, in my opinion, a deeper and more emotional book than this one was. This one dealt with a couple of family issues but mostly with Maya and Jesse dealing with what they wanted with their futures and showed them having fun and getting to know each other. It was most definitely a fun book and I recommend it, but it just didn't have the depth that sent Breathe, Annie, Breathe to the top of my favorites list last year.
I definitely recommend Jesse's Girl if you're a fan of YA romance. Also, if you're a fan of books about musicians, I'd definitely recommend this one. This book has both a successful but jaded Grammy winning musician and a wannabe star with very little training but lots of raw talent. We  get to see how both of their lives exist around their music careers. So if you enjoy those stories, you'll really like this one! Jesse's Girl makes a great addition to the Hundred Oaks series. If you love the Hundred Oaks books, you'll really love the cameos in this one! If you haven't started this series yet, you definitely need to get on it!!
Quick note: You can definitely read these books out of order. You don't need to start from the beginning. They're more companion books than a series. But Catching Jordan is awesome and you'll enjoy cameos in this one if you read that first that you might not get if you just jump right into this one. But again, it definitely isn't necessary to start at the beginning.
About the Author:

Growing up in Tennessee, Miranda Kenneally dreamed of becoming an Atlanta Brave, a country singer (cliché!), or a UN interpreter. Instead she writes, and works for the State Department in Washington, D.C., where George W. Bush once used her shoulder as an armrest. Miranda loves Twitter, Star Trek and her husband.
Website * Facebook * Twitter * Goodreads
Giveaway:
Tour-wide giveaway (INTL)
$50 iTunes Gift Card
a Rafflecopter giveaway
Related Posts