Top Ten Tuesday is hosted each week by The Broke and The Bookish and allows us to combine our love of books with our love of lists. This week's topic is: Top Ten Books I've Read So Far In 2015.
I'm so excited for this topic! I really hope I can keep this post to ten books, but I'm honestly not holding out too much hope for that. 2015 has been an amazing year for books so far. Really, I've been so happy with so many of the books I've read. And really, what more could we ask for? I've also gotten pickier and more selective of the books I read, so maybe that's helped, but I think this might be the year with my highest average rating. We still have a lot of the year left so that could very well change, but I'm holding high hopes for the rest of the year. If it's anything like the first half, it's going to be great!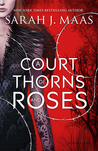 The Fixer by Jennifer Lynn Barnes * Nimona by Noelle Stevenson * Simon vs the Homo Sapiens Agenda by Becky Albertalli * Tessa Ever After by Brighton Walsh * A Court of Thorns and Roses by Sarah J. Maas

The DUFF by Kody Keplinger * The Orphan Queen by Jodi Meadows * The Last Time We Say Goodbye by Cynthia Hand * I'll Meet You There by Heather Demetrios * Saga Vol 1-4 by Brian K Vaughan
So it turned out I didn't have too hard of a time stopping at ten. These are all books that I have loved this year and will make that end of the year favorites list extremely hard to narrow down to ten. I picked books that still have me thinking or loving then or wanting to reread. And I highly recommend all of them! I also have a ton of four star books that I've read this year so I still stand by my statement that this might be the highest my average rating is over the whole year but the last six months will play a big part in that. Considering how the first half of the year went, I'm really looking forward to it!
What are some of your favorites of 2015 so far?
Related Posts