I received this book for free from HarperTeen via Edelweiss, Purchased in exchange for an honest review. This does not affect my opinion of the book or the content of my review.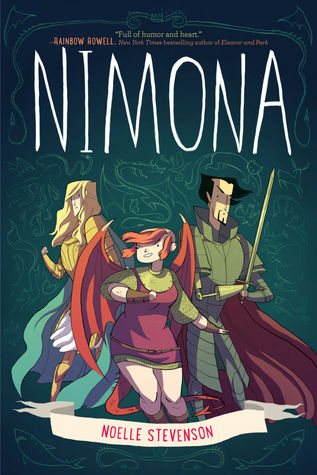 Nimona

by Noelle Stevenson
Published by HarperCollins on 2015-05-12
Genres: Comics & Graphic Novels, Fantasy & Magic, Humorous Stories, Young Adult
Pages: 272
Format: Paperback
Source: HarperTeen via Edelweiss, Purchased
Amazon • Barnes and Noble • Book Depository
Goodreads

The graphic novel debut from rising star Noelle Stevenson, based on her beloved and critically acclaimed web comic, which Slate awarded its Cartoonist Studio Prize, calling it "a deadpan epic."

Nemeses! Dragons! Science! Symbolism! All these and more await in this brilliantly subversive, sharply irreverent epic from Noelle Stevenson. Featuring an exclusive epilogue not seen in the web comic, along with bonus conceptual sketches and revised pages throughout, this gorgeous full-color graphic novel is perfect for the legions of fans of the web comic and is sure to win Noelle many new ones.

Nimona is an impulsive young shapeshifter with a knack for villainy. Lord Ballister Blackheart is a villain with a vendetta. As sidekick and supervillain, Nimona and Lord Blackheart are about to wreak some serious havoc. Their mission: prove to the kingdom that Sir Ambrosius Goldenloin and his buddies at the Institution of Law Enforcement and Heroics aren't the heroes everyone thinks they are.

But as small acts of mischief escalate into a vicious battle, Lord Blackheart realizes that Nimona's powers are as murky and mysterious as her past. And her unpredictable wild side might be more dangerous than he is willing to admit.
I loved this book! Guys, if you love graphic novels and humor and fantasy, you need to read this. Seriously. I probably say that so much you guys might not even listen anymore but this book quickly jumped onto my favorites list. I really enjoyed it. I think if you liked Seconds by Bryan Lee O'Malley or Ms. Marvel by G. Willow Wilson and Adrian Alphona, you should definitely give this one a try. Also, I'd mention Saga, but that is most definitely adult so they aren't quite entirely interchangeable. But the humor and sarcasm in that one is similar to the humor in this one. So if you liked that, definitely read this one. Basically, what I'm trying to say is that this book was awesome and you need to read it!
I'm not very good at reviewing graphic novels, mostly because I'm not entirely sure what people want to know about them. I've just started reading them and am loving them so far. I don't know why I didn't read them before. I guess I thought there really couldn't be as much depth and emotion in graphic novels as there was in regular books. But I was very wrong. Especially in the graphic novels I've read recently. I've just barely scratched the surface of what's available, but I can tell you that so far, Nimona is right up there with my favorites!
There is so much going on in this book. I absolutely love the artwork and the colors. But it was the characters that really made this book for me. There was so much depth to them, it was amazing. Even though we don't get as many words in a graphic novel as we might in a novel and therefore don't seem to get to know them as well, all of the characters were very well developed with backstories and personalities and they were awesome! The art adds a different dimension we wouldn't get in just a novel but with so much less dialogue and writing, you might think that there couldn't be nearly as much story and intrigue and connections with characters and true depth to the story, but you'd be wrong. The words along with the art create a story that's so much more interesting than many novels I've read.
I love this book so much and I hope you guys will read it! Whether you've read and loved graphic novels or are new to them, the story and the journey the characters go through will pull you in. If you're a fantasy fan, don't miss this one!
Related Posts