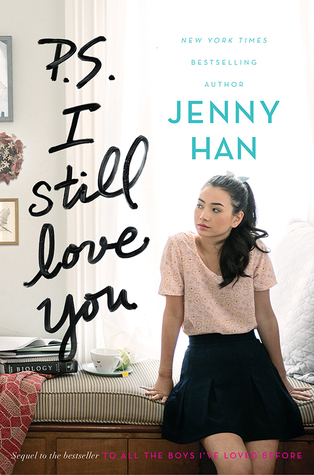 P.S. I Still Love You

by Jenny Han
Series: To All the Boys I've Loved Before #2
Published by Simon & Schuster Books for Young Readers on 2015-05-26
Genres: Love & Romance, Social Issues, Young Adult
Pages: 352
Format: Hardcover
Source: Purchased
Amazon • Barnes and Noble • Book Depository
Goodreads

Lara Jean didn't expect to really fall for Peter.
She and Peter were just pretending. Except suddenly they weren't. Now Lara Jean is more confused than ever.
When another boy from her past returns to her life, Lara Jean's feelings for him return too. Can a girl be in love with two boys at once?

In this charming and heartfelt sequel to the New York Times bestseller To All the Boys I've Loved Before, we see first love through the eyes of the unforgettable Lara Jean. Love is never easy, but maybe that's part of what makes it so amazing.
Go ahead, call me a cynic with a heart made of ice. Go ahead. It still won't change how I feel about these books. But I can say that I am sad that I don't love these books. I really wanted to. I wanted to so much that even after I didn't love the first one, I still picked up the second just to see. And because dammit, I really love the covers. But I liked this one even less than the first. My guess is, most people will feel that way. So my biggest piece of advice right off the bat here is that if you didn't like the first book, don't even bother with the second. My next piece of advice? If you loved the first book, don't even read this review.
This review will not be a glowing love letter to this book. It will be sad and a little bit mad. Mostly it'll be about how nothing happens in the book and the book didn't even need to exist. If you read the first book and you know how it ended, then you'll also know that it probably could have been resolved really well with just another chapter or two tacked on at the end. Then we wouldn't have all been mad at the ending and we wouldn't have had to sit through another book of Lara Jean being wishy-washy in another love triangle. But I'll save that for later. I'm just going to say that I'm really really sorry I didn't love these books. They're maybe my biggest disappointment to date. I hope you guys reading do love these books and find them charming and cute with interesting characters. I really do hope that. My cold, black heart won't allow me to feel the same things but that doesn't mean I wish those things for you.
Now, I need to let you know this – there will be spoilers in this review. I tried to avoid them but because of my feelings for the book and where they came from, I wasn't able to stay away. This is your last chance to stop reading. I'm not responsible from here on out because you've been warned. Spoilers lie ahead. I'm sorry.
*spoiler alert* If you loved the first book, reading the sequel might give you those exactly the same feelings. Exactly. Because it's very similar to the first. Replace a few characters with new ones, who are somewhat similar, age Kitty a little bit to make her slightly more tolerable and much wiser-sounding than her ten year old self, and make Lara Jean slightly more comfortable with driving and they're pretty much the same book. Seriously, it was one of the things that drove me craziest about this book, that we didn't seem much further at the end than the first time around. We get Lara Jean who's interested in a boy at the beginning of the book (Peter this time, not Josh), we get some things that happen with that boy, then something happens and they argue, then another boy comes (John this time, not Peter), hanging out happens, feelings get confused, Lara Jean bakes a lot, kisses happen, more confusion, more feelings, more thinking, more contemplating, confrontation between boys (Peter and John this time, not Peter and Josh), Lara Jean finally decides how she feels. End scene. Oh, and don't forget the annoying Gen character. She's there too. And not enough Margot. *spoiler over*
So yeah, the feelings are pretty much the same as the first one. I didn't love the first one, didn't love the second one.
I did like the relationship between Kitty and Lara Jean more in this one. Kitty was slightly easier to handle, less of a completely obnoxious brat than last time, and had some interesting things to say. She and Lara Jean got along much better. Lara Jean was also a little more mature and their relationship together was nice and sisterly. Not always perfect but always loving. I enjoyed it. I missed Margot in the second half because she went back to school but my favorite moments of the book, and the first one, were when all three sisters were together.
I also still love their dad even though he is a somewhat stereotypical dad who doesn't notice a whole lot but loves his kids like crazy. He's present but not really aware. He comes out of nowhere with some decent advice and a good hug then shuffles off to his documentaries and we forget about him until his next scene. Nothing life shattering or very original but I did enjoy his scenes as well.
It's very strange because I feel like the thing that bothered me most about the first one wasn't an issue this time but I still liked it slightly less. I felt like I was used to Lara Jean this time and that she matured slightly, so she didn't annoy me nearly as much in this book. She felt much less naive but still girly and nice. I didn't like her waffling emotions still but I did like her more. I just didn't like that we didn't seem to end up much further than we did after the first one. A lot happens but what actually happened? Why did we need this book? All we really needed was one extra chapter in the first book and we would have been good. And that's what annoyed me most about the second book. That I still don't really know what its point was.
But if I had loved the first one, I would have loved having more time with these characters and getting to see more of their lives. I'm sure I would have loved the roller coaster of emotions and seeing the relationships develop. If I had loved the characters, I would have wanted more time with them regardless of what happened. So if you loved the first one and the characters and want more of that and you're still here, I think you might be pretty happy with this one. But if you didn't enjoy the first one, definitely, definitely skip this one. It does not get better enough to justify spending the time or money on it. Even with the super awesome covers.
Also, I'm really sorry. I'm so sorry! I really wanted to love these books! I'm still so sad that I didn't.
Related Posts