Waiting on Wednesday is hosted by
Breaking the Spine
as a way for us to showcase the books we're highly anticipating.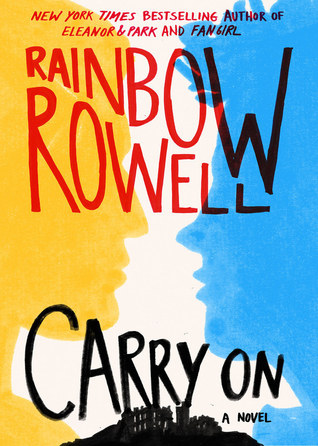 Carry On

by Rainbow Rowell
Published by Macmillan on 2015-10-06
Genres: Action & Adventure, Fantasy & Magic, Young Adult
Pages: 384
Amazon • Barnes and Noble • Book Depository
Goodreads

Rainbow Rowell continues to break boundaries with Carry On, an epic fantasy following the triumphs and heartaches of Simon and Baz from her beloved bestseller Fangirl.

Simon Snow just wants to relax and savor his last year at the Watford School of Magicks, but no one will let him. His girlfriend broke up with him, his best friend is a pest, and his mentor keeps trying to hide him away in the mountains where maybe he'll be safe. Simon can't even enjoy the fact that his roommate and longtime nemesis is missing, because he can't stop worrying about the evil git. Plus there are ghosts. And vampires. And actual evil things trying to shut Simon down. When you're the most powerful magician the world has ever known, you never get to relax and savor anything.

Carry On is a ghost story, a love story, a mystery and a melodrama. It has just as much kissing and talking as you'd expect from a Rainbow Rowell story — but far, far more monsters.
I AM SO EXCITED FOR THIS BOOK!!!!!!!!!!!!!!!!!!!!!!!! Seriously, guys. I'm very excited for this book. Fangirl was one of my absolute most favoritest books from last year. And I'm pretty sure it'll always be a favorite of mine. Admittedly, early on in the book, I wasn't completely sold on the Simon Snow fanfic excerpts. It was difficult to really get into the story without knowing all of it and early on they were pretty brief glimpses that we were getting. I almost started skipping them. But when the stories started getting longer and we saw more depth to the characters, I started getting attached to them. Obviously, Simon Snow is based on Harry Potter and being a HUGE fan of those books I was worried it would negatively affect how I felt about Simon Snow. But the similarities didn't bother me at all. I loved the idea of Cath's fanfiction and her total devotion to Simon Snow and how many people loved her stories. I'm so excited that we actually get to read it now!! And I will be looking everywhere I can to get my hands on an early copy!
Are you excited for Carry On? What are you waiting on this Wednesday?
Related Posts