I received this book for free from the Publisher in exchange for an honest review. This does not affect my opinion of the book or the content of my review.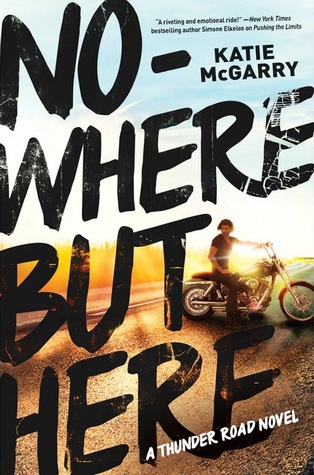 Nowhere But Here

by Katie McGarry
Series: Thunder Road #1
Published by HarlequinTeen on 2015-05-26
Genres: Family, Love & Romance, Retelling, Young Adult
Pages: 496
Format: ARC
Source: the Publisher
Amazon • Barnes and Noble • Book Depository
Goodreads

An unforgettable new series from acclaimed author Katie McGarry about taking risks, opening your heart and ending up in a place you never imagined possible.

Seventeen-year-old Emily likes her life the way it is: doting parents, good friends, good school in a safe neighborhood. Sure, she's curious about her biological father—the one who chose life in a motorcycle club, the Reign of Terror, over being a parent—but that doesn't mean she wants to be a part of his world. But when a reluctant visit turns to an extended summer vacation among relatives she never knew she had, one thing becomes clear: nothing is what it seems. Not the club, not her secret-keeping father and not Oz, a guy with suck-me-in blue eyes who can help her understand them both.

Oz wants one thing: to join the Reign of Terror. They're the good guys. They protect people. They're…family. And while Emily—the gorgeous and sheltered daughter of the club's most respected member—is in town, he's gonna prove it to her. So when her father asks him to keep her safe from a rival club with a score to settle, Oz knows it's his shot at his dream. What he doesn't count on is that Emily just might turn that dream upside down.

No one wants them to be together. But sometimes the right person is the one you least expect, and the road you fear the most is the one that leads you home.
You guys might know how much I love Katie McGarry's Pushing the Limits series. Because I do love it. A lot. When I heard she was starting a new series, I was VERY excited! One of my top missions at ALA Midwinter was to get my hands on this new book! Turns out they didn't have a lot of copies but I was able to talk to someone who was awesome and sweet and told me to email them later. And I did. Pretty much as soon as I got home! And she sent me a copy!! I was SOOOOOO excited when I opened this book! Seriously, if you're a fan of Katie McGarry, or any author really, then you know what it's like when you finally get their next book in your hands. Excited almost doesn't cover it. And I'm so happy to be able to say that it totally lived up to my expectations!! I loved it!
Nowhere but Here was pitched as a West Side Story meets Sons of Anarchy. I haven't ever seen SoA, so I can't really speak to that comparison and it's been at least ten years since I've seen West Side Story, so I was a little rough on that story line but as the book progressed, it definitely became clearer how it was a WSS retelling. And I think, with my less than perfect memory of that story, it was done really well! I'm not sure if that means anything, but the end of Nowhere But Here was really great and where I saw most of the similarities and where I became most invested in the book. And I loved that it was different from how I thought it was going to be. If I hadn't been so distracted by what I thought was going to happen, I probably would have seen it, but I didn't and I loved that.
I will say the pacing was a little off for me in this book. The beginning was slow and it took me a little bit to really feel invested in the characters. I was also a little annoyed as the book went on and I was still getting no answers to any of Emily's questions. She grew up with her mother but is staying with her birth father and his family, who are members of a motorcycle club. She has discovered that her past might not be quite the same as she was led to believe by her mother but no one will give her any answers or clues about why her mother lied to her and why everyone is still keeping her past a secret. She wants to know who she is, who her family is, and who she can trust. As the book went on and I was still not getting anything from anyone, I was annoyed. But just before I put the book down, things started happening and it got much better!
One of my favorite parts of this book was the chemistry between the two main characters, Emily and Oz. The book is told in first person dual POV and even though we get Oz's POV, there is still a lot he keeps from Emily and the readers in the beginning. And Emily is pretty judgmental and closed off in the beginning. But when he starts opening up and trusting Emily and believing that there might be more than even he knows, the two really start working together and it's so much better than when they're working against each other. The chemistry is always there, just like in all of McGarry's books, but I just enjoyed it a lot more when they didn't fight it so much. Both characters have reasons to be on their own and not trust others, so when they start opening up to the other, a lot is changing for both of them. And there is one scene in particular between Emily and Olivia that comes right after Emily and Oz have spent a lot of time together, when the readers finally get to see their relationship in a new way and I loved it!
Despite the slow beginning and trying to figure out all of the characters, this book really is worth reading. Especially if you're a Katie McGarry fan. I loved Oz, once I started to learn more about him, and I loved Emily, once she started opening up to the idea that maybe her life before wasn't better than the new ones she was seeing. I loved Emily and Oz's chemistry and seeing their relationship develop beyond that. This book is definitely a Katie McGarry book! Which means if you love her Pushing the Limits series, you'll probably enjoy this one as well. But it also means that if you don't like those books, this one probably isn't different enough to be worth reading for you. I do hope you guys will enjoy this book, though. It's full of suspense and mystery and chemistry and family and drama and love and second chances and figuring out what's right for you rather than the life that's been laid out for you. I loved it and am looking forward to Razor's story next!!
Related Posts