I received this book for free from the Publisher in exchange for an honest review. This does not affect my opinion of the book or the content of my review.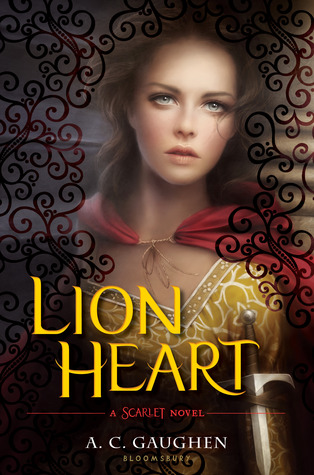 Lion Heart

by A.C. Gaughen
Series: Scarlet #3
Published by Bloomsbury USA on 2015-05-19
Genres: Action & Adventure, Fairy Tales & Folklore, Love & Romance, Retelling, Young Adult
Pages: 348
Format: ARC
Source: the Publisher
Amazon • Barnes and Noble • Book Depository
Goodreads

The eagerly-awaited conclusion to the Scarlet trilogy delivers another action-packed and romance-filled adventure.

Scarlet has captured the hearts of readers as well as the heart of Robin Hood, and after ceaseless obstacles and countless threats, readers will finally find out the fate of the Lady Thief.

Imprisoned by Prince John for months, Scarlet finds herself a long way from Nottinghamshire. After a daring escape from the Prince's clutches, she learns that King Richard's life is in jeopardy, and Eleanor of Aquitaine demands a service Scarlet can't refuse: spy for her and help bring Richard home safe. But fate—and her heart—won't allow her to stay away from Nottinghamshire for long, and together, Scarlet and Rob must stop Prince John from going through with his dark plans for England. They can not rest until he's stopped, but will their love be enough to save them once and for all?
Guys, have you been reading this series? If you haven't yet, I suggest you change that. Especially now that they're all out. These books are about Robin Hood and Scarlet, who is a girl but pretending to be a boy, and the story of how they fall in love and how they try to save their people from the sheriff of Nottingham and Prince John. The series is full of emotion. There is a ton of heartbreak, love, happiness, loss, and fighting. Everything you would think of for an epic Robin Hood love story is in here. I highly recommend you read them!
I know the title of this post says it's a review for Lion Heart but I always find it somewhat difficult to review the third, and final, book in a series. For readers who haven't started the series, I don't want to give away too much of the journey to the finale. And for readers who have just the last book left, I most definitely don't want to spoil anything for them. So I think for this "review", I'll speak more to the reasons why you should read these books than any sort of specifics on the newest book. With lots of GIFs. I hope that's okay with you guys.
Reason number one why you should read these books is because they're epic!
And you can't argue with Tom Hiddleston! These books are full of epic everything. Intense emotions, tons of action, drama, romance. Everything. If you aren't into lots of drama, you might not like these. But if you are, read these!
Another reason to read these books, they have a main character who is so many things all at the same time but mostly she's a fierce and loyal warrior who just wants to keep her people safe. Seriously, if you like stories like Throne of Glass or Snow Like Ashes that follow strong female characters trying to protect the people they love, this is one you'll want to read. Scarlet is fierce and vulnerable all at the same time. She wants to fight and serve her people but doesn't think she's brave or want to be a hero. I love her and all of her complex emotions and flaws.
Romance. Guys. Romance. It's Robin Hood. Who doesn't love romance in Robin Hood stories? I remember absolutely loving Robin Hood and Maid Marian in the Disney version of Robin Hood when I was a kid. They were my favorite. Even more than the standard Cinderella or Beauty and the Beast. Robin Hood wasn't a Prince, he was a hero and I loved that! Plus, you could tell how much they loved each other. This might be a minor spoiler I suppose but Robin Hood and Scarlet fall in love. And it's epic and full of ups and downs and it's a long time before they admit it and they don't even know if they can be together. There is a lot standing in their way. And one of the biggest questions in this series is whether they'll ever find a way to be together. That you'll have to read the books to find out. But, holy cow, I loved seeing them fall in love.
Now that all of the books are out, you can binge the whole series! And this is such a great series to binge because the endings are a bit cliffhanger-y. Seriously, the end of Lady Thief and then having to wait an entire year between the two nearly killed me! Before I started Lion Heart, I actually reread the first two and it was such a great idea. I loved it! There are so many small moments that I had forgotten but make up such an important part of Rob and Scar's relationship. They went through so much, not just Rob and Scar, but the secondary characters as well. It was good to be reminded of their entire journey to get where they were in the final installment. Here's just a small sampling of emotions I experienced while reading the series: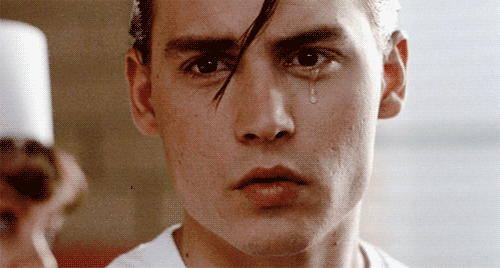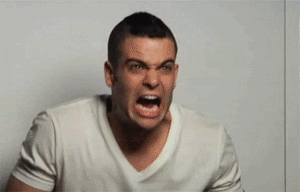 Basically what I'm trying to say is…
I love this series and think that if you're a fan of young-adult fantasy or retellings, you should definitely read these books. You should know that there is a dialect in the book that can be hard for some people to get past. And they are very dramatic. If that bothers you, you might not love them like I do. But this series stands strong throughout the three books, which can't always be said. Lady Thief was definitely my favorite of the series and the last wasn't as completely epic as I had hoped for, hence the four stars, but some things in a story just can't be changed. I really hope you guys will give these books a try. The characters really make it worth it. Even though you've probably "met" Robin Hood before, all of these characters are ones you'll want to meet again in this series. If you have read the books, let me know what you think!! Who's your favorite character? Tell me everything!!
Related Posts