I received this book for free from the Publisher via Edelweiss in exchange for an honest review. This does not affect my opinion of the book or the content of my review.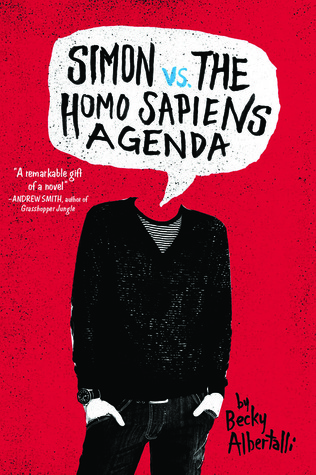 Simon vs the Homo Sapiens Agenda

by Becky Albertalli
Published by HarperCollins on 2015-04-07
Genres: Contemporary, Diversity, LGBT, Love & Romance, Social Issues, Young Adult
Pages: 303
Format: eARC
Source: the Publisher via Edelweiss
Amazon • Barnes and Noble • Book Depository
Goodreads

Sixteen-year-old and not-so-openly gay Simon Spier prefers to save his drama for the school musical. But when an email falls into the wrong hands, his secret is at risk of being thrust into the spotlight. Now Simon is actually being blackmailed: if he doesn't play wingman for class clown Martin, his sexual identity will become everyone's business. Worse, the privacy of Blue, the pen name of the boy he's been emailing, will be compromised.

With some messy dynamics emerging in his once tight-knit group of friends, and his email correspondence with Blue growing more flirtatious every day, Simon's junior year has suddenly gotten all kinds of complicated. Now, change-averse Simon has to find a way to step out of his comfort zone before he's pushed out—without alienating his friends, compromising himself, or fumbling a shot at happiness with the most confusing, adorable guy he's never met.
This book was exactly what I needed at the time I read it. I'd just read a thriller that was creepy and left me feeling slightly heavy. So I wanted something light and fun and, if I was lucky, it might also have a little romance. I'd seen people enjoying Simon vs the Homo Sapiens Agenda and saying that it was fun, so I thought I'd give it a try. And I'm so glad I did. This book was perfect for what I wanted. I had so much fun reading and getting to know Simon. If you've been thinking about picking this one up, you definitely should!
I didn't know much about what Simon was about before going in, only what other people had said. So I knew Oreos would play an important role and I knew Simon was gay. That was it. Since I'm not big on synopsis reading and depend more on the opinions of reviewers I trust, I decided to try this. And not knowing much about it beforehand was really perfect. I loved getting to know Simon and his friends. (Seriously, so many of the characters felt so real. Even Taylor, who isn't a big player in the book but felt so real because I think we all knew someone like her in high school.) I loved seeing Simon go through so much in this book and come out better on the other side. I loved his attitude and humor and awkwardness. I loved how much he changed, how his view of the world and those around him changed, but at the same time he was still the same Simon from the beginning of the book.
I devoured this book and just loved it so much. While some books dealing with subjects like this can take on such a dark tone and become so heavy and serious, it was refreshing to have such a fun and bright and hopeful book that deals with the same topics but in such a different way. Because not everything has to be so serious. I enjoyed this book and the characters and the romance. The romance, guys, it was so freaking adorable. And it feels a little weird for me to say this because I'm not usually into cheesy but something about this, maybe the fact that it was emails or something, but the cuteness just slayed me. I loved these two. (I'm not going to say who the other boy is because that's kind of a big deal.)
I will say that not a lot really happens in the book. It's a slice of time in Simon's life on the page and while he does go through some difficult and weird moments and grows during the book, if you're a reader who isn't into everyday moments books and want lots of action or intense drama, this isn't the book for you. Also, and remember that I loved this book, so much of what happens in this book turns out perfectly. This is a light and funny and adorable book. It has dark moments but I think the point of this book is to be light and hopeful and not so serious. To focus on the relationships in the book and show that change can bring good things. If happily ever afters and pieces that just fall into place and supportive, happy families make you twitchy, this book is definitely not for you. I completely loved it and the fact that it made me smile while reading.
Once again I want to say that if you've been thinking about reading this book, I definitely recommend you pick it up. If you like romances and humor and happily ever afters, read this book! It was so much fun and so happy and it blew me away that this was a debut novel. Simon is now one of my favorite characters and I really hope we'll be getting more books from Becky Albertalli soon!
Related Posts