I received this book for free from the Publisher in exchange for an honest review. This does not affect my opinion of the book or the content of my review.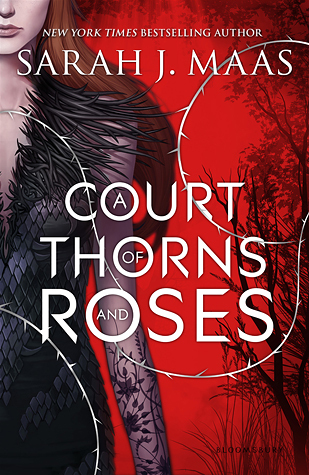 A Court of Thorns and Roses

by Sarah J. Maas
Series: A Court of Thorns and Roses #1
Published by Bloomsbury Publishing USA on 2015-05-05
Genres: Fantasy & Magic, Love & Romance, Young Adult
Pages: 432
Format: ARC
Source: the Publisher
Amazon • Barnes and Noble • Book Depository
Goodreads

A thrilling, seductive new series from New York Times bestselling author Sarah J. Maas, blending Beauty and the Beastwith faerie lore.

When nineteen-year-old huntress Feyre kills a wolf in the woods, a beast-like creature arrives to demand retribution for it. Dragged to a treacherous magical land she only knows about from legends, Feyre discovers that her captor is not an animal, but Tamlin—one of the lethal, immortal faeries who once ruled their world.

As she dwells on his estate, her feelings for Tamlin transform from icy hostility into a fiery passion that burns through every lie and warning she's been told about the beautiful, dangerous world of the Fae. But an ancient, wicked shadow grows over the faerie lands, and Feyre must find a way to stop it . . . or doom Tamlin—and his world—forever.

Perfect for fans of Kristin Cashore and George R. R. Martin, this first book in a sexy and action-packed new series is impossible to put down!
I'm so excited for this book to come and I've even read it already!!! I've pre-ordered it and have excitedly checked my mail every day in the hopes that it may show up early. Unfortunately, it has not. But I still love it and can't wait to have a finished copy in my hands!
I highly recommend this book to those of you who are fans of the Throne of Glass series. This book has a very similar feel, the writing and story are definitely Maas books. If the pacing and all of the activity at the end of the ToG books bothered you, I imagine you would have the same problems with this book. But in like ToG for me, the characters in this book are really what made it for me. Feyre was great, not quite as awesome as Celaena, in my opinion, but Tamlin and Lucien and Rhys and everyone else are also awesome. Everyone was worth meeting and I'm not really sure how Sarah does it but I can't help loving all of her characters.
Besides the characters in ACOTAR, I have to say, I LOVED the Beauty and the Beast aspects. I loved it so much. I've never read a Beauty and the Beast retelling, even with as many as there are out there, and I honestly wasn't sure what to expect. Especially with the addition of faeries in this one. But I have to tell you, I absolutely loved it. It makes me both want to pick up every other Beauty and the Beast retelling out there just to get more of the same feelings from this story and stay far away from them as possible because I'm pretty sure none will be as good as this one. Seriously, there were so many moments that had me smiling and swooning, I felt like a kid watching the Disney moving for the first time again. Except, of course, the book tells its own story and there are certainly non-kid-friendly moments in this book. But as my first Beauty and the Beast retelling, I can say that I loved this aspect of the book and think that if you're a fan of the story, this book won't disappoint you in regards to that.
I just have to say it one more time, because I mentioned it above, but the emotions that are present in this book are off the charts! Seriously, if you've read Sarah J. Maas before, you know she can create moments with intense emotions. Hate, hopelessness, anger, happiness, hope, fear, love. She will make you feel them all alongside her characters. It's one of the reasons it's so hard for me to pick up another book right after reading a Maas book, because my emotions are still all over the place from everything I've just finished reading!
I know I haven't talked much about the actual story in this review, but I think you should just read the book yourself. If you loved Throne of Glass, you NEED to read this book. Seriously. I loved this book even more than those. I'm not sure what else I need to do to convince you but you should take my word for it. The book starts out a little bit slow but really really kicks in halfway through. Until then, it's a lot of character and world discovery. If you haven't read Throne of Glass, I would still definitely recommend this book if you love fantasy and YA books and love characters who are flawed and difficult but lovable and if you like action books or retellings or faeries or romances. Really, just read the book.
Related Posts