Reading Queue is a monthly meme hosted by Books: A True Story and Book Tasty where we can get together and talk about the books we hope to read in the coming month and the books we read last month. So write up your own Reading Queue post and then go check them out!
I  had a great reading month in April and it's gotten me even more excited for May! I didn't do a great job sticking to my April list (is anyone out there surprised?) but I did read a lot of really good books and I'm very hopeful that it'll lead to another great month in May. I'm carrying some books over from April but picking some new May releases to add to the list as well. As always, if you've read any of them, let me know! I'd love to hear your thoughts!
April Reads
Lying Out Loud by Kody Keplinger and Aimee and the Heartthrob by Ophelia London: I really enjoyed both of these books. LOL was not as good as The DUFF but still fun and Aimee was boy band heaven! So much fun and such a cheesy romance! Perfect for spring.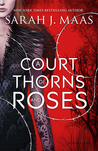 A Court of Thorns and Roses by Sarah J. Maas and Scarlet and Lady Thief by A.C. Gaughen: ACOTAR was by far my favorite book this month. I loved it so much and highly recommend it to fans of Sarah J Maas. I meant to reread both Scarlet and Lady Thief but I only got partway through the second one. I'll finish it soon and start on Lion Heart. I CANNOT wait to see how this series will end. It has been one of my very favorites!


Forever Now by Elise Sax and Things We Know by Heart by Jessi Kirby: Both of these were a little disappointing, though in very different ways. Forever Now had a terrible MC who made me hate the book. TWKbH just didn't live up to my expectations of a Kirby book. Still enjoyed this one just not as much as I had hoped.
None of the Above by I.W. Gregorio and Darkfever by Karen Marie Moning: None of the Above is definitely a book I would recommend, if you want a book about diversity. Darkfever was a random pick but it was fun and fast and I really enjoyed it. I already bought the second book and can't wait to see what happens next!
To All the Boys I've Loved Before by Jenny Han and Caged in Winter by Brighton Walsh: Two very different romances but two I really enjoyed. The MC in the first was a little young for me but I liked the overall story and Caged in Winter was just NA romance guilty pleasure. Loved it!
Ms. Marvel by G. Willow Wilson: I'm so glad I finally read this one! I really liked getting to know Kamala and seeing her take on her new powers and responsibilities as Ms. Marvel. I can't wait to read more!
May Reads
Lion Heart by A.C. Gaughen and Nowhere but Here by Katie McGarry: IT'S FINALLY TIME FOR LION HEART!!!!!!!!! Guys, I'm so excited and so nervous for this book. I'm currently rereading Lady Thief and then it'll be time to dive into this one. I'll have to make sure I'm not overly emotional before I start, though, because I know this one will kick me right in the heart. I'm also currently reading Nowhere but Here and really enjoying it so far. So many secrets I can't wait to find out and lots of chemistry between the MCs!
Tessa Ever After by Brighton Walsh and Saint Anything by Sarah Dessen: I just finished Caged in Winter and I'm so excited to start Tessa and Jason's book!! And the new Sarah Dessen. Of course I can't wait for this!
The Wrath and the Dawn by Renee Ahdieh and An Ember in the Ashes by Sabaa Tahir: Both of these come highly recommended and I'm really hoping I'll get the chance to read them this month.
Wild Hearts by Jessica Burkhart and Nimona by Noelle Stevenson: I'm due for a fun and cute romance and I'm really hoping Wild Hearts will be it. I'm also super excited for this graphic novel! I hope Nimona will be as awesome as I'm expecting it to be!
Hold Me Like a Breath by Tiffany Schmidt and Out of Control by Sarah Alderson: This is my first Tiffany Schmidt book but the summary on this one caught my attention and I'm hoping it'll be interesting. I read Come Back to Me by Mila Gray (aka Sarah Alderson) and requested this immediately hoping I'd like it just as much as I liked the other.
The Summer of Chasing Mermaids by Sarah Ockler and The Devil You Know by Trish Doller: Two of my most highly anticipated June titles!! I'm so excited for these and may bump a book or two above just to fit them in. 😀
That's my very hopeful May TBR! What books will you be reading this month?
Related Posts