I received this book for free from the Blog Tour in exchange for an honest review. This does not affect my opinion of the book or the content of my review.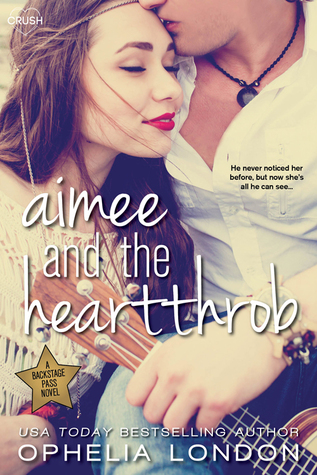 Aimee and the Heartthrob

by Ophelia London
Series: Backstage Pass #1
Published by EntangledTeen on 2015-04-14
Genres: Contemporary, Love & Romance, Young Adult
Pages: 223
Format: eARC
Source: the Blog Tour
Amazon • Barnes and Noble
Goodreads

He never noticed her before, but now she's all he can see…

Miles Carlisle is every teen girl's fantasy. His rugged good looks and exotic British accent have helped catapult his boy band, Seconds to Juliet, to super-stardom. But after two disastrous and very public breakups, Miles isn't interested in dating just any girl; he wants The One. And the only girl he's interested in is not only his best friend's little sister―and off-limits―but won't even give him the time of day…

As a kid, Aimee Bingham had a huge thing for Miles…until he made fun of her for always tagging along. Now that she's outgrown both him and her pigtails. the prospect of spending two weeks on tour with the childhood crush who broke her heart isn't exactly enticing. Except now Miles seems interested. Very interested. And no matter how hard Aimee tries to resist him, her crush is definitely making a comeback.

But everyone knows that falling for a heartthrob is a backstage pass to heartbreak…
I'm so excited to be a part of the tour for this book! Besides the gorgeous cover, this book was just a whole lot of fun. It's the perfect book to take on your trip this spring or summer, the perfect book to read when you want something light and fast and fluffy and enjoyable. I definitely smiled quite a bit while reading this book and I really hope you'll take a minute to learn more about it and add it to your TBR piles! It's definitely worth it! And don't forget to enter the giveaway at the end of the post!
Review
This book was so much fun! It wasn't groundbreaking in any way or incredibly original but it was really fun and quick and made my teenage dreams of falling in love with a hot boy band member very happy. I'd definitely recommend this book if you are/were a fan of boy bands or musicians and love romance. Aimee and the Heartthrob was an awesomely fun way to get the inside story of how these guys live on the road and make music. And fall in love. And I loved reading about it!
Due to some unforeseen circumstances, Aimee needs a place to stay while her parents are out of town during the summer and the only place left is with her brother, who will be touring with the band Seconds to Juliet as a tech intern. He got the job because he is best friends with one of the band members, Miles, aka the Heartthrob. Before Miles joined the band, they were all friends back home. And Aimee had a huge crush on Miles. So much so that when the band started, she started a blog and made up stories about them and called herself Mrs. Carlisle and named their babies, etc. But when her brother told her how Miles (who doesn't know about the blog) really felt about her, she shut it all down and moved on. Now she's stuck with him again and is torn between the crush she thought was over and the hurt feelings left from the truth. But she's living every teenage girl's fantasy by being on tour with the hottest boy band and won't be able to avoid Miles forever.
This book was told from the 3rd person points of view alternating between Aimee and Miles. I love books like that. I know some people will argue that it takes something away from the story but I actually like being able to get inside both characters heads and learn about their pasts and how they emotionally reacted to those events and their current situations. I really liked both Aimee and Miles. Miles, of course, is much different than he originally appears and has a lot of stuff from his past that might be surprising. Aimee is sweet but also reserved due to the pain she has experienced from some past relationships. I liked being able to see how they both warmed up to each other after being apart for so long and dealt with their own issues at the same time. Plus their voices were really distinguishable. That's always my biggest complaint with books written this way and it wasn't a problem for me here.
My biggest issue with this book was that sometimes the characters, especially Aimee, felt pretty young. I know she was sixteen but sometimes she felt even younger. And things like "dafuq" and "#$@&%*!" were used during her POV and I was not a fan of that. I just think there are better ways of conveying those thoughts and feelings than that. But I suppose it is somewhat realistic. Also, it was very cheesy and dramatic. I really enjoyed it but if you have problems with characters blowing things out of proportion and grand gestures, you might not like this book.
Like I said above, the very best thing about this book was just how much fun it was. I read it very quickly and just wanted to finally see Aimee and Miles confess their feelings for each other! I wanted to find out more about Miles' past and see how they'd deal with Aimee's brother. I also really enjoyed getting to "watch" the band's performances. It was all very addicting. If you ever had a crush on a boy band or dreamed of dating a musician, you need to read this book! I can't wait for the rest of the band's books!
Giveaway:
Tour-wide giveaway (INTL)
$25 iTunes gift card
a Rafflecopter giveaway
Related Posts