I received this book for free from Around the World ARC Tours in exchange for an honest review. This does not affect my opinion of the book or the content of my review.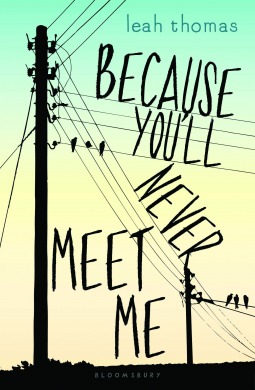 Because You'll Never Meet Me

by Leah Thomas
Published by Bloomsbury USA on 2015-06-02
Genres: Contemporary, Social Issues, Young Adult
Pages: 352
Format: ARC
Source: Around the World ARC Tours
Amazon • Barnes and Noble • Book Depository
Goodreads

In a stunning literary debut, two boys on opposite ends of the world begin an unlikely friendship that will change their lives forever.

Ollie and Moritz are best friends, but they can never meet. Ollie is allergic to electricity. Contact with it causes debilitating seizures. Moritz's weak heart is kept pumping by an electronic pacemaker. If they ever did meet, Ollie would seize. But Moritz would die without his pacemaker. Both hermits from society, the boys develop a fierce bond through letters that become a lifeline during dark times—as Ollie loses his only friend, Liz, to the normalcy of high school and Moritz deals with a bully set on destroying him.

A story of impossible friendship and hope under strange circumstances, this debut is powerful, dark and humorous in equal measure. These extraordinary voices bring readers into the hearts and minds of two special boys who, like many teens, are just waiting for their moment to shine.
Guys, this book was good. If you want a book that's different from most things that you've read and will keep surprising you, you should give this one a try.
Because You'll Never Meet Me is told completely in letters written by two teenage boys on different sides of the world. They are both dealing with very specific and unique health issues that make their lives different from everyone else and also makes them perfect companions. Except that they can never actually meet each other. Ollie suffers from an allergy to electricity (I Googled it, and it's a real thing. Though perhaps not to the extent that Ollie suffers.). Moritz suffers from a weak heart (among other, more unique things that you'll find out about) and now has a pacemaker, which Ollie is allergic to. If they met, Ollie would experience seizers from Mo's pacemaker, and Mo would die if his pacemaker was turned off. So they can really only communicate through letters. And it was actually a lot of fun getting to know each boy first through themselves and then through the thoughts of the other boy.
My absolute favorite thing about this book was how each boy changed because of the other. Living pretty secluded lives, each boy had grown up away from "normal" society but in different ways. They'd never really had a friendship with someone their own age. And certainly never had a relationship with someone who was similar to they are. Their interactions opened them up, challenged them, and made them look at their own lives and what they wanted out of them in a different way. It wasn't always easy and they didn't get along from the beginning, but it was a really interesting way to see a relationship develop and really fun to see how each responded to the other. I wasn't sure how much I would like story-telling in this way but I'm really glad I gave it a chance.
There were a couple of things that I didn't love about it. One, it started out really slowly. Because the boys are just meeting each other and they're writing letters, we don't get much action or change until about the halfway mark. Before then, we're really just getting to know each of them. They're telling their stories. And it ends up being very interesting and knowing their pasts is essential to really understanding the emotions of the book, but it took me a while before I really cared about either of them. Another contributing factor to that was that both boys are not typical teenagers. They don't think or talk or act like you would think a typical teenager would. It was a little hard for me to connect with either of them at first because of this. I couldn't picture any teenager talking like either of them and it took me a little bit out of the book. But then I remembered that neither of them were "normal" teenagers and hadn't grown up the way teens do, around other kids, with the typical childhood experiences. Both of them almost exclusively interacted with adults. Once I remembered this and got a little farther into the story, it didn't bother me at all. They settled into their personalities and I felt like I knew them better and I finally felt sympathy and hope for them and wanted to know what was going to happen with them.
This book is really unique and I definitely enjoyed it. It does require a little bit of suspended disbelief. Both with the boys personalities and how they communicate with each other and with the boys' medical conditions. Almost as soon as I started the book, I was Googling things to see if they were real. And they are. Though I do think the book exaggerates them. And since this is a book, that's totally okay and works great with the story. But if you can't look past those things and just believe that they are real in the book, you will have a really hard time with this. Otherwise, it's a great book on challenging yourself and not feeling sorry for yourself, understanding that everyone has problems and we all have to deal with them. That friends really can change the way we see the world and ourselves and push us to be more and help us through the hard times.
Because You'll Never Meet Me doesn't come out until June, so this is a very early review. I was lucky to be able to borrow this book and have a chance to read it. You should put this on your TBR lists now if it sounds at all interesting to you. It's a great debut and a really quick, interesting book with unique characters. I hope you'll give it a chance when it comes out.
In case you didn't know, this book is also available as an audiobook. Here's a quick preview for those of you who love audiobooks!

Related Posts