Reading Queue is a monthly meme hosted by Books: A True Story and Book Tasty where we can get together and talk about the books we hope to read in the coming month and the books we read last month. So write up your own Reading Queue post and then go check them out!
March was a great reading month for me. Though I didn't have a lot of books that I really loved and I didn't give any book 5 stars, I had several that I really enjoyed and ended up reading a lot! And that always makes a good month! I'm also pretty excited for the books I'm hoping to read in April. I always get a little off track from what I list on my reading queue post because I'm also a big mood reader, but hopefully I stick pretty close. April's books look really good and a lot are already getting great reviews, so that should help! Here are the books I read in March and the ones I'm looking forward to in April.
March Reads

Prudence by Gail Carriger and Vanishing Girls by Lauren Oliver: I enjoyed Prudence a lot because it's Gail Carriger but it wasn't my favorite of hers. Vanishing Girls was another that wasn't my favorite of this author. I just wasn't a huge fan of the ending. But the story along the way really pulled me in. I can't resist Oliver's writing!
It Will Always Be You by Tina Ness and The Novice by Taran Matharu:
I wish I could say that I loved It Will Always Be You but I just didn't. It was predictable and I did not like the protagonist. And I DNF'd The Novice. It's getting a lot of good reviews but mostly I was just bored with this one. I'm still hoping to pick it up again and finish at some point, but for now, it's on hold.
The Night We Said Yes by Lauren Gibaldi and I'll Be There by Holly Goldberg Sloan: 
The Night We Said Yes was one I enjoyed more than I thought I would. I loved how the stories from the past and present were told side by side and I really enjoyed the characters, even the secondary ones. I'll Be There is one I'm still reading. I'm a little less than halfway through but I'm struggling and thinking I may DNF this one as well. It's just really slow and I can't figure out why the characters really have feelings for each other. *sigh*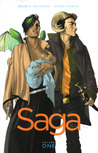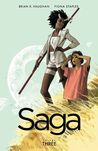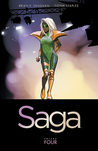 Saga, Volumes 1-4 by Brian K. Vaughan: I really did love this series. The story and the artwork were great. I can't wait for the next one! I'd recommend them to anyone looking for fantasy/sci-fi books. So long as you're an adult. These are not for kids.

Little Peach by Peggy Kern and Chasing Temptation by Joya Ryan: Both of these were random books that I picked up, Little Peach was sent to me by the publisher and Chasing Temptation was free when I got the ebook, but neither are my usual kind of reads. LP was a tough read but really important and CT was a really quick romance. Both are just around 200 pages and ones I'd recommend only to older readers.
The Fill-In Boyfriend by Kasie West and Wait for You by J. Lynn: I guess I was in the mood for romances in March. I will always love Kasie West. Even though this one isn't my favorite of hers, I still really enjoyed it and think fans of hers are going to be happy with this one! I had high hopes for Wait for You because so many people love it. I liked the characters well enough but the lack of editing really bothered me with this one. Not sure if I'll continue the series or not.
Because You'll Never Meet Me by Leah Thomas: I'm so glad I borrowed this one!! I really enjoyed this. It was slow to start but once the story picked up and the characters really started digging into their lives through their letters, it got really good. Can't wait to share my review for this!
April Reads
Simon vs. the Homo Sapins Agenda by Becky Albertalli and Things We Know by Heart by Jessi Kirby: I'M SO EXCITED FOR THESE! I've heard so many great things about Simon and I loved Kirby's other books. I hope I like these.
Magonia by Maria Dahvana Headley and None of the Above by I.W. Gregorio: I know almost nothing about Magonia but ended up with an ARC and am hoping for the best. I most definitely sought out None of the Above and will be picking that one up VERY soon.
Lying Out Loud by Kody Keplinger and Aimee and the Heartthrob by Ophelia London: My most amazing #otspsecresister sent me LOL and I'm so excited because I loved The DUFF (the book) and I can't wait to read the companion! I'm excited to be a part of the tour for AatH! If you don't know yet, it's going to be a series of 5 books about each member of a boy band! This one looks really cute!
An Ember in the Ashes by Sabaa Tahi and Zeroboxer by Fonda Lee: Ember is probably only behind ACOTAR as one of the most anticipated books of the spring and I'm really looking forward to finally reading it. Zeroboxer is a sci-fi/boxing mashup thing and I'm really intrigued by it.
Forever Now by Elise Sax and A Court of Thorns and Roses by Sarah J. Maas: I have Forever Now for review I'm looking forward to this new adult romance. And then there's ACOTAR. Finally. Boy am I nervous/excited/scared/dying to read this one!!
Scarlet, Lady Thief, and Lion Heart by A.C. Gaughen: I've already read the first two books in this series but I don't think I can read the last one without reading the first two again. It's been so long and I love these books! Plus, now I can dive right in after that killer ending of Lady Thief. I love how much these books make me suffer!
Okay, this is a very very ambitious TBR for April. If you've been following along for a little bit, you know I always veer from my reading queue during the month and these are just more of a suggestion to myself than anything. A few on here are ones I NEED to read for tours and stuff but the others are ones I really want to. I hope to get to most of them. Dewey's 24 Hour Read-a-Thon is happening this month (April 25), so I hope that will help motivate me at the end!
What will you be reading this month?
Related Posts