Top Ten Tuesday is hosted each week by The Broke and The Bookish and allows us to combine our love of books with our love of lists. This week's topic is: Ten Books You Recently Added To Your To-Be-Read List.
These books are kind of random. There's a collection of upcoming books and older books and books for all different ages. Some were recommended by other readers, others I found just looking around. All are books I hope to read at some point.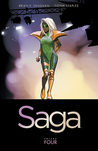 Imprudence by Gail Carriger: I just finished Prudence, the first book in this new series, so I immediately had to add the next book! It doesn't come out until next year so I'll just be sitting here waiting for it for a while!
Dangerous Girls by Abigail Haas: I just bought this book off the shelves at the bookstore on a whim and I can't wait for the chance to read it!
The Weight of Feathers by Anne-Marie McLemore: I didn't know about this book at all but I've seen some people talking about it so I went and added it to my list. I love the cover!
Spinning Starlight by R.C. Lewis: I really liked Stitching Snow so I was really excited to see that she was writing another retelling! This time it's a retelling of The Wild Swans. It's a companion to Stitching Snow and comes out in October!
Shadows of Sherwood by Kekla Magoon: I love everything Robin Hood! This middle-grade retelling that stars a young female Robyn Loxley had me jumping up and down as soon as I heard about it!
Saga, Volume 4 by Brian K. Vaughan: I picked up the first one off of the shelves not knowing much about it other than hearing other people rave about it. I've since read it and two of the sequels! I have the fourth one just waiting to be read. I love these books!
The Princess Diaries by Meg Cabot: I added this one a few weeks ago while doing a Top Ten list and realized that I hadn't read any of these books. I hope to change that soon!
Where Sea Meets Sky by Karina Halle: This was another random add that I know very little about but have seen a bunch of people talking about. When I saw it's a new adult romance, I had to add it!
Happy Again by Jennifer E. Smith: When I learned about this sequel novella, I added it right away! It comes out in April and I'm so excited!
Half Magic by Edward Eager: These are books I had no idea about but were recommended to me after last week's Top Ten. I looked them up, added them to my list, and even got them out of the library over the weekend. I can't wait to read them to my kids! 
What books have you added most recently to your list? How did you find out about them?
Related Posts