I received this book for free from ALA Midwinter in exchange for an honest review. This does not affect my opinion of the book or the content of my review.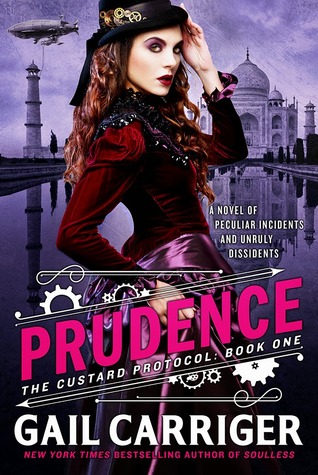 Prudence

by Gail Carriger
Series: The Custard Protocol #1
Published by Little, Brown Book Group Limited on 2015-03-19
Genres: fantasy, New Adult, Paranormal, Steampunk
Pages: 384
Format: ARC
Source: ALA Midwinter
Amazon • Barnes and Noble • Book Depository
Goodreads

From New York Times bestselling author Gail Carriger comes a new novel in the world of the Parasol Protectorate starring Prudence, the daughter of Alexia Tarabotti.

When Prudence Alessandra Maccon Akeldama (Rue to her friends) is given an unexpected dirigible, she does what any sensible female would under similar circumstances - names it the Spotted Custard and floats to India in pursuit of the perfect cup of tea. But India has more than just tea on offer. Rue stumbles upon a plot involving local dissidents, a kidnapped brigadier's wife, and some awfully familiar Scottish werewolves. Faced with a dire crisis and an embarrassing lack of bloomers, what else is a young lady of good breeding to do but turn metanatural and find out everyone's secrets, even thousand-year-old fuzzy ones?
I'm always a fan of Gail Carriger's writing. I love her humor and her characters. So far I've only read her Finishing School series but I bought the first book in the Parasol Protectorate series as well in hopes that I'd be able to read it soon. Then when I found out she had another series starting and that it was a New Adult series, I was super excited! Having not read her adult series but knowing there's very little romance in her YA series, I was hoping there'd be romance mixed in with the humor and ridiculous situations her characters always seem to find themselves in. Unfortunately, there wasn't any more romance in this book than in her YA books. But I still enjoyed this one and am looking forward to seeing the characters again in the next book!
The best thing by far about Gail Carriger's books is the humor. They're really just fun to read. The characters find themselves in tricky spots and funny situations. They belong to proper British society but that doesn't stop them from running around the streets after a lion or showing up naked after being in werewolf form. But the humor is done in a way that isn't over-the-top ridiculous, it's just perfect. I love it.
As I said above, however, I was looking forward to a bit more romance than there is in her young adult series. I haven't yet read her adult series so I just assumed there was romance in that. I don't actually know now if there is any or not because while there was flirting and a little bit of attraction, there really wasn't any romance at all in this. I was really surprised. And disappointed. And I don't know if that's fair at all or not because it doesn't mention anywhere about romance in the book. But still, I was hoping for it. Especially in the beginning when we meet the characters. I had a feeling about one in particular and kept hoping and hoping that they'd give us more. But nope, nothing. Maybe later in the series we'll see a relationship develop. I'll keep hoping for that.
Overall, I did enjoy this book. It wasn't my favorite Gail Carriger that I've read. It was a bit slow and the action scenes never really quite worked as well as I had hoped. But the characters were fun, especially when all put together, and the humor is just as I remember it from her other books. If you're looking for a fun paranormal steampunk book and don't mind a lack of romance, I'd definitely recommend checking out Gail Carriger.
Related Posts