Top Ten Tuesday is hosted each week by The Broke and The Bookish and allows us to combine our love of books with our love of lists. This week's topic is: Top Ten Books on My Spring TBR.
I love these posts!! Even when I barely stick to them, I love them. It's so much fun planning out which books to read and seeing which ones are coming out soon. I took a look back at my Winter TBR post and I actually read 7 of them, DNF'd 1, and didn't read only 2 of them but own both of them so hopefully I'll get to them soon. That's probably the best I've ever done! Here are the ones I'm hoping and looking forward to reading this Spring! Let's hope I can be that successful again! (Also, this list was IMPOSSIBLE to narrow down to ten books. Have you looked at all the amazing books coming out this spring?!?! It's insane! And awesome!)
These books are making it hard to stick to my reading schedule!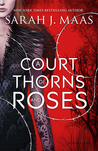 Spring books getting a lot of buzz!

July releases I won't be able to hold off reading until July.
Honorable mentions. Because how could I stick to just ten?!

What books are on your TBR list this spring? Have you read any of the books on my list? Let me know what you think!
Related Posts