Wait for You, It Will Always Be You, Chasing Temptation

by Jennifer L. Armentrout, Joya Ryan, Tina Ness
Series: Wait for You #1
Genres: Adult, Contemporary, Romance

It's Monday and I can't focus on anything more than just a few mini reviews. I've once again fallen behind in blogging and am posting day-to-day. I hope to get caught up again soon but we've been spending less and less time at home with the changing of the seasons and I've been reading more at night instead of blogging. But I still want to share some of my thoughts with you guys on the books that I've read recently. These aren't the typical kinds of books I read but it's always good to branch out sometimes and try something new. While I'm glad I read these and will read more adult romances in the future, I think YA will continue to be my first love when it comes to books. Say what you will, I don't care, I love them.
All of these books are romances, both new adult and adult. There's even an erotica romance in there, which I pretty much said I'd never read. But I did! And I didn't hate it! Who knew. I would love to hear you thoughts on any of these books if you've read them and about the books you've finished recently too!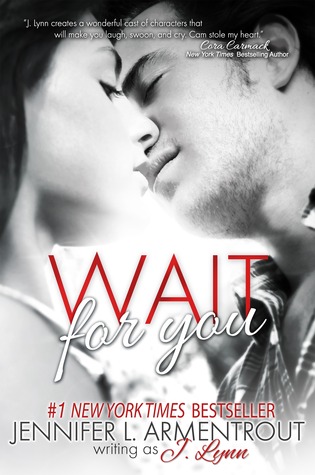 Wait for You by J. Lynn
New Adult Romance
Published 2-26-13
I bought this ebook a while ago when it was $.99 because I'd heard a lot of great things about it and I'd read some Armentrout books and enjoyed her story-telling. But I'd never read a straight romance from her, usually it was sci-fi or fantasy. So I was excited to see her take some of the best parts of her other books and focus only on the romance. Unfortunately, I did not end up loving it. My biggest problem with the book was how badly it was edited. I bought the ebook version but it was suppose to be a final product. But it seemed like it was more of a draft. Words were misspelled and in the wrong place and there was plenty of bad grammar. I still gave this book three stars, so you can see that it wasn't horrible and the story somewhat made up for the editing, but if that is a serious pet peeve of yours, you probably won't make it through this book. In regards to the story, I did enjoy it. I liked Cam, his family, and Brit and Jacob the most out of the characters. I liked Avery enough, didn't love her or hate her. Wished she had had more help and support from her family in regards to her past. She could have moved forward sooner and been a little bit less aggravating in the book but then we also wouldn't have been able to see her growth in the book. So I didn't mind too much. I did really enjoy seeing Avery and Cam's relationship develop. They were cute together. I would recommend this book for fans of new adult romance if they think they can handle the editing. Also, I did get this a while ago so I don't know if changes would have been made to it more recently. There wasn't anything too original about this new adult college romance but Cam was really sweet and a really nice change from the "bad boy" we see in a lot of new adult romances. He really let Avery take the lead in their relationship and was good with being her friend until she was ready for more. I haven't decided if I'm going to read more of this series or not so let me know what you think of them in the comments if you've read them!
It Will Always Be You by Tina Ness
Adult Romance
Published 10-26-14
*I received an ebook of the version for free in exchange for a review.*
The synopsis for this book sounded so great and I really wanted to love this book. But I just didn't. My main problem with it was just how much I didn't like the main character. Elizabeth was just kind of annoying. She constantly talked about how she was unlovable and it drove me crazy. You are a grown woman! Two failed relationships does not make you unlovable! Besides the fact that you have a family who loves you and friends that love you, it just makes you bad at choosing relationships. She's also been lusting after Marshall for years. He, of course, has noticed her all along but she can't speak when he's around. She, of course, imagines him as some sort of cheating play-boy type but can't help but be attracted to him anyway. Which brings me to my next complaint, there were so many cliches in this book, I'm not sure you could have fit any more in if you tried. The "normal" girl, the insanely hot, successful, rich man, the misunderstandings, miscommunications, the desire the man has to take care of the woman, the need for him to leave to protect her, her inability to go on without him, etc. Like I said, I really wanted to like this book and I really wanted to like the romance, but every time I started feeling something, another cliche would show up and I'd be rolling my eyes. I do want to say that this book was really well written. I know that sounds weird after everything I mentioned above, but it flowed really well and the words were beautiful. And if you like really cheesy romantic endings, you'll probably love this one. If you check it out on Goodreads, you'll see a lot of people have really loved this one. So I'd still recommend it to you if you love romances and don't mind a very typical story. I gave it two stars but hope that you'll love it!
Chasing Temptation by Joya Ryan
Adult Romance/Erotica
Published 10-14-14 by Entangled: Brazen
This is so not a normal read for me. But it was free on Amazon when I got it so I figured, why not? But since I don't read erotica and it's really not my thing, this may not be the best review to base your opinion of this book if you're a huge fan of the genre. Overall, I will say that I kind of liked the book. I really liked the characters, especially their growth over the book. I don't really know what I expected in regards to the two characters relationship, but I liked that both were willing to change when they discovered their real feelings for each other. The two have known each other for a long time because he is best friends with her brother. They decide on a secret, two-week relationship. But as the weeks pass and their feelings start to evolve, he gets scared and she just gets more determined. They're both willing to change for what they want and I really liked that. She didn't back down when he got scared and she told him exactly what she wanted. He didn't let his insecurities from his past get the best of him. I liked that. There is, of course, also a ton of steamy scenes. And they were okay. Not really my type, though. But if you're into a man who likes control, you might really enjoy this one. It's short and quick (not that, I mean the book) but not bad. I gave this three stars and would recommend it if you like the genre.
Related Posts