It's been a while since I've written a DNF post. I think you guys know how much I don't enjoy DNFing books. But I'm actually trying to get better at it. I think you probably all know the feeling of trudging through a book you just aren't liking. Then at the end you have to write a review that just says all the things you didn't like about the book. Pretty much nothing about that sounds fun. So I'm trying to DNF books that I'm just not interested in. These two are the most recent books that I have decided not to finish.
One of the Guys by Lisa Aldin
YA Contemporary Romance
*I received an eARC from the Publisher on NetGalley in exchange for an honest review.*
I was really looking forward to this one. Not only do I really enjoy friends to couple romances but I also love main characters who are tomboys. But I was really disappointed by this one from the start. It begins with the three boys and Toni looking for a monster they saw in the lake when they were kids. They are apparently about to be seniors in high school but they felt much younger than that. Just the way they interacted and talked, they didn't feel like 17 year olds. Secondly, I get that Toni is a tomboy. We're told she's a tomboy and she hangs out with guys and wears boyish clothes and doesn't relate to girls. We get it. But then she talks about things like scratching her butt and burping the loudest and it's almost like she's acting how she thinks boys act instead of just being. In male narrated books, I'm not listening to how they're scratching their butts and holding in farts all the time. They still act like people. Maybe it comes up every once in a while, but it just felt like she was trying too hard to remind us that she was a tomboy and not a girly-girl. It was just too much. And lastly, the real reason I just stopped reading was that I didn't really care about the story anymore. Because I had a hard time really getting a handle on the characters, I didn't feel like I really knew the guys at all, it was hard to care where their stories were going. I don't know if I'll pick this one up again. It still looks cute to me but I think I'll most likely just move on.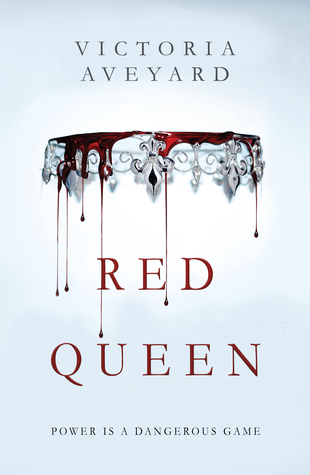 Red Queen (Red Queen Trilogy #1) by Victoria Aveyard
YA Fantasy
*Received an eARC from the Publisher on Edelweiss in exchange for an honest review.*
This one is so hard. I was highly anticipating this one. And I saw so many people loving it! But then I started it and I just kept getting The Hunger Games flashbacks. The way the world is set up is so similar. But I get that that's a somewhat typical set-up for dystopian and fantasy worlds, so I was fine with it for a while. So I kept reading. And I'm not sure if it was my mood or what happened, but it just sort of fell apart for me. First, the characters continued to remind me of other characters, except they just weren't as good. And then there were just a bunch of other things that annoyed me and I just couldn't keep going. I know that's vague, but I don't want to spoil anything for those of you who still want to read it. I know so many people have loved this and it kind of kills me a little that I didn't. But I got to 20% and I still wasn't feeling it and then that thing happened in the stadium and I just couldn't read anymore. It might get totally awesome after that and I won't know and that will suck but maybe I'll go back to this some other day. And maybe I'll find out that it was my mood while I was reading that made me stop. And that would be awesome. I still want to love this book but every time I think of it now, I just get upset with how much I had expected from this and how it just didn't live up to it. If you do want to read it, the beginning is a sort of Hunger Games/X-Men mash-up. I've also seen it compared to Graceling, The Selection, Red Rising, Shadow and Bone, and Pawn by people who finished the book. So basically, it just wasn't all that original.
Related Posts