I received this book for free from the Publisher via Edelweiss in exchange for an honest review. This does not affect my opinion of the book or the content of my review.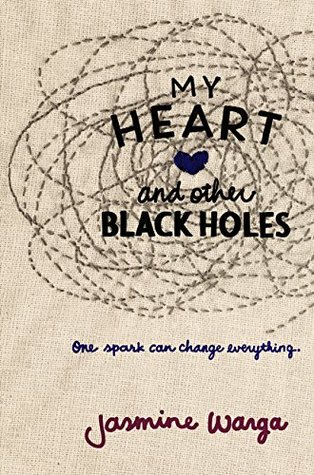 My Heart and Other Black Holes

by Jasmine Warga
Published by HarperCollins on 2015-02-10
Genres: Contemporary, Depression & Mental Illness, Love & Romance, Young Adult
Pages: 320
Format: eARC
Source: the Publisher via Edelweiss
Amazon • Barnes and Noble • Book Depository
Goodreads

Sixteen-year-old physics nerd Aysel is obsessed with plotting her own death. With a mother who can barely look at her without wincing, classmates who whisper behind her back, and a father whose violent crime rocked her small town, Aysel is ready to turn her potential energy into nothingness.

There's only one problem: she's not sure she has the courage to do it alone. But once she discovers a website with a section called Suicide Partners, Aysel's convinced she's found her solution: a teen boy with the username FrozenRobot (aka Roman) who's haunted by a family tragedy is looking for a partner.

Even though Aysel and Roman have nothing in common, they slowly start to fill in each other's broken lives. But as their suicide pact becomes more concrete, Aysel begins to question whether she really wants to go through with it. Ultimately, she must choose between wanting to die or trying to convince Roman to live so they can discover the potential of their energy together. Except that Roman may not be so easy to convince.
Before you guys read this review, I need you to know that I know that I'm probably the black sheep in regards to my feelings on this book. It has gotten so much love on Goodreads so far, I almost feel like I must have read a different book. So I don't want you to read my review and make any sort of final decision on what you think of the book. I highly encourage you to read other reviews of the book or skip mine entirely or just go ahead and read the book yourself.
I had a hard time with this book from the start. This is a book about suicide and depression. I've read several books on these topics before so it's not that I just don't like serious issue books. For me, if I'm going to read a book about issues like this, it has to feel realistic to me. It has to not be afraid to be really honest and gritty. I want to feel the despair and hopelessness that the characters are feeling. If the characters are depressed and contemplating suicide, I want to understand why they feel that way and believe them. I want the emotions of the characters to get under my skin and really feel them. I want them to stick with me after I'm done reading and I want them to have changed me. I did not get that from this book.
This book is about Aysel, a teenager who wants to kill herself. She feels misplaced with her mom and her step-family. She tells us she's lonely and that she wants to kill herself and she spends her time at work on a suicide website. We're lead to believe that there's this huge dark secret about her dad and that is why she wants to kill herself. We're told about this secret a lot and it got built up in my mind to this horrible thing. And I'm not saying it wasn't bad, because it was, but with so much build up and with Aysel wanting to kill herself over it, I expected something more I guess. There were also a few other topics that came up randomly that I thought were going to lead somewhere that just dropped off with nothing. But overall, I just never believed the reasons Aysel gave were enough to make her want to kill herself.
Then we meet Roman from the suicide website and the two decide they're going to kill themselves together because they don't want to chicken out. (I had no idea that was even a thing.) And this is where the book really started to lose me. To be fair, it's all right there in the premise. I just had no idea how much it would bother me to see these two suicidal and depressed teenagers in a "relationship". Aysel gets pulled out of wanting to kill herself so easily once she meets him. She suddenly sees things differently and she decides she's going to be the one to make Roman see the world in a new way too. But there are so many problems with this I'm not even sure where to begin. I can see why people think it's romantic. But we're talking about a book about suicide for teenagers. And this is not at all a realistic look at depression, suicide, or relationships. It's not easy to pull someone out of depression or from suicidal thoughts. People in those situations need real help. Not another teenager, suicidal or not. But there was nothing in this book about how to really help people if you know someone in trouble.
The other thing about this book that I just didn't like was how predictable it was. I knew what was going to happen from pretty early on and I'm not even that good at predicting what's going to happen in books. I just saw this one coming and I wish it had been more surprising. I kept wondering why Aysel didn't see what was going to happen. She was so concerned about her own stuff and figuring out how to get out of the suicide pact, she had a hard time hearing what Roman was really trying to say and figuring out what he really needed. She seemed to believe that she really cared about him but I'm not sure she really knows what that means.
I'm glad the book ended the way it did, don't get me wrong. I'm not saying everyone should be super depressed and commit suicide in a book that deals with depression and suicide. I prefer it when the characters don't die. I just want to be able to feel the emotions and understand their journey and have it appear realistic. But maybe I read the book wrong and it's suppose to be a romance and not realistic fiction. And maybe the end message is suppose to be that love can save us all. I hope people can read this for what it is and enjoy it and feel hope at the end. But for me, it just didn't work.
Related Posts