Waiting on Wednesday is hosted by
Breaking the Spine
as a way for us to showcase the books we're highly anticipating.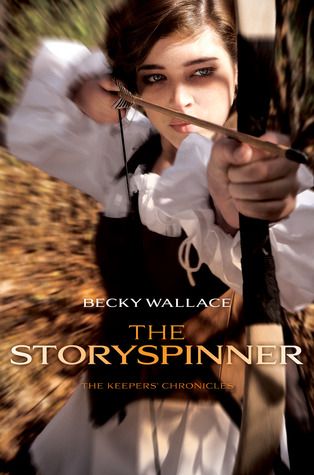 The Storyspinner

by Becky Wallace
Series: The Keepers' Chronicles #1
Published by Simon and Schuster on 2015-03-03
Genres: Action & Adventure, Fantasy & Magic, Love & Romance, Young Adult
Pages: 320
Amazon • Barnes and Noble
Goodreads

Drama and danger abound in this fantasy realm where dukes play a game for the throne, magical warriors race to find the missing heir, and romance blossoms where it is least expected.

In a world where dukes plot their way to the throne, a Performer's life can get tricky. And in Johanna Von Arlo's case, it can be fatal. Expelled from her troupe after her father's death, Johanna is forced to work for the handsome Lord Rafael DeSilva. Too bad they don't get along. But while Johanna's father's death was deemed an accident, the Keepers aren't so sure.

The Keepers, a race of people with magical abilities, are on a quest to find the princess—the same princess who is supposed to be dead and whose throne the dukes are fighting over. But they aren't the only ones looking for her. And in the wake of their search, murdered girls keep turning up—girls who look exactly like the princess, and exactly like Johanna.

With dukes, Keepers, and a killer all after the princess, Johanna finds herself caught up in political machinations for the throne, threats on her life, and an unexpected romance that could change everything.
I'm going to be completely honest here and hope you all don't hate me but when I first saw this book, I quickly overlooked it because of the cover. I'm just not a fan. I'm ashamed at my behavior but it's what happened. Since then, I've seen a few bloggers read this book and really like it. So I checked it out again. I put it on my list and now I'm waiting for it like everyone else. It sounds interesting with magic and drama and adventure. I'm definitely looking forward to this book coming out and hoping I enjoy it as much as those I've already seen reading it!
Have you ever felt that way about a cover and been proven completely wrong by the book? 
Related Posts