I received this book for free from the Publisher in exchange for an honest review. This does not affect my opinion of the book or the content of my review.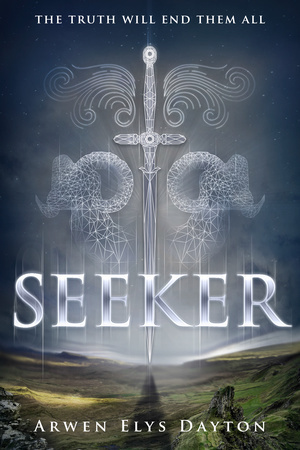 Seeker

by Arwen Elys Dayton
Series: Seeker #1
Published by Random House Children's Books on 2015-02-10
Genres: Action & Adventure, Friendship, Science Fiction, Young Adult
Pages: 448
Format: ARC
Source: the Publisher
Amazon • Barnes and Noble • Book Depository
Goodreads

Quin Kincaid has been put through years of brutal training for what she thinks is the noble purpose of becoming a revered 'Seeker'.

Only when it's too late does she discover she will be using her new-found knowledge and training to become an assassin. Quin's new role will take her around the globe, from a remote estate in Scotland to a bustling, futuristic Hong Kong where the past she thought she had escaped will finally catch up with her.
I really, really wanted to love this book. The premise of this book made it seem so great and exciting. And I'm a huge fan of kick-ass girl characters and sci-fi and fantasty elements. And that cover? It's gorgeous in person. I was so excited when I was offered an ARC of this by the publisher because it was one of the big hyped books of BEA and I wasn't able to get it there. Unfortunately, it wasn't soon after starting the book that I just knew it wasn't going to live up to my expectations.
I had two main problems with this book. The first was that there were so many secrets and just when I thought we'd get some really cool explanation or a scene with lots of action, the scene would just cut out and we'd move forward to when everything was over or the MC would pass out and we'd miss everything. It was frustrating to say the least. Like the author was afraid of coming right out and saying what was happening and what the characters were doing but wasn't afraid to hint at it all. And that might work for some people but it just made me angry and sad that we were missing what could have been some of the best moments.
The other part that really frustrated me was how non-kick-ass the main character ended up being. I wanted to see her fighting and standing up for herself and her friends. But she just ran away or passed out. She was afraid of standing up to her dad or of talking to her mom. She wanted to know what was going on and when she found out and then didn't like it and agree with it, just went along with it anyway. For a while. Until she ran away. And after she was out she made herself forget what she knew. She didn't fight or even try. It was so not what I had hoped going into this book. Plus her back and forth with both boys was additionally annoying. I'm not sure if the triangle would have bothered me as much if I wasn't already bothered by the character so much so maybe if the other stuff won't bother you this wouldn't either. I don't know.
I really wish that this had been the beginning of an epic new series like I had hoped but, for me, it just wasn't. Even with everything I mentioned above, I did enjoy it a bit, especially the last part when I couldn't put the book down. I really wish the whole book at been like that. School Library Journal says it's for "Fans of Veronica Roth's Divergent, Marie Lu's Legend, and Suzanne Collins's The Hunger Games series." But I really do not see that at all. This book fell short of my expectations and of this description. I didn't get the world-building of Divergent, the high action of Legend, or the depth of characters from The Hunger Games. I'd recommend going somewhere else if you loved those books and are looking for something to follow them up with.
Related Posts