I received this book for free from the Publisher via Edelweiss in exchange for an honest review. This does not affect my opinion of the book or the content of my review.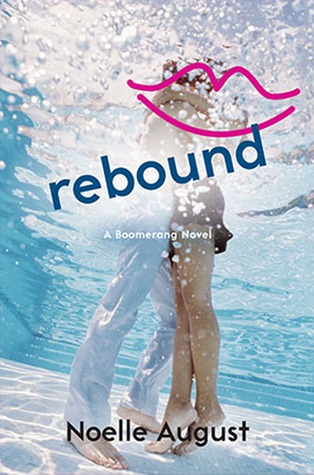 Rebound

by Noelle August
Series: Boomerang #2
Published by Harper Collins on 2015-02-10
Genres: Contemporary, New Adult, Romance
Pages: 288
Format: eARC
Source: the Publisher via Edelweiss
Amazon • Barnes and Noble • Book Depository
Goodreads

Hooking up is only the beginning of the fun in this sexy and irresistible second installment of the thrilling New Adult series, Boomerang.

Adam Blackwood has it all. At twenty-two, he's fabulously wealthy, Ryan Gosling-hot and at the top of the heap in the business world. His life is perfect, until a scandal from his past resurfaces and knocks the tech wunderkind down, throwing his company, Boomerang, a hook-up site for millennials, into chaos.

Three years ago, Adam married his high school love—and then lost her in a tragic accident. Now, the heartbreak and guilt he's tried to bury with work and women begins to take over his life.

Alison Quick, the twenty-one-year-old daughter of a business tycoon—and the very ex-girlfriend of Boomerang's former intern, Ethan—has a problem of her own. She's got one chance to prove to her father that she deserves a place in his empire by grabbing control of Boomerang and taking Adam down.

But as Alison moves in on him, armed with a cadre of lawyers and accountants, she discovers there's much more to Adam and Boomerang than meets the eye. Will earning her father's approval come at the price of losing her first real love? It appears so, unless Adam can forgive her for wrecking his life and trying to steal his livelihood. But Alison hopes that old adage is right. Maybe love can conquer all.
My year started out with two books that I didn't really like so I cut ahead in my TBR pile and picked this one up. Boomerang was so much fun and a really fast read and the characters offered much more depth than I had originally thought they could in a fun, new adult book. So I really, really hoped that this book would turn the year around for me and offer me something I could actually enjoy. And I'm so glad to say that it did. I really enjoyed this book and am so happy I decided to pick it up sooner rather than later!
Rebound is the second book in the Boomerang series and follows two different characters than the first one. We met both of these characters in the first book but really get to know them in Rebound. I do still recommend starting with the first book because it will really help you understand more about their back stories and see how these characters are seen by outsiders. Without that background, I'm not sure their stories and growth will have quite the impact they did with knowing where they had come from in the previous book.
When I first saw who the characters in this book were, I was a bit taken back. I did not think there was any way these two could make a good couple, let alone a book that focuses on Alison? I did not like her at all in the first book. But after the second? I'm a fan. The same with Adam. Of course, we're suppose to like Adam in the first book. He's the brains behind Boomerang. The young, extremely successful, good-looking entrepreneur that everyone loves. But we don't really know a lot about him. That also changes in Rebound. We learn a lot about his past and it was all very surprising. I appreciated everything we learned about both of these characters and am happy that they were able to find each other. Their relationship turned into something great and what more do you really want from a romance?
A couple of other things I enjoyed about this book was that the story was always moving forward and there was plenty of chemistry. Sometimes in romance books, characters can get dragged into the same arguments or situations over and over again. That is not the case in this book at all. It's a quick read, a pretty short book, but the characters are fully developed and the movement is constantly forward. There's also not a lot of "I like him, but I don't, but I do, but I can't" etc. They figure out what they want and they don't spend a lot of time being annoying about the attraction. There is conflict and misunderstandings, like always in books like this, but overall the book moved quickly forward. And the chemistry between Adam and Alison was perfect. Right off the bat when they meet each other, their connection is real and physical. After reading about a lot of young adult relationships (which I do and I enjoy), it was nice to experience a relationship that didn't include a lot of over the top drama.
I highly recommend both Boomerang and Rebound if you want New Adult romances that are light and fun but also have complex characters and strong emotions. Boomerang is still my favorite of the series because just because I liked the characters a little bit more but Rebound is definitely a worthy sequel. I'm looking forward to the next book in the series which is scheduled to come out in August and already has a synopsis!
Related Posts